Adobe Summit Goes Digital: Make the Most of Summit Live 2020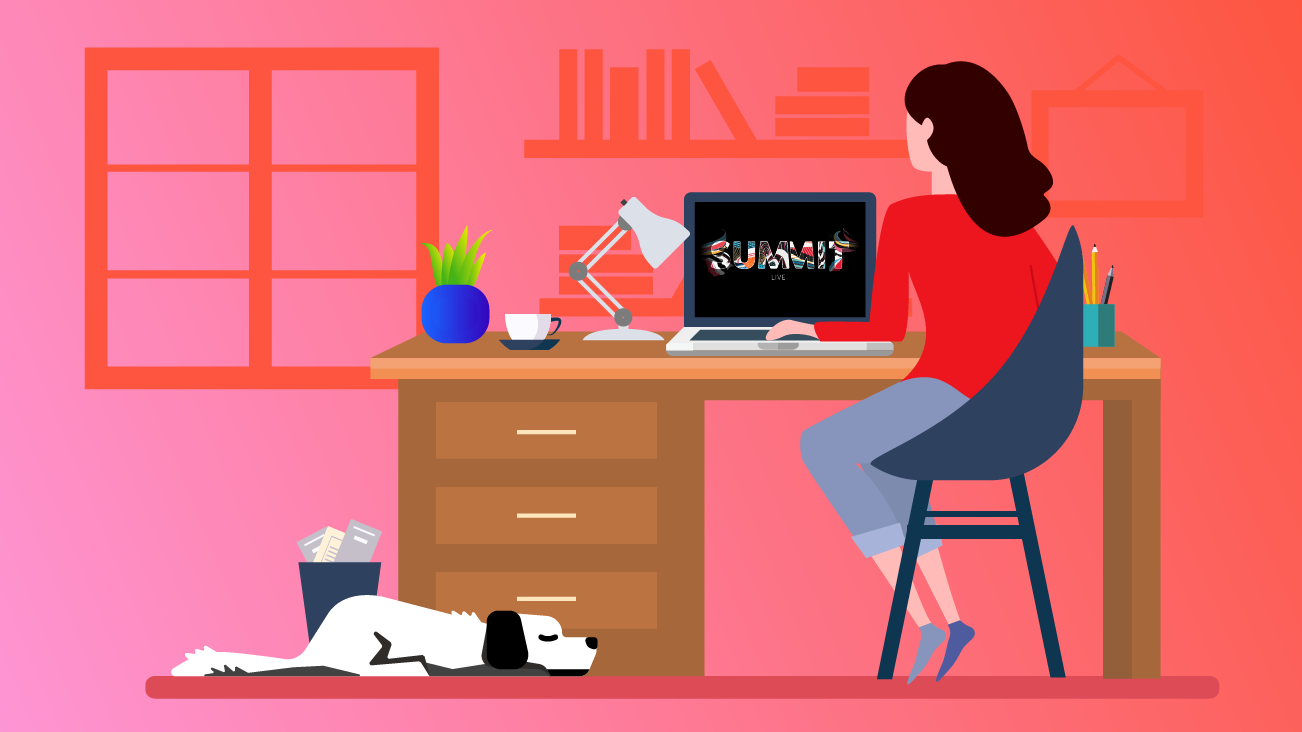 This year Adobe Summit and Magento Imagine joined forces with plans to host concurrent events to continue to strengthen and unite the two communities. In light of recent events and news, and in the best interest of the Adobe community, leadership made the decision to host the week of experiences, learning opportunities, and content in an online format they are calling Summit LIVE.
For the first time ever, Adobe Summit is going Live with the same great content and opportunities to learn, grow, and share. This time, instead of traveling to Las Vegas, you will get to experience Summit Live from the comfort of your own home!
We are here to help you make the most of your Adobe Summit Live experience by sharing a few tips and perspectives as we approach the digital format.
Expanding the Adobe Community
Engaging a Larger Audience
As a free online event open to the community, it allows us to invite an even larger audience to participate. Invite your coworkers that may not have planned to make the trip to Vegas, or a friend in the industry that has always been curious about the Adobe ecosystem.
Whether they are familiar with Adobe or not, have them join you for the keynotes to learn about important 2020 trends and stick around for the latest and greatest out of Adobe during Sneaks. We know it is bound to be a great morning filled with the same energy of the Adobe community we feel at Summit every year.
Pro Tip: Replace those coffee breaks, happy hours, and dinners you had planned with a virtual watch party! Setup a conference line with your teammates or clients, and tune into the Keynote and Sneaks together live. You can use the chat feature to follow along together in real-time and discuss ways the prominent themes and new releases can help your business moving forward.
Learning from the Adobe Community
Adobe Session Content
In addition to the Keynote and Sneaks, you can supplement the information shared during the keynote with over 100 Adobe-led sessions across the same six tracks featured at Summit. These sessions unveil new innovations, announce product releases, and share best practices across the Adobe Experience Cloud.
Even better — you'll be able to come back and watch the sessions on your own time, as new opportunities or initiatives arise. There is something for everyone in the line-up, so be sure to share this invaluable resource with teammates, partners, clients, and colleagues across disciplines.
Pro Tip: Divide and conquer among your teams to get the most out of the 100+ sessions. Share notes and review key takeaways after the sessions you attend so your team members can spend time doing the same for various other sessions.
Digital Partner Content
We have seen an influx of webinars as temporary placeholders for in-market dinners, Summit happy hours, and face-to-face meetings. We, like many companies, are adding to the ever-growing digital content library by repurposing session content to facilitate webinars.
We are keen on sharing the latest improvements and innovations coming from inside and outside of our company, including our early adoption and successes with Adobe Experience Platform, semifinalist AEM Rock Star contributions, and specific exploratory use cases for solutions such as the XML Documentation add-on. We are not only committed to connecting our teams and the communities in new ways; we're even connecting the platforms with the unveiling of the Magento Adobe Experience Manager (AEM) Assets connector, for example.
If you are a fan of live content, there are multiple upcoming webinars to attend in real-time. If you prefer on-demand content, catch the recordings after sessions.
Pro Tip: Now is a great time to take a deep dive into a topic you have been meaning to learn more about. With more digital content and virtual learning opportunities available than ever before, you're bound to find your way down a rabbit hole (in the best way!).
Connecting with the Adobe Community
Experts Available to Chat
While it would have been great to connect in person, there are a ton of great ways we can still connect one-on-one and across the community! Just as if you had stopped by our booth, we have experts from across disciplines on hand to help you and exciting engagement opportunities.
Our experts are available and eager to share tips on how to make the most of your Adobe investment, assess your digital maturity, teach you more about Adobe Experience Platform, integrate your solutions seamlessly across experiences, drive conversion through your eCommerce site, discuss strategic platform investments, and so much more!
Pro Tip: Take advantage of access to senior leadership across various organizations during this time. Many individuals still have time set aside to participate in Adobe Summit activities. It's a great time to catch individuals that might otherwise be hard to reach and hear information straight from the source.
Pro Tip: Turn the camera on and meet face to face. Social distancing has us all feeling a little secluded. Let's use the tools at our fingertips to build stronger connections and create better experiences.
Expanded Partner Networks
Booth conversations are also a great time to learn more about the various partnerships companies have that support and enhance the Adobe platforms. While the obvious would be sharing exciting news about our up-leveled Adobe partnership and our latest specialization, we also have great partners across a wide variety of skill sets that we love to chat about — marketplace, data management, commerce, and many more.
We would have shared a great data management success story with our partner Akeneo, and shared client Staples Canada. Like many other exhibitors, we also would have shared compelling case studies and client stories.
Pro Tip: Visit other partner websites and pay attention to blog content to identify areas where your partnerships overlap. This will often open doors to new opportunities that may not have been on your radar previously!
Staying Engaged and Keeping Momentum
Maintaining Dialogue
Use Adobe Summit as a common interest to introduce yourself to the industry expert you have been meaning to reach out to. Take this chance to make new connections and meet peers online using social media channels such as Twitter and LinkedIn. Make it a priority to make your presence known in the industry by keeping the conversations going long past Summit.
You never know where networking will take you — whether you meet your next client, a new mentor, or even perhaps a future boss. With a shared goal of creating great customer experiences, you likely have more in common with industry influencers than you even realize!
Pro Tip: Many companies and individuals will be sharing thoughts in real-time during the Summit Keynote and Sneaks. Join in on their conversations by responding back and sharing your thoughts!
---
While we will miss the contagious energy and connecting with everyone in person, we are so excited to participate in Summit Live. Let's keep spirits high and momentum running to create industry-leading digital experiences for our customers. And here's our last, but certainly not least, pro tip — kick back, relax, and enjoy the show!