How We Built and Launched a Website in Ten Days Using Acquia Site Studio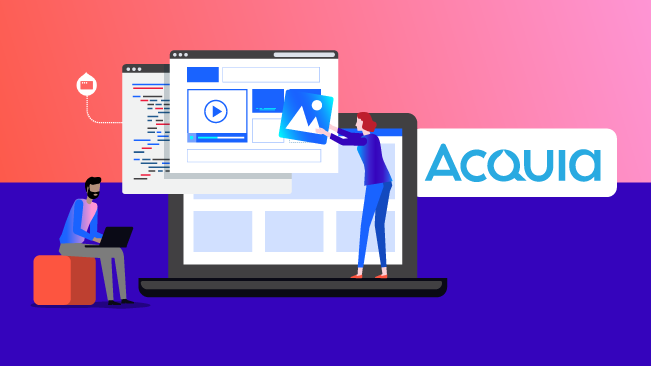 Normally, being asked to build a component-rich website in 10 days might feel like a tall task that requires a superhero effort from all parties involved. But with Acquia's Site Studio, formerly Cohesion, that's exactly what we did.
There were no panic attacks and while we might look like superheroes, it didn't require a superhero effort. Working alongside Marketing and Experience Design (XD), we took the requirements for a component-driven, single-page site and built it in a little over a week with ease.
What We Needed
Here at Bounteous, specifically within the Drupal Practice, we've spent a lot of time and effort learning about Site Studio. We completed the Early Adopter Program, we've earned certifications, and we've even written about it. It was time to put Site Studio to the test and our own Co-Innovation initiative was the perfect candidate for it.
We needed a single landing page site, one that would be a rich, component-driven page that was also elegant, bold, and looked great on any device. We needed a webform that would drive visitors to download our Co-Innovation Manifesto along with all the other behind-the-scenes elements involved with a build. And, it needed to be built in 10 days to coincide with a webinar that was being hosted by our CEO, Keith Schwartz.
Building a site in 10 days should not feel like a big deal, but to do it right, you need Marketing, XD, and Development to come together quickly to provide an actionable plan, provide design direction, and architect it. But, we are always up for a challenge.
How We Did It
So, how did we build a component-rich website in 10 days? The easy answer is that Bounteous is awesome and that's just how we roll. We're experts at what we do and there's no challenge we can't meet. But a more specific answer is, we used a combination of Drupal, Acquia Site Studio, and UI Kit to complete our project in such a short timeline.
We met with Marketing, where they outlined the requirements, which were to launch a landing page to coincide with a webinar. But how could we pull this off? We were all immediately on the same page: Site Studio. This gave Bounteous and the Drupal Team a great opportunity to finally put Site Studio's promises to the test.
In addition to using Site Studio, we also suggested Acquia's UI Kit. UI Kit was designed and built to accelerate the design and development process of a component-driven website. It provided us with the ability to build a Drupal site at scale, fast and efficiently.
Besides saving significant time on the build, another benefit of UI Kit was that marketing was able to view demos of each component, allowing them to quickly and easily select the elements they wanted us to use.
Not only that, but UI Kit provides templates using Sketch, an app that allows for rapid prototyping and collaboration. All we had to do was apply our color palette and typography to keep our brand consistent with our other digital properties. We even made a few structural and functional tweaks with ease to make the site shine. This made our conceive phase super fast, efficient, and it set everyone's expectations about how the site would behave once it was assembled and in the browser.
For the build, we quickly spun up a new Drupal site on our Acquia Site Factory instance. We configured our site based on Drupal standards. We installed Site Studio, imported UI Kit, and started building. From there, all that was needed was for us to add our color palette and typography. Next, we took advantage of Site Studio's ability to easily update and adjust components to fit within the Bounteous style guide.
There was no backend coding needed. This led to faster deployment and put the site into the hands of our stakeholders faster than ever before. It was just that easy. Once everything was in our production environment, we added content and published it. All in ten days, with plenty of QA time to spare.
Easy Building & Theming with Acquia's Site Studio
As we use it more and more, Acquia's Site Studio continues to be an exciting product; one that lives up to the hype. Site Studio makes the process of building and theming sites from start to finish smooth and easy. I am personally excited to continue to push the boundaries of what can be accomplished with Site Studio and the projects that it will benefit. And as for the Co-Innovation site, we have plans to expand it even further.