Four Reasons Why Your Social Programs Should Collaborate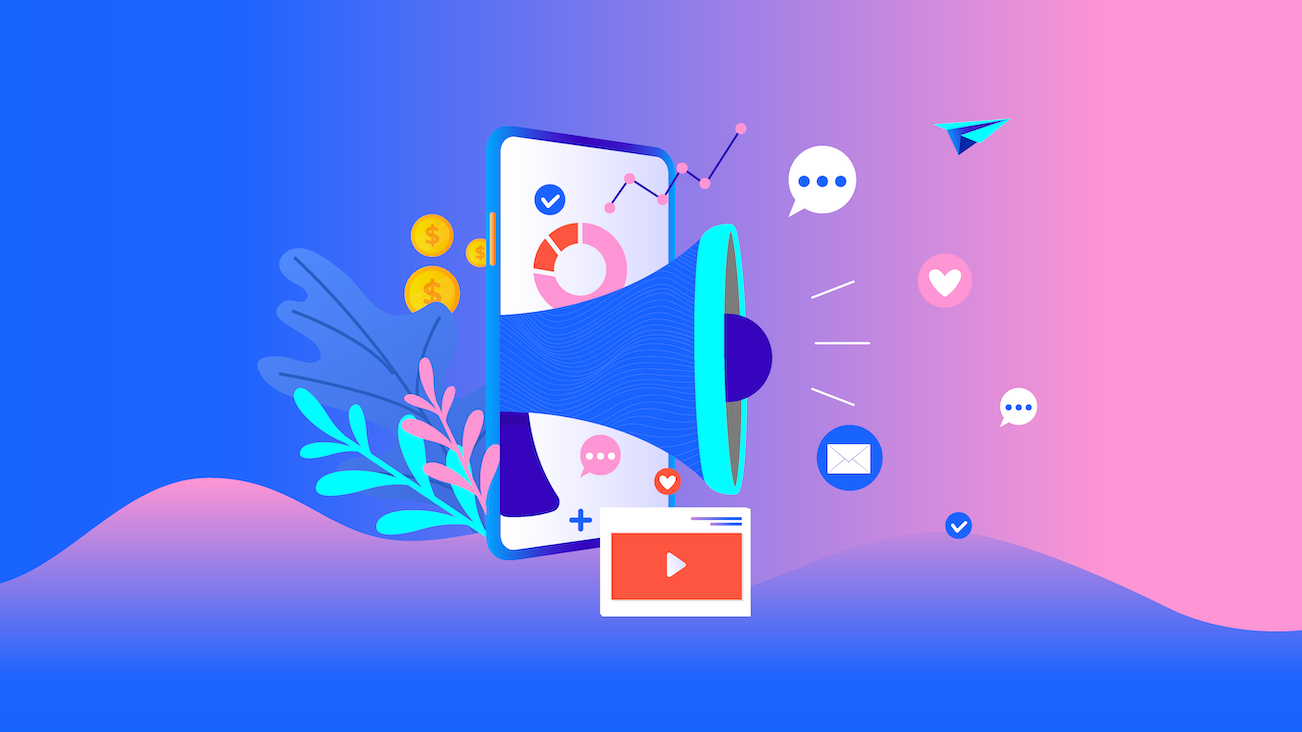 Having a tough time choosing between prioritizing paid or organic social?
The real question you should ask is: why not both? Paid and organic social strategies work best in collaboration to extend reach to new audiences while simultaneously engaging and retaining your existing followers/customers. Organic and paid social media are two sides of the same coin. One simply does not work without the other and when executed properly, they complement each other flawlessly.
Social media is the way of the future. It's now more than ever how we connect, share, engage, and communicate with each other, including brands. Social media may not be as "mature" compared to other channels, like search and email marketing, but there's no denying it's a channel that has grown massively in a very short time and shows no signs of slowing down.
According to Statista, users in North America accessed social media for approximately one hour and 56 minutes per day in 2019. With these high usage rates, many people have come to expect brands to also actively participate in this space.
The path to success on social media is to have an integrated approach to amplify key messages. For the sake of maximizing your reach efforts and keeping costs reasonable, combining paid and organic social media strategy helps provide the best of both worlds.
A major part of social media marketing is truly understanding the two different approaches, what purpose they serve, and what goals they can help you achieve. In this post, we will go over the benefits of both and outline the best way to combine them to get the most bang for your buck!
Benefits of Organic Social Media
With organic social, you invest time and effort for slower, but longer-lasting, results. Brands have a unique opportunity to act human and form authentic connections. The ability to foster community combined with publishing interesting content is a winning combo for attracting new customers while retaining existing ones.
In summary, organic social media works best to achieve the following:
Establish brand voice and grow your brand's presence
Publish relevant content that's useful/helpful/ engaging/thought-provoking/entertaining
Form connections and retain existing customers
Engage with customers at every stage of their buyer journey 
Provide social proof and exceptional customer service
Despite constant algorithm changes, organic social media isn't going anywhere. Over time, engaged online communities develop strong loyalty, which paid advertising alone will never be able to achieve. Offering a convenient free channel for people to reach out will always be in-demand even as paid social media grows.
Another bonus in addition to community management is it can also serve as a prime place for curating user-generated content like customer photos to sell yourself without coming across as spammy.
(@dominoscanada re-posting user-generated content to showcase its product.)
While organic activity is necessary for relationship-building, it's also true that network ranking algorithms mean social is becoming more and more of a pay-to-play channel, which brings us to go over the main benefits of paid social.
Benefits of Paid Social Media
With so much to do organically, why is paid social advertising a major priority right now for most brands? Well, running paid ads ensures your content doesn't get buried beneath competing content and allows you to step outside the confines of organic social algorithms in order to target your desired audience. While organic social is playing the long-game, the paid route will almost certainly always get you faster and better results than simply relying on organic alone.
In summary, paid social media works best to achieve the following:
Build brand awareness and recognition
Target a very specific demographic
Cut through the crowd and maximize reach
Promote key pieces of content, offers, products, services, or events beyond organic reach
Drive conversions of new and existing customers
Split-testing to understand what resonates with target audiences and gather market insights 
Paid social gives your brand instant visibility and guarantees a place in the user's feed. Despite the crowded digital chatter, it provides a direct window to drive leads, website traffic, and sales. But as with any paid advertising, there is a small risk involved. Without doing research and proper planning, there's no absolute guarantee that you'll see positive ROI.
Now that you have a better understanding of how organic and paid social are used separately, you might be asking how they can be used together. Keep reading to find out!
How to Take a Hybrid Approach to Your Paid and Organic Social Strategy
We like to think of this integrated paid and organic social approach as an agility-loop. Organic supports paid and paid supports organic. The foundation of most integrated social media strategies is using organic to retain and delight your existing customers while attracting new eyes with paid ads.
Here are four ways to have a holistic approach for both organic and paid social:
Boost Your Best Content
Organic social is a great way to test out content to see what lands with your target audience. What performs best on organic can help inform your paid strategy. Variables such as imagery, calls-to-action, and copy all deserve careful consideration when it comes time to whip up an ad. Metrics such as clicks and new followers are both good starting points to spot top content and include in your paid strategy for optimal results.
Timing Matters
As the saying goes, timing is everything. Check your insights to see what times and days of the week are the busiest traffic times for your audience. Consider only posting content during peak times for organic and also using this data to determine the best times to run a paid ad. This will allow you to maximize your ad spend knowing it will be served when your audience is more likely to see it.
Target People Similar to Your Organic Audience
Brands who spend more time growing their organic presence have the ability to collect more data about their audience. Understanding things like where they live, age, gender, and special interests can help paint a better picture and allow you to capitalize on this information as you build your ads.
Brands who have put in the leg work to build quality relationships on organic are able to catch a break when it comes to building out better targeting for paid campaigns. For example, most social platforms let you create lookalike audiences based on your best customers, whether they be your newsletter subscribers, or people who have engaged with your profile or content, or people who've bought a product in the last year. These audiences are typically higher value and have a better chance of converting since they already share many commonalities with your existing customers.
Cross-Promotion
Leverage both paid and organic to amplify key messages to ensure maximum reach and awareness. If your brand has an important promotion or message, you should plan to publish a post organically and as a paid ad campaign to cover both bases and ensure your message is heard loud and clear.
Adopting an Integrated Paid + Organic Social Strategy
Rather than view having a paid and organic social media strategy as a game of "what would you rather," consider how you can benefit from both. As you can see, there are a multitude of benefits when it comes to an integrated social media strategy.
Social media is a complex, dynamic, time-consuming beast, but it's definitely worth the effort to build your brand and remain visible where your audience spends so much of their time on a daily basis. Having a combined paid and organic social media strategy will assist you with these efforts and get you noticed in a crowded marketplace.
Keep in mind that digital marketing doesn't end when a browser window closes; rather, it's a customer journey that spans every part of their experience, online and offline.
Social media is just one piece of the puzzle, consider how these concepts apply across other channels and can incorporate additional activities like content creation that can expand a message in different formats while maintaining consistency and upholding brand standards.
Whether you're working entirely in-house or with an organization like Bounteous, it's important to stay ahead of the curve by clearly articulating goals and devising strategies for achieving them in high-impact, tangible, and fun ways.