Comparing Google Display & Video 360 and Google Display Network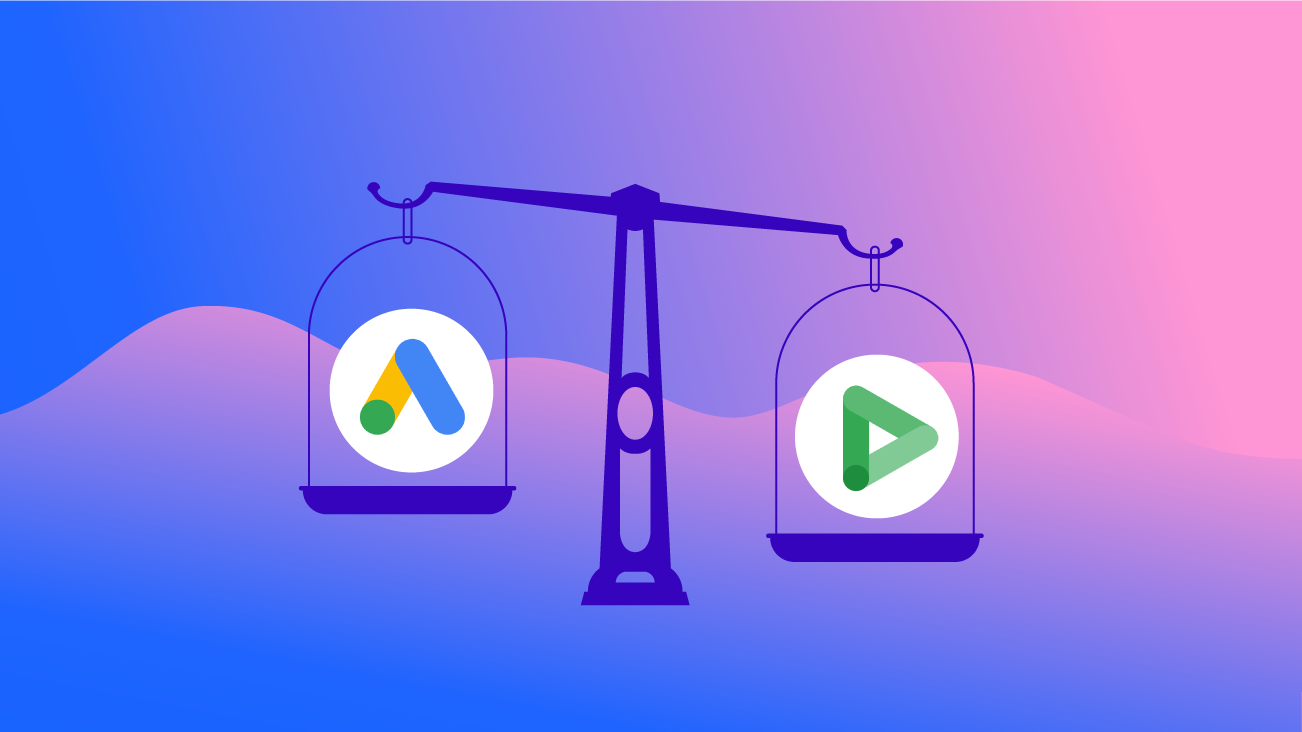 As a Google-centric marketer who works in the programmatic world in 2020, one of THE most common questions that I hear from external and internal stakeholders is, "What's the difference between Google Display & Video 360 and the Google Display Network?" While my initial response is usually "Pretty much everything," I think there's certainly some value in breaking down the key differences between the two platforms.
Display & Video 360 is almost always the superior choice for anyone looking to take their programmatic efforts to the next level, while the Google Display Network is a solid product for those hoping to get their programmatic efforts off the ground.
Google Ads is largely known as a self-service Search Engine Marketing (SEM) platform that also provides access to the Google Display Network, or the GDN. The GDN is Google's own advertising network of certain ad-enabled websites across the Internet. It's a great place for advertisers to experiment with display advertising and basic retargeting techniques. Also available through the Google Ads platform is YouTube inventory, which can be purchased programmatically as well.
Overall though, capabilities are quite limited when GDN and Google Ads are compared to a demand-side platform (DSP). Here's where I see many marketers get confused. GDN is but one of the many inventory networks across the web.
Google's agency-grade media management platform Display & Video 360 is the No. 1 rated DSP on the market and offers a host of enterprise capabilities and management tools to access, buy media, and understand attribution across networks.
In short, the platform offers far greater reach across the Internet, opportunities to run Private Marketplace deals with publishers, many more campaign settings and controls to maneuver, advanced reporting opportunities, and more.
Impressive Reach and Ad Formats
As a top-rated demand-side platform, Display & Video 360 (DV360) reaches over 80 mobile, desktop, and Connected TV (CTV)/Over-The-Top (OTT)/Linear TV ad exchange networks with higher-quality ad inventory that covers 90 percent of the web. Needless to say, it's very hard to compare only the reach of the GDN to the reach of 90 percent of the internet. Consider this the first and most important selling point—not much further explanation needed.
Additionally, while Google Ads and the GDN allow for basic display ads, retargeting and some video placements, DV360 provides CTV/OTT video buys, television commercials, audio ads, and many other ad choices. Unlike any other DSP, DV360 also provides access to YouTube inventory, with some key features that Google Ads doesn't even have.
In today's growing digital landscape, access to differing ad formats such as these is critical to any organization's marketing efforts, and having them all in one platform is quite a nice feature.
Buy Publisher Placements with Marketplace
DV360's "Marketplace" allows advertisers to easily find and discover high-quality, fraud-free inventory from top broadcasters and publishers, Google media, and curated inventory packages. Negotiate deals directly—even for traditional TV—and execute buys quickly and efficiently.
Programmatic Direct, or Private Marketplace (PMP) deals, is a way for publishers to put their premium inventory on a programmatic platform. Advertisers get all the benefits of programmatic, and publishers can monetize their top inventory without driving down CPMs. GDN does not provide marketplace deals.
The Marketplace in DV360
One type of private deal that has become especially popular is the "Programmatic Guaranteed," or "PG" deal. PG deals essentially function as a traditional media direct buy, in that a publisher and advertiser agree on a set price, CPM, and impression volume over a certain period of time. The difference in DV360's version of this though is that the process is quicker, easier, and integrated totally within the platform. Traditional reservation buys can take up to 40 steps and include a great deal of operational overhead.
Other deal types such as private auctions or preferred deals are also available through the Marketplace, where an advertiser can bid against a select group of other advertisers on specific publisher inventory. There is no guaranteed impression volume or cost in these types of deals, but they often can be great ways to access quality inventory at a lower cost. Through the DV360 marketplace, the process of setting up these deals is made quick and easy.
In today's marketing landscape, it's impossible to ignore how popular CTV and OTT inventory have become. The DV360 marketplace gives premium and fast-track access to thousands of CTV/OTT publishers and deals right on the spot. If you need some convincing on just how important and relevant this feature is in today's world, take a look at this post by my colleague Jeremy Greenwald on the streaming TV boom that is taking place.
Simply put, marketplace deals allow for streamlined trafficking, quicker execution, less manual work, and better troubleshooting tools, making the entire process easier.
Agency-Grade Controls
Another key piece of DV360's value is increased control of budget, bid, and ad settings when compared to the limited settings provided in Google Ads.
Control Budget pace, bids, and frequency with finer detail in DV360
Budget Pacing: DV360 has several pacing options that you can use to control how quickly your line items and insertion orders spend their budgets over different periods of time, such as a day, a budget segment, or a flight.
Frequency Capping: Fine controls in as small as 15-min increments. Audience-level frequency capping. Google Ads provides only a daily cap. Remarketing Recency Suppression settings and Machine Learning-Driven Frequency calculation solve for absence of third-party cookies.
Brand Safety: Utilize Industry-leading controls like labels, blocklists, and contextual exclusions. There are a number of free, Google-provided brand safety options just a few clicks from being implemented in any campaign. Need more? Third-party Integrations like IAS or DoubleVerify are also extremely compatible with DV360.
Additional Targeting Options: DV360 has all of the targeting options that are available in the GDN such as Google In-Market and Affinity audience segments. There is also a multitude of additional targeting options that set it apart from the GDN. Leverage DMP-provided third-party audiences to reach exactly the targets you are looking for. Limit the browser, operating system, and more that your ads can serve on. Implement contextual keywords to only target placements that fit the criteria you are looking for.
Advanced Audience and Reporting Tools: Better understand where audiences are on publisher networks and receive deep insights into campaigns. DV360's reporting gets extremely granular and can look at dimensions and metrics Google Ads just simply does not have the capability of pulling in.
YouTube Ad Inventory
The value of YouTube ad inventory doesn't really need to be spelled out too much, and it is a critical offering of DV360 that separates it from any other DSP. Now, while both Google Ads and DV360 have access to YouTube Trueview inventory, DV360 does offer a number of differentiating enterprise features such as:
Access to YouTube Select - Special reserved inventory from the most popular channels on YouTube.
Brand Lift Surveys - Quantitative lift studies conducted on your ad creative demonstrate lift results.
Cross-exchange remarketing - Use your YouTube audiences to remarket to users across exchanges to deliver an engaging experience based on their interactions across YouTube.
Rolled-up Reporting - By running YouTube through DV360, you can roll up reporting into Campaign Manager alongside other campaigns and get a better view into comparative performance and attribution.
Enhanced Attribution with Display & Video 360
Another important discussion when talking about the value of DV360 involves measurement and reporting. The power of Floodlight tagging from Campaign Manager 360, Google's ad server platform, takes impression and conversion tracking to a new level in DV360. Floodlight pixels allow organizations to create Activity-Based Audiences like past clicks, conversions, views, and Impressions to collect data well beyond the standard Google Ads measurement pixel.
Native Integrations with Google Marketing Platform enable powerful attribution via Google Analytics 360, Ads Data Hub helps companies access unique, impression-level data from Google Cloud's BigQuery to perform cloud-based advanced marketing analytics and audience segmentation, and easy remarketing from SEM activity via Search Ads 360. Campaign Manager and Google Tag Manager 360 make storing, tagging, and launching ad creative a simple, integrated process.
DV360 links directly with other platforms such as these to help marketers consolidate their work, scale their reach, and advance conversion attribution discussions between platforms.
So, How Do Companies Get the Most out of Display & Video 360?
To sum it all up, the GDN within Google Ads offers a solid and basic opportunity to dabble in the world of programmatic display. At this point, with Google rolling out more and more AI-based "Smart" campaign options, I really see it as an option for a small-scale operation such as a mom-and-pop shop that is just looking for a presence on the web.
Conversely, if your organization is ready to graduate to an agency-grade DSP or partner with a media buyer that can drive results, look no further than Display & Video 360. It provides the reach, controls, premium features, and advanced reporting that any programmatic strategy can really depend upon.
Resources: