Rethinking Role of The Virtual Attendee for Online Conferences or Training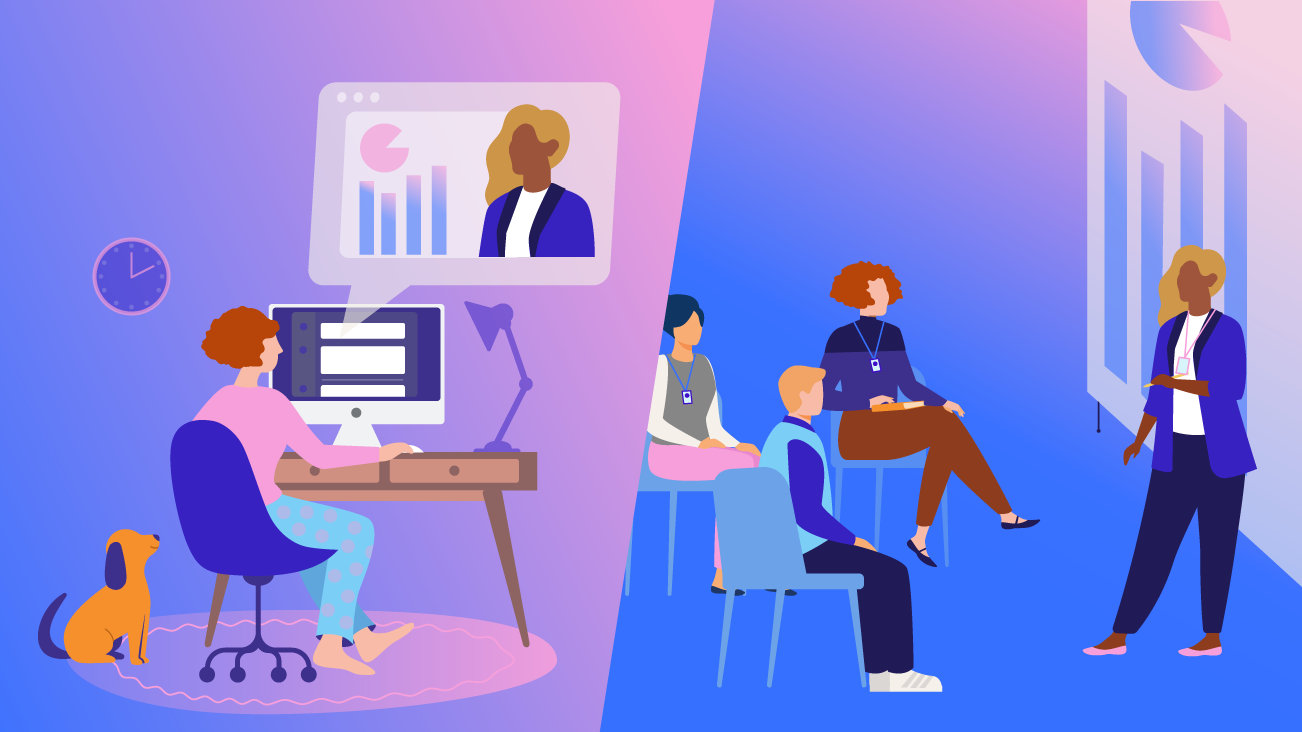 Technology to work and connect virtually has long been an option for individuals, helping to ease geographical divides and connecting us to educational conversations happening around the world. Recently, virtual became the default—virtual meetings, virtual happy hours, virtual family check-ins, virtual conferences, virtual training. It won't always be the only option, but even after in-person events return as a regular part of our life, we can expect that many of these virtual professional development opportunities will stick around.
As with the shift to working from home, taking something that used to be in-person and moving it to virtual also shifts some of the responsibility onto the individual; in this case, the attendee. With a greater number of variables at play, your ability to attend and get value out of a professional development opportunity requires extra planning and consideration to make sure you focus on what matters and come prepared.
Attending a virtual training or conference has both advantages and disadvantages and recognizing these before you attend can be helpful. If you are attending a virtual training or conference, or if you're investing in your team's ongoing development, share this guide with others and spend some time planning out your approach.
What Will Make This Event Valuable to You?
Event websites and conference descriptions often tout the many benefits of participating in an event. A week-long conference might boast about its dynamic expert speakers, multiple opportunities to network with other attendees, perhaps workshops or contribution days, entertainment, product/vendor demos, and more. Shift that event to virtual and few will be able to recreate all of the perks to the same level of quality you might expect in-person.
Rather than attempting to do everything and expecting perfect results, pick the thing that will benefit you the most, and focus the majority of your effort there, eking out as much value as you can from that likely smaller time commitment. If there are noticeable parts of an experience that are missing or too different, consider what it might take to replace that portion.
Tips for Retaining Content & Education
My number one goal for an event is to learn something new, so I look specifically at session topics and speakers. Virtual means that you have more options to choose from; you're often not limited by the same budgetary and geographical constraints which means you can be more selective. Seek out engaging speakers, proven experts, or subjects that fit your current and future needs.
In the virtual model, this can mean more than just showing up at the right time. Look into what options are available for downloading material before or after, and be present and focused during the actual session. There are reminders below for how to accomplish that below.
Think of tasks that force you to be actively listening. Taking notes on paper is helpful for me, partly because it forces me to focus completely on the session and ignore the other distractions on my computer. Whether you're going old-fashioned with a branded notebook or rocking sophisticated notetaking in Roam, the act of writing down important points is an important first step.
Step two is the most important part. Book yourself time to revisit content within the next week. As soon as possible after the event is over, find quiet time away from distractions and the regular "business of work" to reread your notes, revisit slides, and turn those notes into a game plan for applying new concepts or lessons. With virtual events, it's easier than ever to slip back into the daily routine, feed the dog, morning standups, etc.
As soon as you book your ticket to a virtual session, go into your calendar and block out reflection time following the event. It's a gamechanger to turn the valuable lessons and insights into action and value for your company.
Networking in Virtual Events
In-person events often rely on the accidental collisions, the serendipitous connections you make sitting next to strangers, reconnecting with friends, wandering the exhibit hall. Networking is a particular area that can be difficult to recreate virtually, but the differences in virtual are not always a bad thing. Virtual events may have different options for networking—I've been to several over the past year with public chat windows, direct messaging, "virtual booths," Slack workspaces, avatars for individuals, you name it.
The creativity and tech advancements in just the last year are inspiring, but maybe still not quite enough. Before and during your event—think about the people you would have liked to connect with and consider other avenues for communication. For friends and acquaintances, consider personal notes via email or LinkedIn and arranging to meet somewhere in the virtual event or scheduling a virtual coffee.
If you're interested in connecting with clients/partners/vendors, consider using the event as a catalyst for starting those conversations. Reach out via the in-event tools or just drop an email referencing the event.
Don't be afraid to try something new! If you can set aside time to experiment with the networking tools that an event has set up, then put yourself out there. If everyone joins, it can be great. If no one joins, it might be disappointing. When you can only control your own behavior, game theory suggests you'd be better off trying it out and hopefully having an amazing experience.
Being A Great Virtual Participant
Most of the tips to being a great participant should come as no surprise, but I'll share a few here. Spending time planning for your event is the most valuable thing you can do—whether you're reading a post like this one or coming up with your own plans, if you are mindful about getting value out of your investment, you likely will.
If you're the one controlling the budget and you want to make sure it was worth it, schedule 15 minutes to talk through the event before it happens and ask your team members how they plan to get value from the conference.
With live events, it can be easy to put off preparation until you're at the event or on your way. In the past, I've used the flight to a city to scan agendas, map out goals, share on social media about the event, etc. Today, my commute from the kitchen to the home office takes all of 10 seconds. Working remotely and learning remotely requires practice and honing of skills, just like any other activity.
Manage Distractions Appropriately
It's impossible to remove all distractions, but you can take care of the major ones. Communicate your availability to your coworkers and your housemates. Use the tools you have in place to tell everyone that you value your educational opportunities and are treating them as a meaningful part of your day.
Set those out-of-office messages, put up a Slack status, and then mute your notifications. If you're capable of quick peeks, plan which moments you'll glance through your messages and respond with more personal notes. Multitasking is easier at virtual events, so do everything you can to avoid that temptation and commit to the event.
Managers, communicate in advance to your team members that they should be 100 percent present, and then back that up with your actions by not sending them emails or messages while you know they're unavailable.
Engage with the Content & Session
With no one watching, it's much easier to get distracted and multi-task. If there are options to engage, consider turning your camera on, participating in chats or Q&A portions, and so on. Treat the event like a face-to-face event: focus, be polite, participate. An event is a perfect excuse for me to pull out a nice shirt from way back in the closet (but you can be sure I'm still wearing slippers.).
Do you know others that are attending? Can you chat during the event about the topic and how it relates to your individual roles? Attending with others from your work will help keep you accountable as well as contextualize the material. Think back to kindergarten and "bring a buddy" for moral support.
Depending on the content, you can oscillate between note-taking, todo-creating, or following along. If I'm learning about a specific tool or feature, a huge benefit of attending from home is that I can have my instance open on a different monitor and compare what I'm seeing with what the presenter is showing.
I tend to leave myself notes or questions that I want to follow up on, "How does this relate to XYZ?," "Why does this look different?," etc. These are great to address in the time you've already blocked for after the event.
Engage with Hosts, Attendees, & Speakers
In some ways, virtual events make it easier to connect with the people around you. When I'm speaking at a conference, I often offer a meeting place for attendees to follow up with me after a talk—"meet me at the coffee bar" or "come chat at the Bounteous booth." It can be hard to talk to everyone, especially if the agenda means people are rushing to their next session.
Virtual speakers and trainers would often love to connect, but might not have an easy way to do so. Use the event coordinated tools or take them up on offers to connect after the event using social media or email. It can sometimes be easier to connect with a virtual conference where everyone is online already, and there's less concern about striking a conversation with a stranger.
Consider the hosts of the event and the staff that are working, and how you can seek them out to ask questions or thank them for the event. Virtual events are still a lot of work to produce, and can be difficult to encourage real-time participation and attendance. Online or in-person, be courteous and grateful during the event, and use feedback forms or follow-up emails from the organizer if you have constructive feedback to deliver.
Continue To Invest in Virtual Education
As companies everywhere adapt to new working environments for the employees, many took a pause from focusing on education or professional development. If your company offers budget or training opportunities, consider the unique opportunities available with virtual training. Seek out that conference or training that might be out of reach if held in-person.
Days "out of the office" and spent on virtual learning can be educational, restorative, and often motivational. Think about ways to treat those days as special, and give yourself the time and tools necessary to make them valuable to you and your organization.