How to Build a Great Drupal Team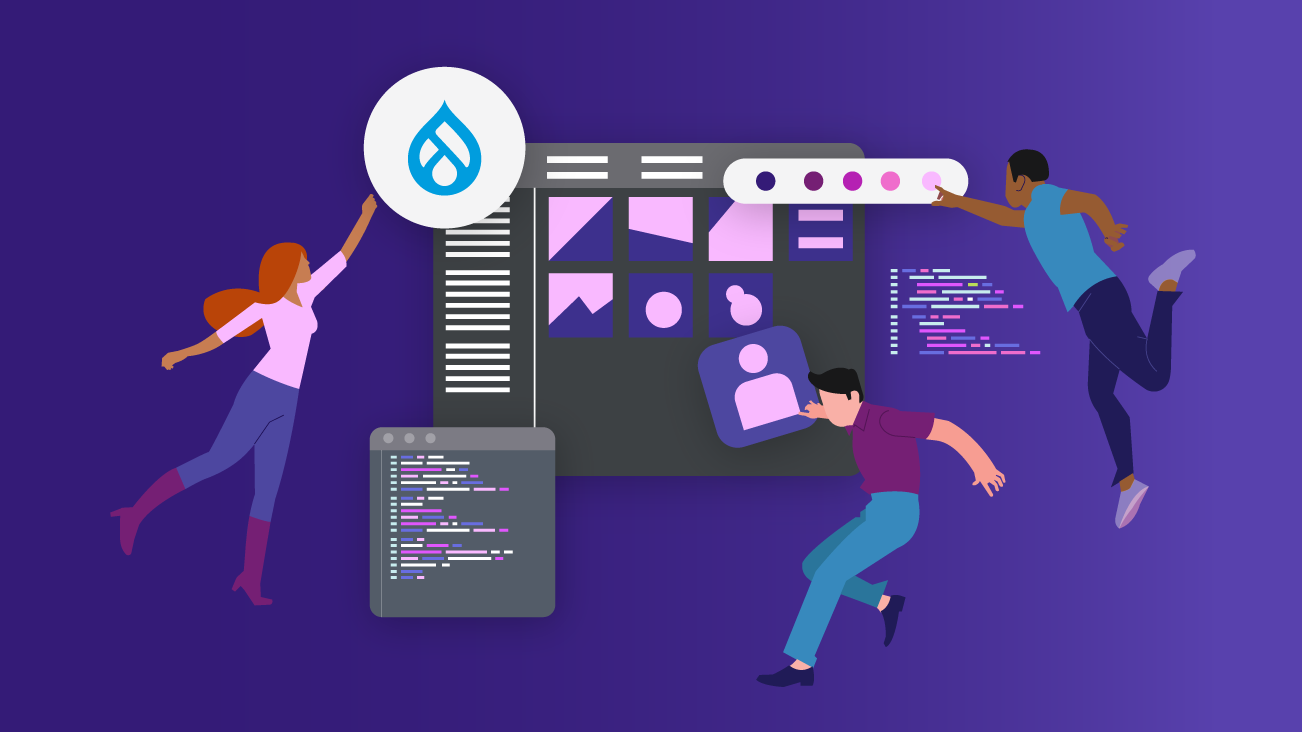 In order to create great digital experiences, you need to first have a great team in place. If you're reading this, you've probably already come to the conclusion that you need a Drupal team, whether it's to build a brand new Drupal site or to maintain an existing site. We've broken down some of the challenges and solutions for you to consider when building your Drupal team.
Defining the Skills and Roles Your Team Needs
First, it's important to step back and understand all of the different skills and roles that you may need on your team, depending on what stage you're at in your Drupal process. A team that is building a Drupal site may look very different from a team that is maintaining a Drupal site.
To build a Drupal site, your team likely needs to include:
Product Owner to gather the requirements for the site and determine what the site needs to do
Experience Design to design the site
DevOps to build the infrastructure to host the site
Technical Architect to plan out the site build
Developers to build the site
Project Management to keep the project on track
Quality Assurance to confirm the site works as intended
Content Editor/Creator to build out the content for the site
Once the site is built, however, your team needed to run and maintain the site may need to include:
Developers to maintain and enhance the site
DevOps to keep the site up and running
Content Editor/Maintainer to keep the content up-to-date
Marketing to attract users to your site
Analytics/Insights/SEO to understand how users are using your site and adjust the site accordingly
Project Management to manage the team on a day-to-day basis
Product Owner/Experience Design to plan out and design new features and functionality for the site
Not only can the needed roles change depending on whether you're building a site or maintaining it, but some of the skills required won't be needed at the same frequency. For example, for any reasonably sized site, you will need at least one full-time developer to maintain the code, fix bugs, and add enhancements. However, once the platform is built, the amount of DevOps tasks may not occupy someone full time.
So this then leads us to the question of: should you build your entire Drupal team in-house? Or should you outsource some of it—or even all of it?
Building Your Team: Hire In-House, Outsource, or Both?
The possible solutions fall on a spectrum and each has its own set of considerations.
Hire the Entire Team In-House
If your organization is large enough, there's a good chance you have the resources to hire an entire team.
First, map out the talent you already have available to you internally, and identify the gaps in skills that need to be filled. Then, before jumping immediately into recruiting for the specific roles outlined above, consider if you might be able to hire someone that is more of a generalist. For the skills that won't be needed often enough to keep someone busy full-time, can you find one person to wear several different hats? If so, can that person be effective enough at those different skills for your Drupal site to be successful?
After exploring your options, it's time to move into the recruiting and hiring process. Good Drupal talent can be hard to find, but it's out there! A good place to start is on LinkedIn, searching for people with Drupal capabilities that may be in or connected to your network. Networking in the community can be very helpful if you're looking for local talent: consider meetups, or local events like MidCamp in Chicago if the timing is right. There are also job sites that specifically call out Drupal talent, like jobs.drupal.org.
Hire An Agency That Already Has People With the Skills
If your organization is smaller and you don't have the resources to hire an entire team for building and maintaining your site, your best bet may be to work with an agency.
If you do not have an IT team, it might make more sense to host your site with a provider like Acquia rather than building a DevOps team to monitor and maintain the infrastructure. Even if you do have a knowledgeable IT staff, it may not make sense to use them for this if they are not used to working with the technologies needed to host a Drupal site.
By working with the right partner, you can rest assured that your site is in the hand of experts. When evaluating partners to work with, you'll want to first make a list of the things that matter most to you. You probably want more than just a great website end result; more than likely, you also want to become smarter from the experience and retain knowledge, as well as have confidence that you'll be able to maintain and grow the site.
Identifying what you want to get out of the experience besides the actual website will help guide you in choosing the type of company you want to work with. Some companies will focus solely on turning the website around quickly. Others, like Bounteous, focus on improving digital capabilities and maturity—while also delivering an excellent experience to your customers. If that entices you, look for partners that value co-innovation.
We also encourage you to choose a partner that contributes to Drupal. This will have a great impact on the Drupal community and, ultimately, improve the Drupal ecosystem.
Hire an Agency to Build the Site, Then Hire and/or Train Your Own People to Run & Maintain It
The perfect solution for your needs might be a mix of the first two options. Hiring an agency to do the build and then hiring and training your own people to maintain it will grant you the benefits of having experts build your site, and not having to hire an internal team for building that might then need to change once the build is done. 
This option is also beneficial because once your partner of choice is finished with the site build, they can actually be a great resource in helping to hire the talent you need to maintain the site.
Your strategy can (and likely will) shift over time, so your approach to your Drupal project should reflect that. Even if your long-term desire is to do it all in-house, you can ease into that through evolving your approach over time. Some of our clients bring us in at the start to build the platform and create a strong foundation. Then they have us actually teach them Drupal and work alongside them as they learn. Ultimately, they end up taking over everything in-house.
Take the Long Road and Learn as You Go
Building a Drupal team can seem like a daunting and challenging process, but the good news is that you're never alone. Take time to consider the phases that occur after launching a site, a new site will need to do more than just expose information—what integrations are required, what will come next in terms of digital capabilities? Thinking about maintenance and growing your digital maturity may influence your hiring/staffing goals.
Get (or stay) involved with the Drupal and open source community. Involvement in the community means you will always be surrounded by individuals who are more than happy to answer any questions and provide guidance along the way. Learn from other people's experiences and stories and apply those learnings to your own decisions. And lastly, adapt and learn as you go!
Your great Drupal team is within reach—get out there and make it happen!