Navigating the 2021 Virtual Adobe Summit and All Of Your Digital WTF (What's That For) Moments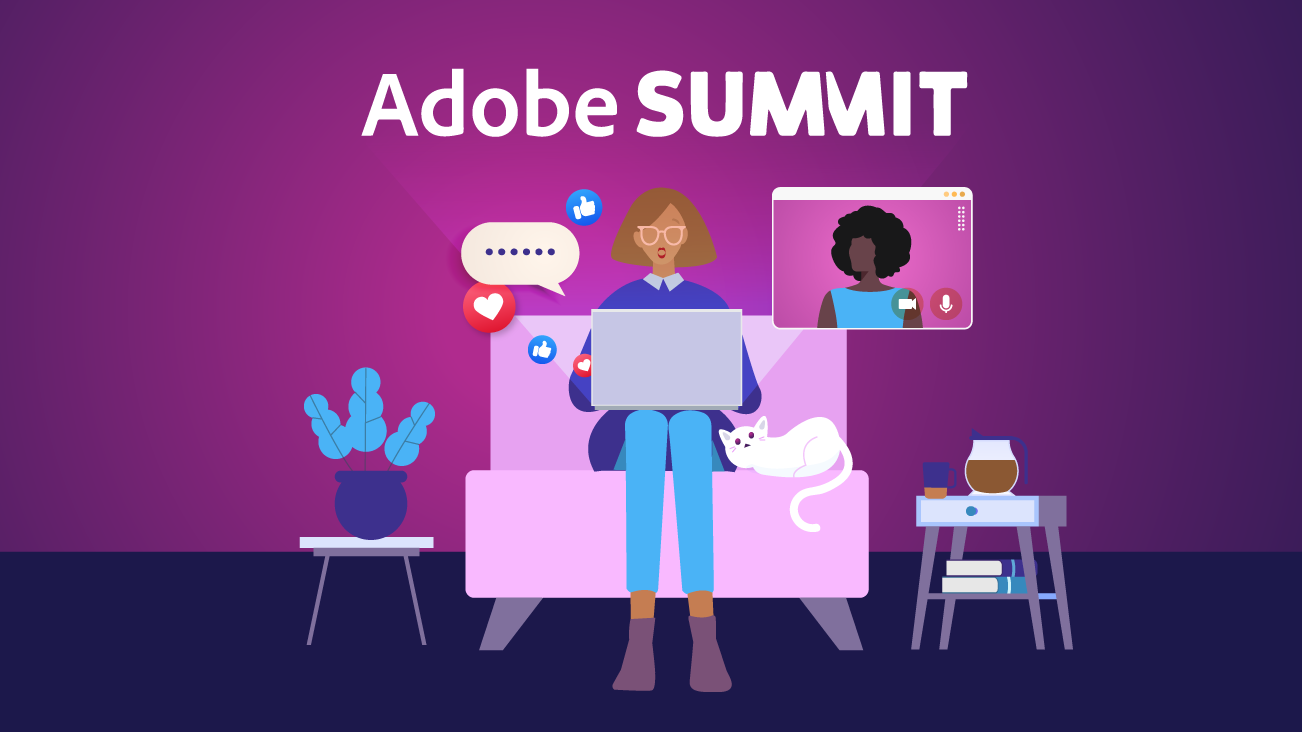 Adobe Summit 2021 takes place virtually on April 27th and 28th. Bounteous has all of the details you need to maximize your experience and walk away with significant knowledge and digital next steps for your organization. Registration is free and available to anyone on the main Summit home page. Sessions and workshops will run throughout Summit and include key speakers like Serena Williams (Tennis Champion, Entrepreneur, Philanthropist), Albert Bourla (CEO, Pfizer), and Dan Levy (Emmy Award-winning Writer, Actor, Director, Producer). View an agenda overview of the schedule divided by time zones and the session catalogue to browse specific topics to add to your schedule.
Like last year, Adobe Summit (and the rest of the world) was looking a bit different. In 2020, the conference went virtual for the first time ever and Bounteous was there to help you make the most of your suddenly digital experience. When Adobe announced that Summit would be virtual once again, we came together to discuss what challenges and opportunities the last year had brought forward and how we could hone in on these to help build an engaging experience to prepare for this year's conference.
An underlying statement of WTF "What's that for" continued to come up in conversations. We noticed that the highly advanced digital presence companies realized they needed to be a part of now led them to many questions. Several being, what was the best path for them, what solutions they needed to implement, and the very simple question of "Well, what is that really for?"
This is where Bounteous comes into play. Our team is here to help you navigate your 2021 Virtual Adobe Summit Experience and all of your digital WTF moments! As you register and begin to plan for this year's event, we've put together some tips to maximize your 2021 Adobe Summit virtual experience.
Six Pro Tips for Getting The Most From Adobe Summit
Watch Summit Live
The recordings of all sessions will be available for weeks to come and you might feel the push to register for the event and not actually commit to tuning in for the two days live. Carving out time in your schedule on April 27 and 28 to tune in live will create the experience you are needing to recharge your digital initiative knowledge and excitement for what's ahead.
Aside from the sessions unveiling new innovations, hitting on industry hot topics, and sharing best practices across the Adobe Experience Cloud, the virtual Summit will feature a lot of other day-of activities you won't have access to after April 28th. This includes giveaways, partner success stories, downloadable resources, and an opportunity to network with other attendees and solution partners.
Ask Questions In Real-Time
While a lot of sessions will be pre-recorded, the speakers will be available for live Q&A during the time of their session. This is essential for connecting with industry experts to answer all of your pressing questions on digital transformation and beyond.
These sessions are selected from thousands of applications making the chosen topics and speakers the best of the best. You will have the opportunity to engage with experts within your interested fields expanding your knowledge and takeaways from Adobe Summit even further.
Prioritize Specific Sessions
Once registered, begin to add specific sessions to your schedule based on your interests. With more than 200 sessions and training workshops across 11 session tracks, you might feel overwhelmed the day of if you don't spend some time prioritizing specific topics you are interested in ahead of time.
The tracks are broken into specific Adobe Experience Cloud solutions. Determine which solutions you're currently using or interested in learning more about to filter down sessions that fall within that solution. You can even filter down by industry, business type, and technical level to help narrow down the most relevant content for you.
Put Away Your Phone
One factor to consider when attending a virtual event is the distractions that will take place knowing you are not in a closed-off environment with other attendees. Turning off and putting away any distractions will allow you to be fully present and gain the valuable information you are looking for.
This includes setting aside your phone, exiting out of social media platforms, and putting holds on your calendar so other meetings are not set during sessions you wish to attend. We call this disconnecting to reconnect!
Look for Key Themes
Every year Adobe brings in key speakers, industry experts, and case studies from existing customers to showcase the power of technology in action. This year, we can expect a number of sessions around Commerce, Customer Journey Management, and Data & Insights.
Adobe Summit can be both educational and aspirational. Focus on topics that can be applied to your company or industry, and think about setting realistic goals for 2021 and how you can apply those learnings. This year, we're particularly excited about topics around commerce and customer data activation, and looking forward to product demos and the Summit Sneaks presentation related to the next generation of products and services.
If you're interested in attending sessions around Adobe Commerce, previously known as Magento Commerce we recommend tuning in during our session with TiVo, Rethinking TiVo's eCommerce Touchpoints to Scale at Speed. Another can't miss session is our long-time client, Coca-Cola. They'll be taking the stage with Adobe to discuss Fueling the Digital Economy With Content Everywhere. As you begin to explore the world of customer journey management for personalized experiences, check out this Adobe lead workshop on Orchestrating Customer Journeys Powered by Experience Platform.
Engage and Network
Adobe Summit is not just about the educational sessions. This is a great opportunity to connect with Adobe Experience Cloud experts, engage with other professionals in your industry, and even set meetings with possible partners who can take your digital experiences to the next level. Even from behind your computer you will have the ability to network so set aside the time and have topics of interest in mind.
Navigating Your Adobe Summit Experience
While those are some pro tips to help navigate your Adobe Summit experience, Bounteous' leading industry experts have been discussing insights to help you better understand the value of digital solutions across the Adobe Experience Cloud leading up to Summit. Through a series of WTF (What's That For) webinars, Bounteous is helping you build the foundation to maximize your virtual Adobe Summit experience and digital success. Visit our Adobe Summit Experience to watch past recordings as you prepare for Adobe Summit.
While our team misses the energy and excitement from the live Adobe Summit experience, we are making the most of what 2020 has brought us and can't wait to see where the rest of 2021 takes us and our clients!