Press Release: Fortune Deems Bounteous One of the 2021 Best Workplaces for Millennials™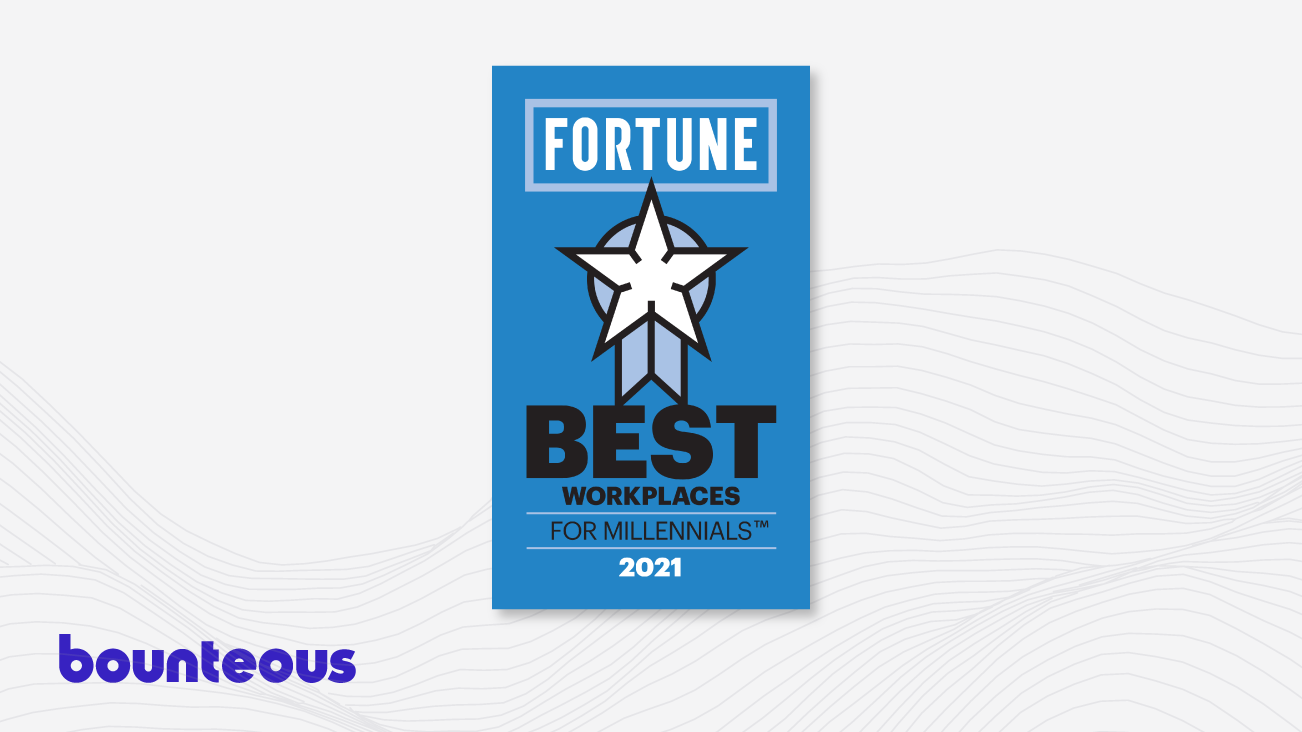 Well-decorated digital experience consultancy secures position on highly-competitive generational list
Chicago, IL — July 16, 2021 – Great Place to Work® and Fortune magazine have honored Bounteous as one of the 2021 Best Workplaces for Millennials™. This is the company's first time being named to this prestigious list.
Millennials are the world's first digitally-native generation. Bounteous, a leading insights-driven digital experience consultancy, is home to over 750 team members and currently, approximately 70 percent are classified as millennials.
"Bounteous is a place of belonging. We understand that people's strengths, challenges, needs, preferences, and drives vary from individual to individual," said Leah Weyandt, Chief People Officer at Bounteous. "Our goals are to provide a workplace that is not only diverse, equitable, and inclusive, but inspires our people to be the best they can be and innovate in extraordinary ways. The millennial workforce values opportunities to grow, but also deeply understands that each person's journey is their own. Flexible work options, career balance, on-the-job opportunities to experiment and explore, and the freedom to be their authentic selves are fundamental drivers for choosing and staying with an employer. As Bounteous leaders, our job is to encourage, support, and fuel their long-term success."
Throughout the COVID-19 pandemic, Bounteous has promoted a transparent environment through weekly virtual town hall sessions; a supportive, team-oriented culture; virtual yoga, trivia nights; benefit concerts; bingo; collaboration center coffee hours; and activities for parents and their children. Bounteous' people-first culture includes benefits with a 401(k) match, 100 percent paid medical, a take-what-you-need time off policy, and an Employee Assistance Program that offers short-term counseling to team members and their dependents, as well as financial and legal counseling and assistance.
Bounteous provides philanthropic and charitable match programming; is focused on diversity, equity, and inclusion initiatives; and offers year-round opportunities for professional development. The company also endorses executive-sponsored team member resource groups, including those for women, LGBTQ+, working parents, people with varying levels of abilities, and BIPOC, to name a few. Bounteous team members have also completed proactive projects to support inclusivity in tech.
Bounteous' robust client roster includes co-innovation partnerships with blue-chip brands like Mars Wrigley, Coca-Cola, Shake Shack, Caesars Entertainment, Wawa, and Domino's.
The highly-competitive Best Workplaces for Millennials award is based on Great Place to Work's analysis of confidential survey responses from more than 5.3 million current employees. In that survey, 95 percent of Bounteous' employees said Bounteous is a great place to work. Bounteous has been named to multiple GPTW lists in 2021, including Best Workplaces for Consulting & Professional Services and the Best Workplaces™ for Women.
Great Place to Work is the only company culture award in America that selects winners based on how fairly employees are treated. Companies are assessed on how well they are creating a great employee experience that cuts across race, gender, age, disability status, or any aspect of who employees are or what their role is.
Bounteous is hiring in all departments for talent located anywhere. Visit bounteous.com/careers to learn more.
About Bounteous
Founded in 2003 in Chicago, Bounteous is a leading digital experience consultancy that co-innovates with the world's most ambitious brands to create transformative digital experiences. With services in Strategy, Experience Design, Technology, Analytics and Insight, and Marketing, Bounteous elevates brand experiences through technology partnerships and unparalleled platform expertise. For more information, please visit www.bounteous.com. For more information about co-innovation, download the Co-Innovation Manifesto at co-innovation.com.
For the most up-to-date news, follow Bounteous on Twitter, LinkedIn, Facebook, and Instagram.
About the Best Workplaces for Millennials™
Great Place to Work® selected the Best Workplaces for Millennials™ by gathering and analyzing confidential survey responses from more than 5.3 million employees at Great Place to Work-Certified™ organizations. Company rankings are derived from 60 employee experience questions within the Great Place to Work Trust Index™ survey. Read the full methodology.
To get on this list next year, start here.
About Great Place to Work®
Great Place to Work® is the global authority on workplace culture. Since 1992, they have surveyed more than 100 million employees worldwide and used those deep insights to define what makes a great workplace: trust. Their employee survey platform empowers leaders with the feedback, real-time reporting and insights they need to make data-driven people decisions. Everything they do is driven by the mission to build a better world by helping every organization become a great place to work For All™.
Learn more at greatplacetowork.com and on LinkedIn, Twitter, Facebook and Instagram.