Growing the Bounteous Apprenticeship Program: Adobe Experience Manager Career Accelerator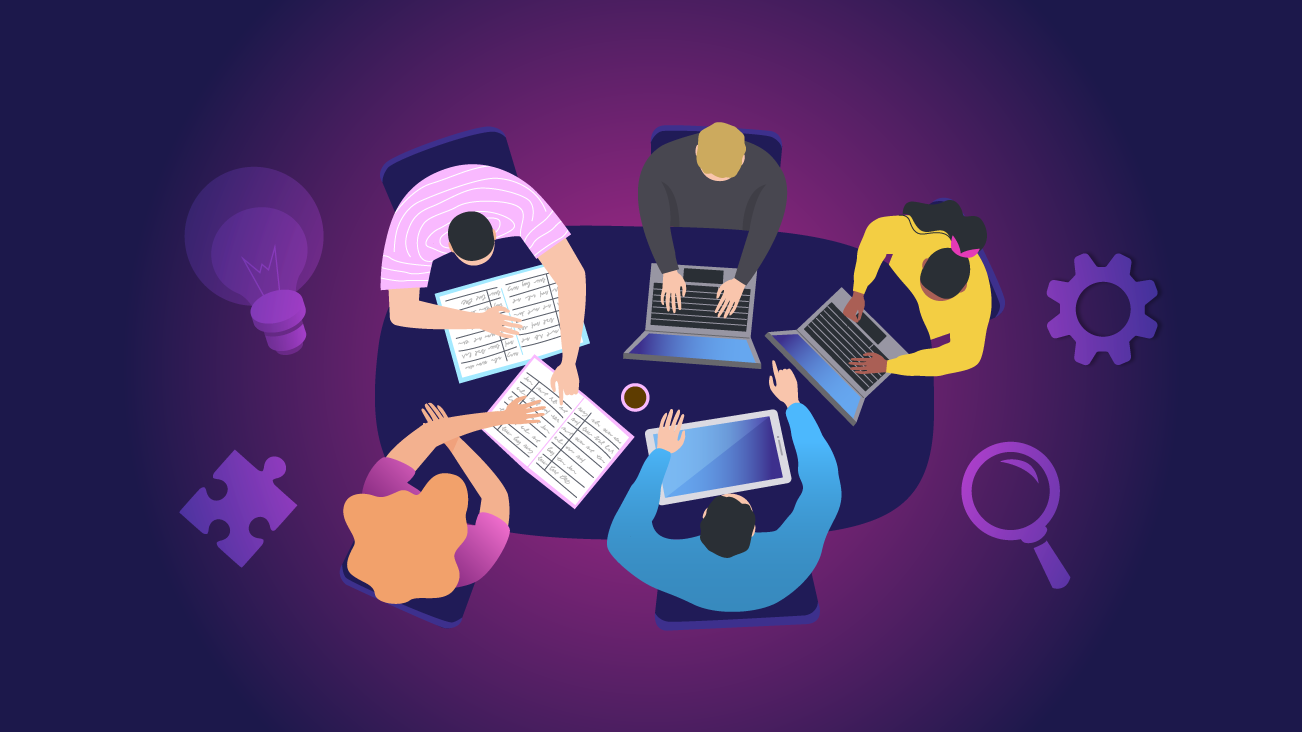 Getting a start in the technology industry can be challenging, especially when it comes to highly specialized skill sets or advanced product knowledge. Through our growing apprenticeship program, Bounteous has been able to bridge that knowledge gap, seeking out motivated entry-level individuals looking to grow as professionals and giving them hands-on training and coaching in a real-world environment.
Our apprenticeship program has been a huge success and gives us a chance to live out our company values, specifically our ambition to continuously learn, develop, and improve. As we reflect on where we started and as we continue to add on new subjects and cohorts, we're sharing the history and structure of our program both for individuals looking to learn more about Bounteous as well as other companies considering apprenticeship programs.
In July 2020, Bounteous sought out a new way to give entry-level developers a chance to set foot in our industry and provide them with the best possible training. This led to our first apprenticeship program. We started the program in our Adobe Experience Manager (AEM) practice, where we train Backend (BE) and Frontend (FE) engineers to become AEM Developers.
Our AEM apprenticeship program is six months long and gives us the opportunity to have a new cohort twice a year. We focus on development skills but also on the skills that are important for our projects. Every apprentice has to go through Agile training, learn how to present their work, and how to plan and follow a sprint. We learned a lot about the challenges entry-level developers face and we're constantly trying to fill those gaps by improving our training material and processes.
AEM Practice
The AEM team created a curriculum for Backend and Frontend apprentices to become confident AEM developers. The training material is structured logically, starting with the basics of "Why AEM" all the way through to working with Bounteous' in-house accelerator project Activate.
Each day is structured to provide the most streamlined process for the apprentices. We start our day with a standup, where everyone gives an update on what they did the previous day, what their plans are for today, and if they have any blockers that need to be resolved. After standup everyone continues working their way through our training material.
We also offer support sessions with more experienced developers twice a day. The meetings with these developers really help the apprentice troubleshoot and learn. The groups of apprentices are expected to lean on and help each other through the challenges they face, which made us realize the term 'group' did not do this justice—we call these groups of apprentices "cohorts" to inspire a team mentality.
Both parts of each cohort (Backend and Frontend) have at least one advisor dedicated to the program. The advisors lead the standups, do the code reviews for apprentices and help provide the best possible training. Each apprentice also has a career coach who helps them grow and supports them wherever they can.
Our program for the AEM team is currently six months. We start with filling the gaps from a programming perspective, learning about AEM, and at the end, giving them a chance to work on a real client project with more advanced engineers. Working on client projects has been something apprentices look forward to. In the past apprentices had a chance to work on projects for clients like Caesars Entertainment or Rockwell.
Working on client projects gives everyone a chance to show what they learned in the program. Even though the program is planned to be six months, every apprentice has a chance to finish the program early. If they are going through the program faster than expected, we will support them by offering a full-time position early.
On the Backend team, we actually have more than just apprentices as well. For the last two cohorts, we decided to have more experienced developers in a role we call trainees. These trainees come with work experience but typically are interested in a change in specialty. AEM BE trainees bring a few years of Java experience in the program and get a chance to become specialized in AEM. Usually, a trainee goes through our program within three to four months instead of six.
In the summer of 2021, we started our third cohort of apprentices and trainees. In the past, we gave three to four Frontend and three Backend developers a chance to be part of the program. So far everyone has succeeded and received a full-time position offer at the end. We are proud of all of our former apprentices and trainees and are looking forward to all future apprentices going through this program.
What Do Past Apprentices Have to Say?
Why Did We Do It?
Bounteous' goal is to give people who want to start their career as a developer a chance to set foot in the industry. No matter if they are just out of university, looking for a career change, recently graduated from a Bootcamp, are entirely self-taught, or starting again after a long break. It is important to us that we give everyone a chance to do this. It is relatively easy to teach skills to someone willing to learn, but it's hard to find great people to work with. The apprenticeship program lowers the bar of expected industry experience and allows us to find those great people and teach them the skills they need to succeed.
Since we believe the apprentices provide value, the apprenticeship is a paid opportunity to become a developer in a real-world environment. Every apprentice is initially a contractor who gets paid hourly and our goal is to send everyone successfully through this program and offer them a full-time position at the end.
The Future of Apprenticeship at Bounteous
The apprenticeship program has had multiple successful iterations in our AEM practice, and we're actively working to expand it to other teams across the company. We have plans of including apprenticeships specific to technologies and practices such as Quality Assurance (QA). In fact, we just started a Drupal apprenticeship program and our very next iteration of the program will be offering positions for newly minted React developers. We have seen incredible success with this program and want to push it beyond its humble beginnings by extending its reach and increasing the diversity of technologies we can teach!