Press Release: Mars Wrigley and Bounteous Win the Acquia Engage Radical Innovators Award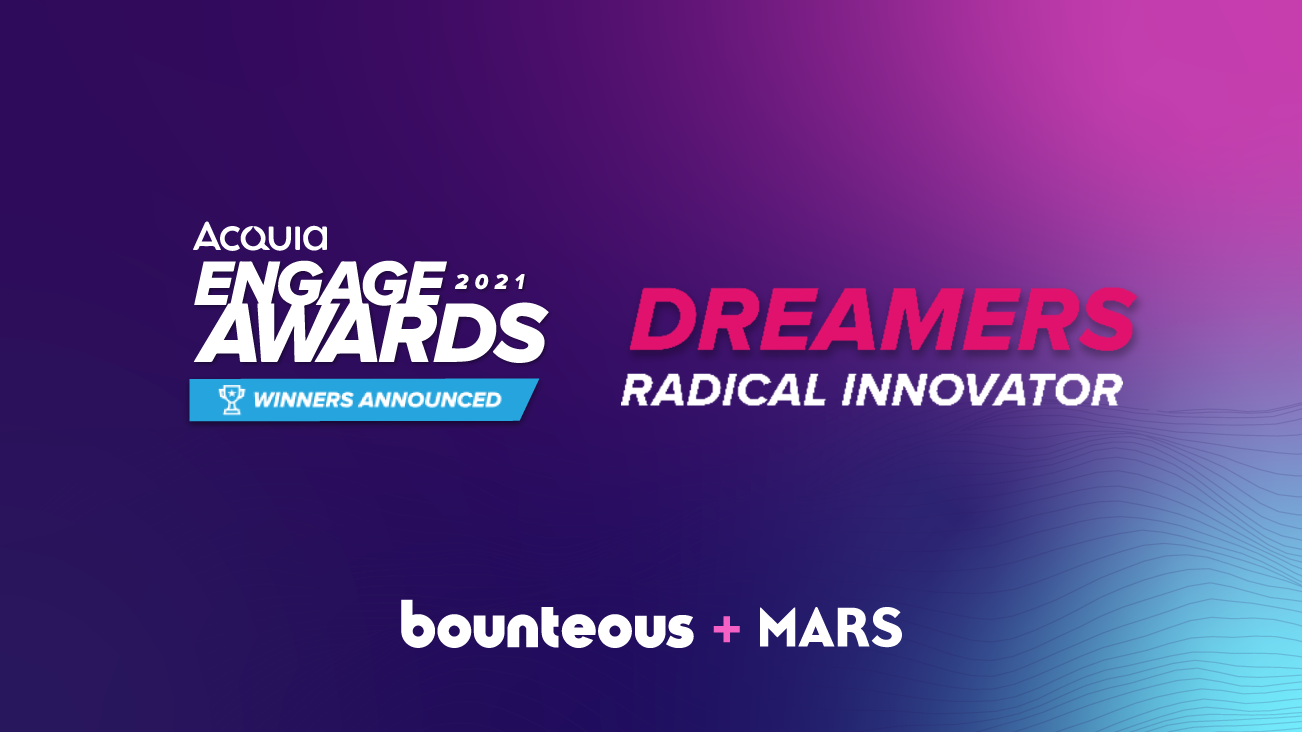 Global consultancy recognized for co-innovation work alongside Mars Wrigley
Chicago — October 26, 2021 — Bounteous, a leading insights-driven digital experience consultancy and Acquia Global Partner, today announced its win alongside Mars Wrigley for the 2021 Acquia Engage Radical Innovators award.
The Acquia Engage Awards recognize world-class digital experiences that organizations are building with the Acquia Open Digital Experience Platform (DXP). With over 100 award submissions this year, the Bounteous and Mars Wrigley partnership stood out. Together, they produced TREAT TOWN™, the first-ever digital Halloween trick-or-treating experience. As customer demands evolved, Mars Wrigley's co-innovation partnership with Bounteous allowed them to respond with the speed and agility of a category leader.
"We're honored to accept this award alongside Mars Wrigley," said Seth Dobbs, Chief Technology Officer at Bounteous. "Bringing the Mars Wrigley Treat Town concept to life in such a short period of time required true integration and pushed the envelope on creative digital solutions. We were able to guide cross-functional teams across discipline and organization to help Mars Wrigley bring consumers better moments and more smiles in an innovative virtual environment, integrating technology, purchasing, and online and in-store redemption in ways that had never been done before."
This year's submissions highlighted creative responses to customer challenges presented by today's rapidly evolving environment. The nominated solutions all demonstrated an exceptional level of functionality, integration, performance, and overall user experience. A panel of independent judges ultimately chose the winning projects.
"In today's changing climate, digital experiences are more vital than ever," said Lynne Capozzi, Chief Marketing Officer at Acquia. "Our partners and customers are going above and beyond to use open platforms and technologies to support customers and employees. Acquia is proud to showcase this year's winners, who have truly risen to the challenge."
Winning projects are featured at the Acquia Engage conference, which is taking place virtually this week. Bounteous is a Premier Sponsor of the conference and will be presenting during the general session on how they empower marketing organizations to deliver more transformative and personal customer experiences through customer data platforms and machine learning.
About Bounteous
Founded in 2003 in Chicago, Bounteous is a leading digital experience consultancy that co-innovates with the world's most ambitious brands to create transformative digital experiences. With services in Strategy, Experience Design, Technology, Analytics, and Marketing, Bounteous elevates brand experiences and drives superior client outcomes. For more information, please visit www.bounteous.com. For more information about co-innovation, download the Co-Innovation Manifesto at co-innovation.com.
For the most up-to-date news, follow Bounteous on Twitter, LinkedIn, Facebook, and Instagram.
About Acquia
Acquia empowers the world's most ambitious brands to create digital customer experiences that matter. With open source Drupal at its core, the Acquia Digital Experience Platform (DXP) enables marketers, developers and IT operations teams at thousands of global organizations to rapidly compose and deploy digital products and services that engage customers, enhance conversions and help businesses stand out. Learn more at https://www.acquia.com.