Supercharging Drupal Platforms with The Power of Acquia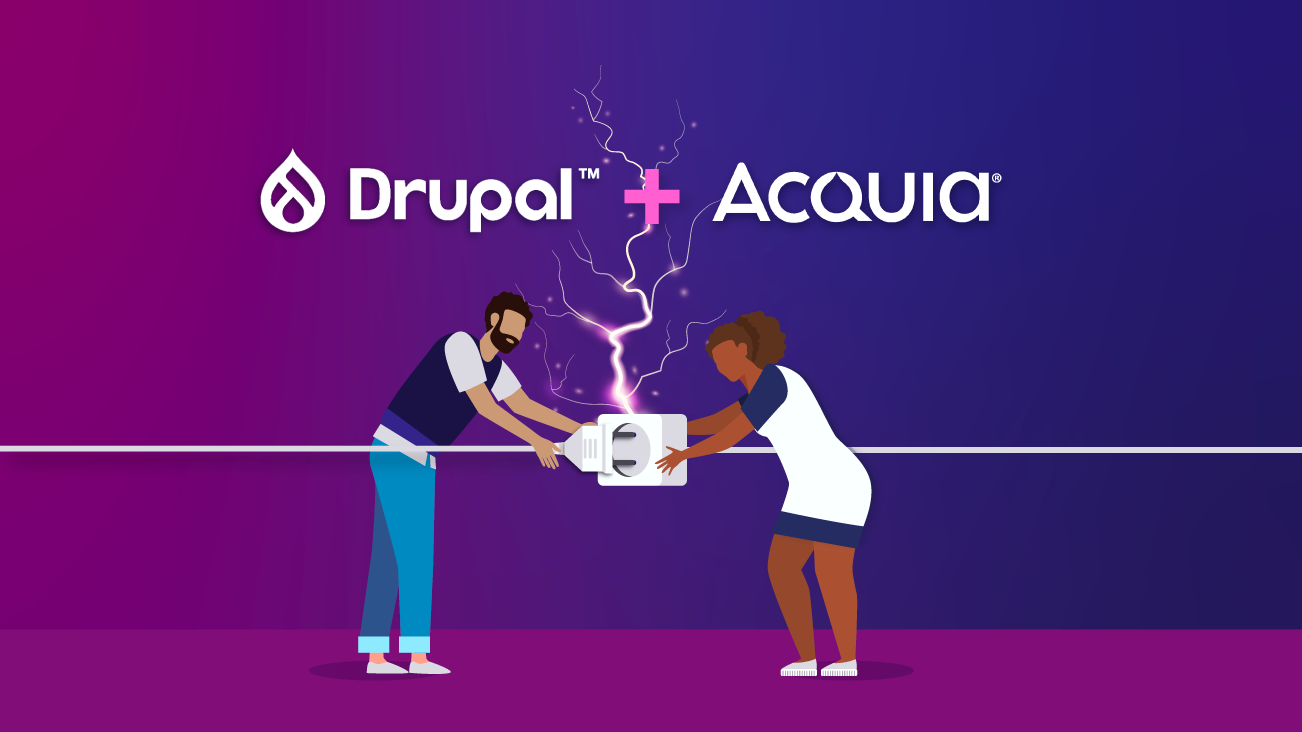 Drupal entered the market as a small content management framework in 2001. First created as a college project by Dries Buytaert to stay in touch with friends, the platform has become a flexible, enterprise-grade solution that powers some of the largest organizations.
I've been part of the Drupal community for over ten years, and it's been amazing to watch the growth of the platform, the vibrant community, and its adoption in the market. This open, API-first solution offers many features out-of-the-box, has a large and active community, and over 45,000 modules that add functionality to the core platform enabling teams to build digital solutions of any size.
Though many are familiar with Drupal, we often hear questions about where Acquia fits into the picture. If Drupal is an open-source platform that anyone can freely use, why do we need Acquia? What benefits does Acquia bring to the table that are not already freely available in the core Drupal platform? Why should we consider Acquia if we're already hosting Drupal internally?
Let's take a closer look at some of the solutions available through Acquia and why Acquia and Drupal together may be the right solution for your digital experience platform (DXP).
Enterprise Hosting Tuned for Drupal
Acquia is probably best known for its enterprise Drupal hosting capabilities. Acquia's high-availability hosting solution is tuned for Drupal and offers a scalable solution for hosting mission-critical websites on the Drupal platform. By default, a three-tier Drupal environment (development, staging, and production) with a drag-and-drop UI is included. Other features like search via Apache Solr, multiple caching layers, a global content delivery network, and Kubernetes-native environments are also available.
For organizations managing tens, hundreds, or thousands of Drupal instances, Site Factory is a powerful solution to build and govern those properties in a unified interface. There are also accelerators to migrate from other platforms or old versions of Drupal, a cloud-native development environment to onboard developers quickly, and CI/CD workflows available with Acquia Pipelines. All of this infrastructure is built on top of the scalable and battle-tested Amazon Web Services platform.
Acquia Content Management System
Drupal has configuration options that allow developers to take the core platform, compile the best community modules, and package those settings into an exportable distribution. Acquia CMS is a distribution of Drupal, which includes the best community modules curated by Acquia to enable teams to launch quickly on their platform.
In addition, Acquia CMS acts as an accelerator to remove some of the repetitive tasks development teams require on every project. Instead, that setup time can be repurposed and invested in building the platform to address business requirements.
Low-Code Page Building
Site Studio is a robust low-code page building solution built specifically for Drupal. Marketing teams can drag and drop components onto the Site Studio layout canvas and build out landing pages in Drupal without development or IT resources. These responsive components are highly configurable and can integrate with core Drupal features like Blocks and Views.
Developers can also create custom Site Studio components in other frontend solutions like React. After the Site Studio components have been defined, marketers and site builders can reuse these elements across the experience to create dynamic Drupal landing pages with localization.
Additionally, teams can utilize Acquia's UI Kit, which provides over 70 pre-built components to help accelerate the page building process. Bounteous is actively using Site Studio with about half a dozen clients, we've written about this product on our blog, and have even highlighted how it enabled our team to launch a new website in a little over a week.
Personalization at Scale
While there are many personalization solutions in the market, Acquia Personalization (formally Acquia Lift) is a no-code solution built to work with Drupal. Acquia Personalization lets teams pull content from Drupal and non-Drupal platforms via APIs to personalize your customers' frontend experience and use data from a unified profile to drive engagement.
Real-time segments can be created based on geography, device, source, past behavior, content interest, or any combination of segmentation criteria. Data can be personalized to the individual with A/B testing, refined over time, and integrated with any system with an API. Once configured, personalization programs can be launched in a no-code personalization UI without the need for IT support.
An Open Customer Data Platform
Acquia added its CDP offering in late 2019 with the acquisition of AgileOne. They have since renamed this solution to Acquia CDP, overhauled the UI to match other Acquia tools, and added forward-thinking features like machine learning models to the product.
Acquia CDP can be used to create a 360 profile with identity resolution to understand the actions and behaviors of every customer. Data can be consumed from any platform with an API, and custom dashboards can be made in their application or exported to other BI tools. In addition, innovative new features like machine learning fuzzy clustering can intelligently add each customer into multiple segments.
True Composable Architectures
While there are many tools available in the Acquia stack, there are thousands of MarTech solutions in the market. One of the most compelling features of the Drupal and Acquia offering is you're not bound by the tools only available in this ecosystem. For example, composable commerce solutions using the Acquia Commerce Framework can be utilized to manage landing pages and product data in Drupal, commerce in Elastic Path or Commerce Tools, and AI-driven product recommendations in Lucidworks.
This is just one example, but there is a lot of flexibility to compile the best solutions and pass data via APIs versus being locked into one platform. It's also worth noting we touched on the topic of creating Drupal platforms with interchangeable services in a recent webinar with Preston So. Picking the best tools for the job with Drupal and Acquia at the center of the stack opens the door to create flexible, feature-rich solutions using best-of-breed tools.
Why Acquia?
Is Acquia required to run Drupal? No. Our responsibility as consultants at Bounteous is to understand the needs of the client and make informed recommendations. As we've seen, there are many features available in the Drupal and Acquia offering, but that doesn't mean it's the right solution for every project.
That said, you can see the true power of Drupal as a platform when you combine it with the robust features and functionality available in the suite of Acquia products. With so many MarTech solutions out there, having products tuned to work with Drupal enables teams to get up and running quickly or pivot as the needs of the organization change.
If we've learned anything from this pandemic, it's that we need digital solutions that are as flexible as they are powerful. A recent customer experience study states 94 percent of organizations have changed their digital CX strategies in the past 18 months. Businesses require the capabilities to launch quickly, pivot gracefully, integrate seamlessly, and scale globally. Acquia is the leading solution for organizations to have those capabilities with Drupal and build their own open digital experience platforms.
In 2021, Acquia acquired Widen, a provider of digital asset management and product information management software. With Widen, Acquia extends its leadership in managing web applications. Widen solutions will make it simple for Acquia DXP users to add brand and product content to any digital customer experience and manage it at scale. The company's focus on managing content and the marketing workflow surrounding rich media and product information complements Acquia's and makes Widen an ideal fit.
We look forward to seeing how Acquia continues to invest in customers and the Acquia Open DXP.