The Acquia Triple Certification: Distinguishing Yourself as a Drupal Developer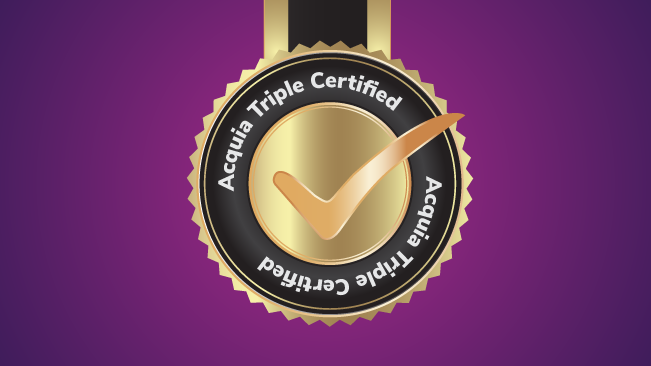 Looking for a way to distinguish yourself among the many Drupal developers out there? Look no further than the Acquia Triple Certification. Representing excellence across Drupal and Acquia, the Drupal Certification exams are for developers, front-end specialists, and back-end specialists that want to demonstrate their advanced expertise.
From "Drupal Grand Master" to "Triple Certified"
Since 2015, Acquia has been using the term "Drupal Grand Master" to acknowledge those who completed Drupal Certification exams for developer, front-end specialist, and back-end specialist.
With help from the Drupal community, Acquia decided to rename this high level of qualification to "Acquia Triple Certified Drupal Expert" or the shortened version, "Triple Certified." This change was made to reflect more inclusive language. Dries Buytaert, Co-Founder and CTO of Acquia said, "The words we use matter. They make a big difference toward eliminating subtle forms of racism, sexism, and more in the technology industry." The technology industry and Drupal are making huge strides towards improving diversity and inclusion within the open source community.
In 2022, Acquia renamed its highest level of Drupal certification, formerly "Drupal Grand Master," to reflect more inclusive language. Learn more about this name change here.
What Is Drupal?
Drupal is one of the leading open source Content Management Systems (CMS) and one of the largest open source communities in the world. Founded back in 2000 by Dries Buytaert as a chat platform for college students, today it stands alone as the most flexible, adaptable system on the market, enabling anyone to create advanced websites and applications.
Based on Drupal's latest stats, 1.5 million sites, 38 percent of Fortune 50 companies, and more than 23,000 developers use Drupal every day to power the sites we interact with regularly. Bounteous has been using Drupal to build websites for customers since 2009.
The Establishment of the Drupal Certification Program
Just as mentorship is ingrained into the DNA of the Drupal community, it was a driving factor in establishing the "Acquia Triple Certification," formerly "Drupal Grand Master Certification," program. Buytaert saw the need to provide a valuable distinction among the community and thus launched the Acquia certification program in 2014. While extremely resource-intensive to create a global certification program, Buytaert says, "We believe that effort is worth it, given the overall positive effect on our community."
Regularly relied upon for guidance and expertise, Acquia Triple Certified Drupal Experts relish the honor to further the Drupal community. As of 2022, Bounteous has 13 Acquia Triple Certified Drupal Credentials, 8 Acquia Triple Certified Drupal Experts, and over 100 developer certifications—the most of any organization in North America outside of Acquia.
Where does Acquia fit in?
Acquia delivers a cloud-based digital experience platform built on Drupal that enables organizations to build experiences that scale and is also led by Buytaert. A preferred partner of Bounteous, Acquia empowers brands to embrace innovation and create customer moments that truly matter.
Recently named a leader by both Gartner and Forrester, Acquia is committed to facilitating certification programs allowing developers to validate and promote their Drupal skills year after year.
Acquia Certifications
Getting certified is a great way to validate and promote your Drupal skills while helping you stand out from the crowd. Acquia is working towards making it easier to access free training to gain Triple Certification, as well as other Drupal and Acquia certifications. Learn more about how to get Acquia Certifications here.
Acquia Certified Site Builder
The Acquia Certified Drupal Site Builder is a credential intended for professionals who build Drupal sites using core and contributed modules. This exam is designed to validate the skills and knowledge of a Drupal Site Builder.
Acquia Certified Developer
The purpose of the Acquia Certified Developer exam is to validate the skills and knowledge of a Drupal developer in the areas of fundamental web concepts, site building, front-end development (theming), and back-end development (coding).
Acquia Certified Front End Specialist
The purpose of the Acquia Certified Front End Specialist exam is to validate the skills and knowledge of a Drupal developer in the area of front-end development (theming).
Acquia Certified Back End Specialist
The Acquia Certified Back End Specialist exam validates the skills and knowledge of a developer in the areas of building and implementing Drupal solutions using code (module development).
The Ultimate Triple Certified Achievement
To achieve the prestigious Acquia Triple Certification, a candidate must pass the developer, Front End, and Back End Acquia certification exams within a year. Each exam validates skills and knowledge in different areas from fundamental web development to Drupal Core API. This is no easy feat! It is the highest-ranking Drupal certification available, the triathlon of development, and requires expertise in multiple areas of focus.
Why Does This Matter to Me?
Whether you're a developer, a Drupal agency, or an Acquia customer, the Acquia Triple Certifications are a trusted benchmark in the industry. The real-world scenarios included in the exam ensure a breadth of prior experience that helps enhance development. Many companies even require Acquia Certification which speaks volumes to the respect this program has established.
We recommend all Acquia Triple Certified Drupal Experts add this credential to their LinkedIn profile under certifications, or if you already have "Drupal Grand Master" listed, make sure it is updated to reflect the new and inclusive language.
Ultimately, Triple Certified designation allows developers an edge in the development world and provides an enormous amount of credibility in the Drupal community. While no doubt a significant undertaking, the achievement is well worth the investment. With more knowledgeable and engaged developers bettering the community, Drupal's power increases and in turn supports the companies that leverage Drupal for their digital experiences.