Digital Flow Enables High Velocity Customer Experiences
According to recent Forrester customer surveys, companies in nearly every industry are experiencing drops in customer experience satisfaction scores. What's happening?
Many companies have moved away from the customer-first focus that drove recent digital upgrades, despite consumer expectations of quality CX experiences rising to record highs. Forrester's 2022 U.S. Customer Experience (CX) Benchmark study revealed losses in customer experience quality across 13 industries and showed that companies have flubbed digital and CX efforts.

While some top companies are ceding the CX advantage built during quick pivots in 2020 and others have been left behind by not investing, the majority of companies are stuck somewhere in the middle. They're investing in digital and offline capabilities that can meet customer needs with great experiences and messaging, but they aren't yet able to orchestrate those capabilities at a level that exceeds those needs. "Just good enough" is no longer a winning formula.

The stakes are higher than ever, but so is the prize of winning. Digitally-mature companies operate with agility and speed—the high velocity of innovation required to create happier customers and employees. The benefit? Our commissioned research report found that advanced companies reaching high velocity are twice as likely to experience double-digit year-over-year growth, compared with their less mature peers. Brands like Caesars Entertainment, Wingstop, and Duluth Trading Company are delighting customers and exceeding expectations. The secret behind the high velocity digital performance of today's market leaders is Digital Flow.

Digital Flow is a dynamic, continuous, harmonious state of innovation—a virtuous cycle that continuously generates new customer and market insights to drive brand experience innovation. The reason digital leaders perform at high velocity in the market and drive high growth is because their organizations are able to learn at high velocity and action upon those learnings just as quickly. At Bounteous, we center digital flow within our co-innovation approach to long-term strategic partnerships, because we see first-hand how this process can transform brands into category leaders. Achieving mature Digital Flow capabilities, or a flow state, enables companies to realize a constant feedback loop of insights and activations.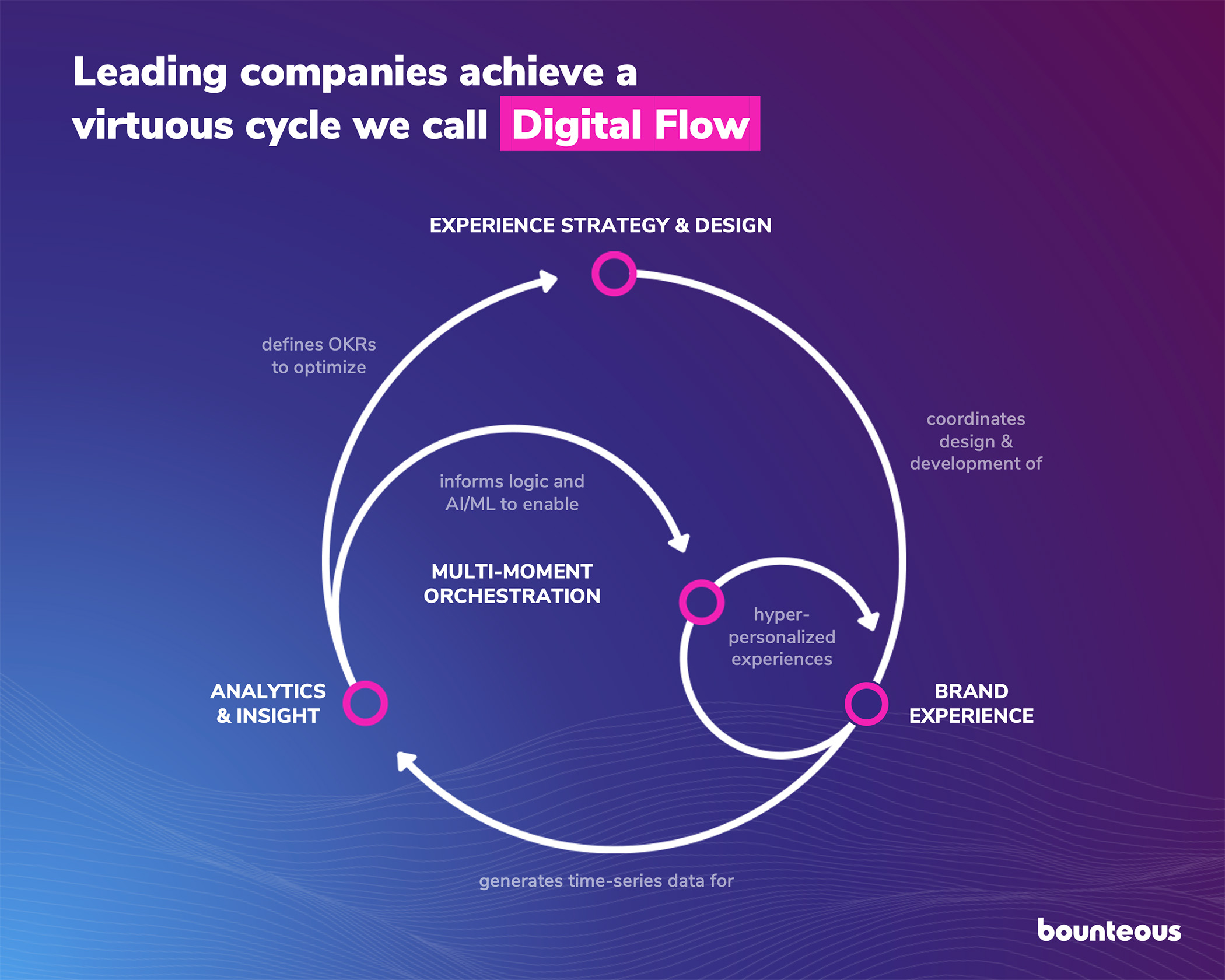 The paths to the flow state vary, but they share these three essential characteristics:
Ability to generate critical insights to inform digital experience innovation and optimization 
Ability to design, build, and operate innovative digital experiences

The flow state might seem daunting, but when broken down into specific capabilities, it becomes attainable. In fact, that is the critical difference between digital leaders and companies that get stuck in the middle—leaders approach digital transformation as a holistic capabilities building program with clear mile-markers, rather than an implementation project focused just on techniques or tools.

To progress toward the flow state, there are five measurable dimensions of capabilities to build. This is what "great" looks like for each of these dimensions:
Talent & Culture Readiness: This is the most fundamental aspect of digital capability. At the highest level of maturity, digital is an imperative at all levels of the organization. Digital talent is empowered across the company and all are working in support of one vision.  
Tech Maturity: The capability to bring forward effectively integrated solutions with access to scalable big-data and  machine learning capabilities for all digital channels. 
Methods & Ways of Working: Tied to the talent and culture dimension, therefore often overlooked but critical—the capabilities around agile test & learn methods to support digital outcomes. 
Data & Insights Maturity: Having data does not automatically guarantee insights, and critical and actionable insights are the linchpins of digital flow. Capabilities around fully integrated Data-Insight-Action loop enabled by big data analytics architecture. Real-time, single-view of customer available for analysis and activation across all channels. 
Brand Experience Excellence: The digital flow capabilities culminate at the brand experience delivered. Capabilities around intelligent and automated delivery of personalized experience, seamless channel orchestration and best-in-category experience that elevates the perception and business performance of the brand. 
From our decades of helping digital leaders build these capabilities and achieving Digital Flow, we have learned that recognizing where an organization sits at present state is equally, if not more important than building a roadmap forward. Especially regarding the Data & Insights, Technology, and Methods & Ways of Working dimensions, we rarely see companies able to leapfrog these maturity levels. The critical conversation for executive teams to have is at the intersection of "where we are", "what our customers and employees need", and "where we are going/north star ambitions." Conducting a digital flow diagnostic helps rally executive teams around a common set of goals and vision, and therefore a roadmap forward. This will enable companies stuck in the middle to shake off their digital transformation woes and overcome common failure points to better meet and exceed customer needs.