Say Hello to Einstein GPT from Salesforce
With rapid changes in artificial intelligence (AI) and generative AI solutions, the world is at a pivotal moment in technological history and Salesforce is similarly jumping into the conversations with a great new suite of offerings.
According to Gartner, 70 percent of organizations are currently in exploration mode with generative AI. Most of these investments are centered around customer experience and retention, but executives are also researching how automation and generative AI can be applied to business decisions and predict the impact of inflation or talent shortages. 
Improving on Salesforce's Enterprise AI With Einstein GPT 
For more than a decade, Salesforce's Enterprise AI, Einstein, has shown companies how to use CRM data and predictive analytics to anticipate customer needs and create personalized journeys and experiences. The next step in Salesforce's AI revolution? Einstein GPT. 
Salesforce Connections 2023 showcased how Einstein AI will continue to fuel innovation and business growth with Einstein GPT. In the main keynote, Salesforce put out the call to all TrAIlblazers to prepare to be change agents in the new world of AI. Said President Sarah Franklin: 
Bounteous is a Tr
AI

lblazer

As a Salesforce partner, we leverage continuous learning about how digital experiences can drive better customer interactions and make every company a customer company. We've been helping customers with Salesforce since 2007, and with 250 certifications across all core clouds, we look forward to these announcements and opportunities to maximize the value customers are getting out of the Salesforce platform.

Bounteous was a proud Explorer Sponsor of this year's Connections which hosted more than 10,000 commerce and marketing executives. As a company, we are leaning into generative AI to help our clients solve today's challenges. We are ready to be part of the AI Generation and want to help other companies on this journey.
Using AI, Data, and CRM to Optimize Operations  
Marketers are shaping the landscape of generative AI. Our team has reviewed all the new Salesforce announcements and enhancements. We are taking that new path forward and are energized by the new opportunities this technology revolution has created for businesses to increase efficiencies, speed to market, and engagement with customers. 
Here are some highlights for the upcoming Einstein enhancements.  
A Generative Framework That Delivers Trusted Experiences 
Einstein GPT is the world's most trusted generative AI for enterprise, and now every company can have its own data scientist in every Salesforce cloud. Seventy-three percent of employees believe that generative AI will create an increase in new security risks, and 60 percent don't know how to keep that data secure. 
The foundation of Einstein is trust. The Einstein GPT Trust layer includes industry-leading data privacy and data security built into the Customer 360 experience. This trust layer will not only keep your data safe but also prevents large-language models from retaining your sensitive customer data.  Your organization can be confident that your Salesforce solutions are maintaining data governance controls while you are using generative AI capabilities.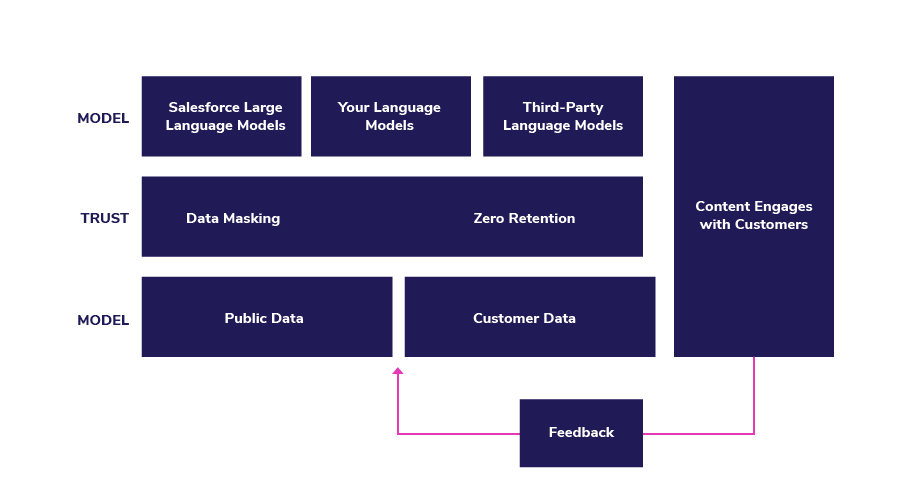 Large Language Models for Einstein GPT
Generative AI solutions need pre-trained, large language models (LLM) to generate content based on prompts and to craft a response that is accurate and meets user expectations. With Einstein GPT's open system, companies have the ability to use the Salesforce LLM, their own language model and/or their preferred third-party model to create generative content. 
A Focus on Security 
Salesforce takes trust seriously; it is one of the core principles of their business and at the center of Einstein GPT. With data masking and zero retention, companies know that data is not compromised by being on the Salesforce platform. It is only available to authorized users in your organization. The data will be stored separately, as it should be for data governance, so there is zero data pollution within your first-party data. This will keep it safe and separate from any public data you may be using in your targeting. 
Customer Feedback Loop 
AI is no substitute for real people! Customer feedback is essential to help the AI continue to learn. This feedback loop allows your company to understand the true needs of your customers by continuing to collect data and adding new details to your customer profiles. This will allow you to use AI and generative AI to create better target segments and set up campaigns with AI-generated content that will resonate with their buying behaviors. 
Building Generative AI for Every Salesforce Cloud 
AI is here to help not replace, and that is true when it comes to getting the most out of your Salesforce platforms and investments. With Einstein GPT integrating generative AI into every cloud, your business can scale faster, save time, automate, customize and personalize for increased engagement. Here are some of the upcoming enhancements coming to each cloud. 
As Salesforce continues to open pilot programs and beta testing, its software ecosystem will continue to mature its AI capabilities and solutions to boost business revenue. As Salesforce experts, we are excited and ready to blaze the AI trail with our own implementations and our clients.