Rebuilding a Brand's Presence Through a Digital-Forward Platform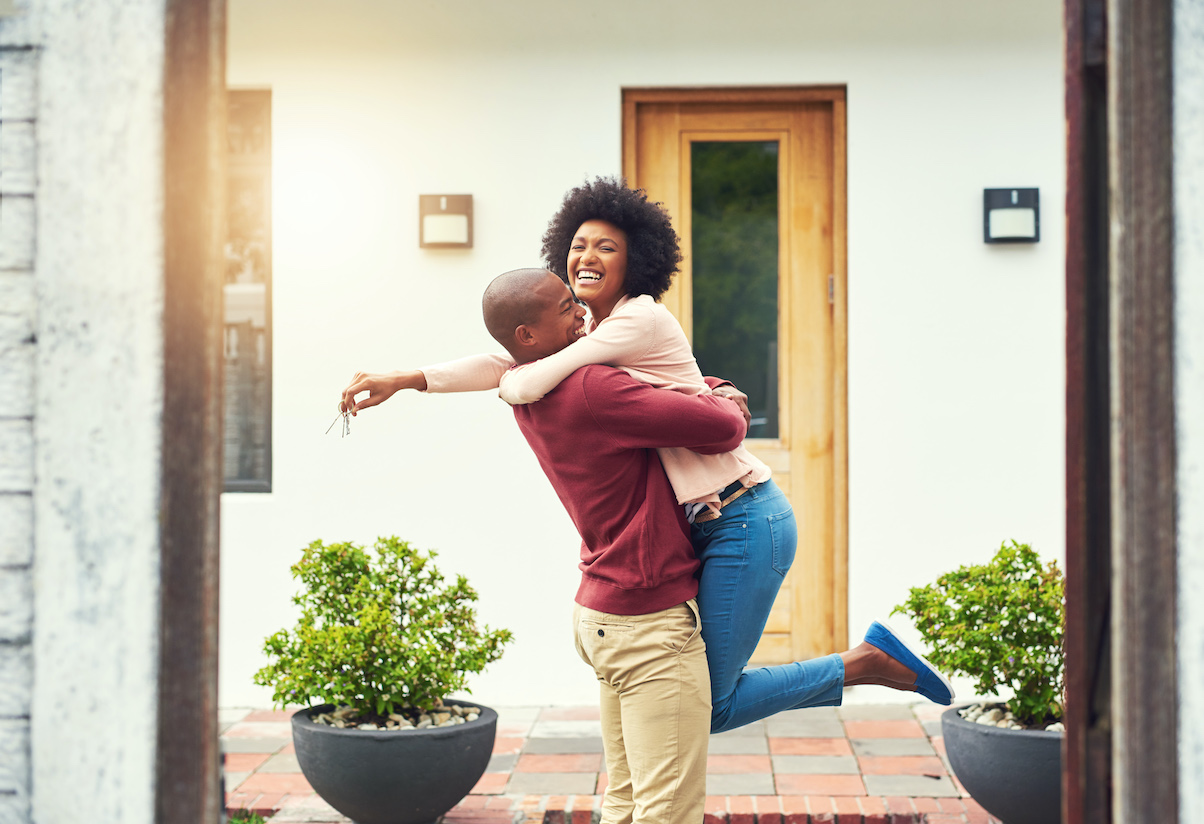 Summary
Cenlar is the largest, longstanding mortgage subservicer in the United States with a diverse portfolio of mortgage loans from more than 150 banks, credit unions, and mortgage bankers. As a subservicer, Cenlar performs all the servicing duties on behalf of their financial institution clients. Their mission continues to be the nation's premier loan servicing provider and wholesale bank, delivering solutions to their clients that lead in quality, innovation, and flexibility.
Cenlar has seen substantial growth in recent years. With that, they are making significant investments in digital, delivering an improved user experience for their client partners, prospects, borrowers, employees, and potential hires.
Cenlar partnered with Bounteous to rebuild and develop Cenlar.com, providing a digitally forward, compelling experience while presenting content to key audiences in a user-centric, secure way. Importantly, Cenlar.com also serves as the foundation for the external expression of their identity, including their overarching purpose—being their clients' trusted partner each and every day.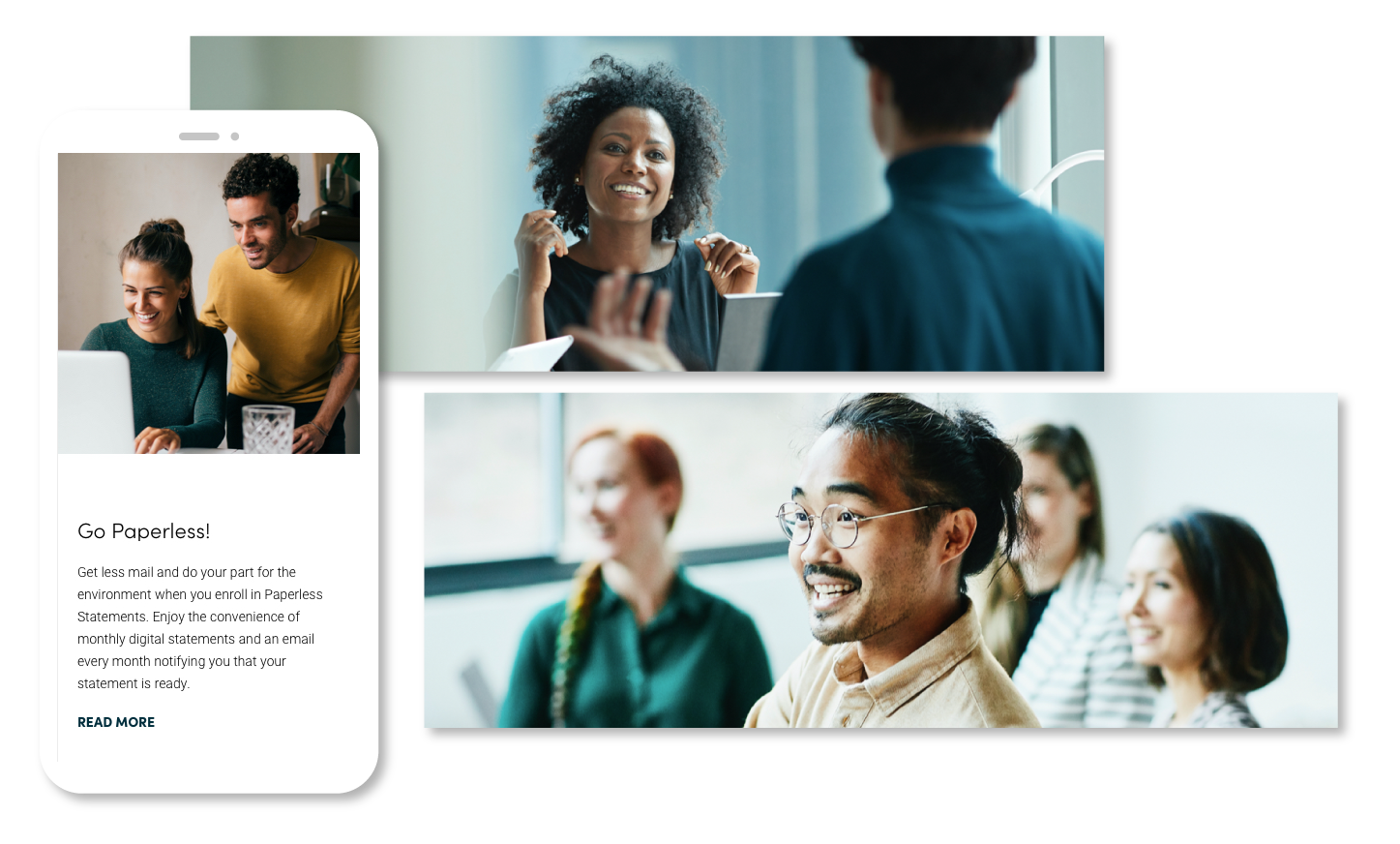 Challenge
Cenlar was seeking a content management system (CMS) that could potentially be a future enterprise solution while addressing the needs of users with improved UI and UX. They have a strong book of business and expertise that sets them apart from competitors, and when looking forward in digital, the company needed to be poised for optimal growth.
About 38 percent of visitors come to the website from their mobile device, so Cenlar was looking for a mobile-responsive approach. In addition, with nearly 4 million website visits per year, a stellar user experience that presents content to different audiences, including prospective and current clients, job seekers, and homeowners, was crucial. Cenlar.com also experienced unplanned influxes of traffic, which at times, the old platform was unable to support.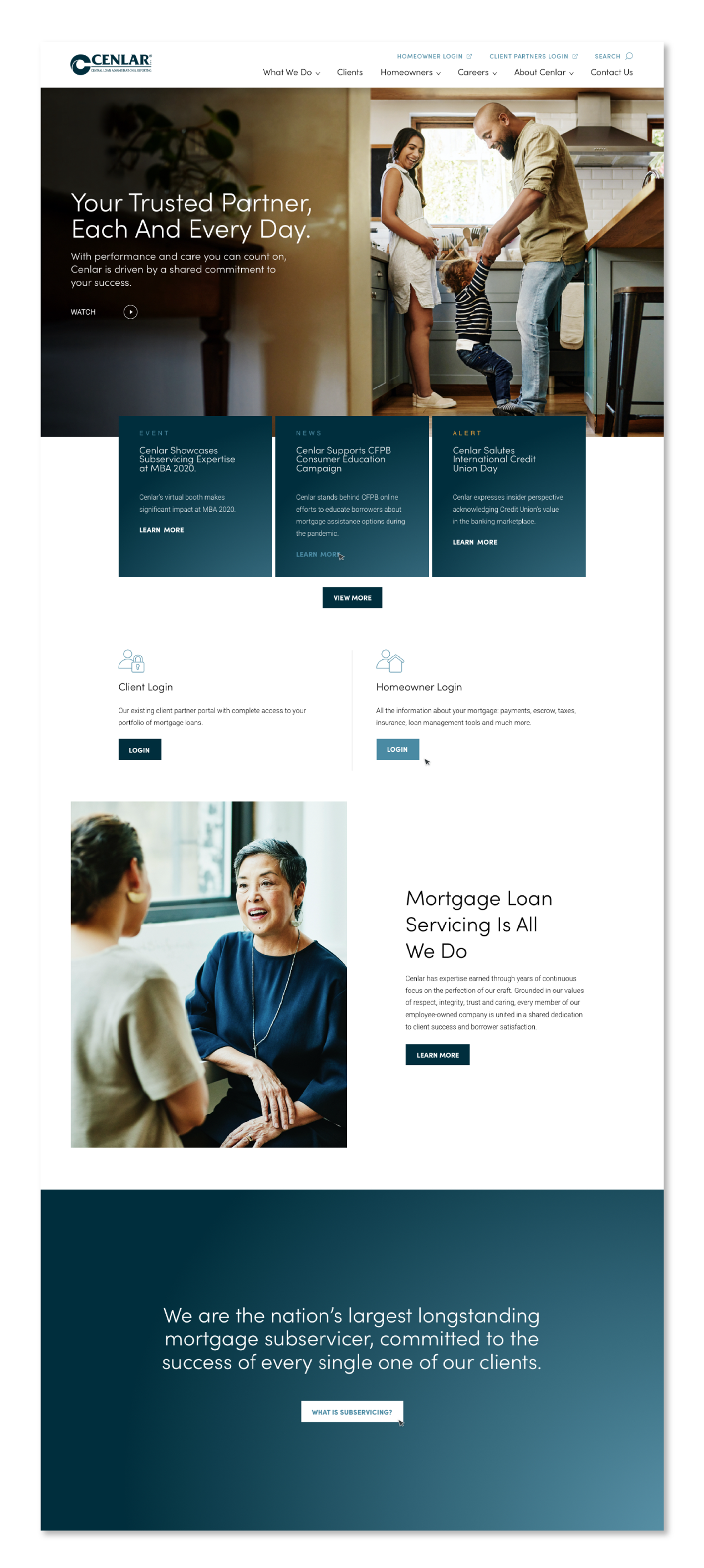 Solution
We helped Cenlar define their business goals, audience, content, and functionality requirements, and measures of success through reviewing research, conducting a CMS assessment, leading a sitemap workshop, and providing strategic recommendations. Through stakeholder interviews, we garnered valuable insights that helped us identify opportunities for growth.
We created a visual identity, designs, and content modules that enable Cenlar to effectively tell its story and showcased the new, powerful imagery and rich color palette. The redesigned website utilized Kentico to focus on key content for their varying audiences and allowed self-servicing web-based tools and access to client and homeowner portals. We developed a digital measurement strategy with Cenlar and deployed Google Tag Manager and Google Analytics to meet their data and reporting needs.
Significant changes were also made to the career page to reach more prospective employees and convey Cenlar's strong work culture and dedicated team members. The comprehensive career section established Cenlar's credibility to job seekers through improved design elements to the job search functionality in addition to an enhanced presentation of the opportunities and benefits of working at Cenlar. We also worked with Cenlar's third-party job posting application to ensure design elements matched the overall visual aesthetic.
Results
Close collaboration between Cenlar and Bounteous allowed crucial security regulations to be in place prior to launch. We optimized the site for digital analytics and streamlined how data is collected and passed to Google Analytics through a new CMS, which enabled the Cenlar team to manage their platform and website more efficiently. Post-launch, Cenlar was able to test and improve the user experience in ways that were not possible before, which has been vital in creating clear paths for the user groups to easily find the information they need.

Cenlar's CMS has the ability to be rolled out into a comprehensive Enterprise Solution. The efficient platform enables the marketing team to monitor performance and quickly make adjustments to the site without relying on IT, which has freed up the team's responsiveness and bandwidth. The updated page hierarchy and navigation improved the end-to-end user experience, and the website saw an increase in responsiveness by making it simple for users to access the information and appropriate login pages.

Ultimately, the new Cenlar.com better showcases their identity, making it easy for financial institutions to learn the key benefits of partnering with Cenlar.