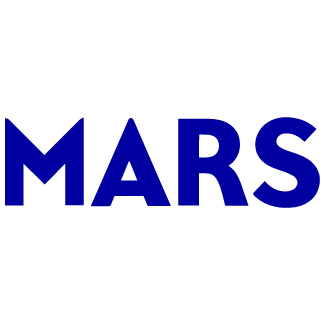 Saving Halloween One Virtual Door at a Time
Summary
For more than five generations, Mars has made products that improve the lives of people and their pets. In May of 2020, we joined forces with Mars to meet a changing digital landscape the best way we know how: fast, well, and as a team. And come June, a beloved American holiday would call for new ways to celebrate.
Enter TREAT TOWN™. In June, Mars reached out with a big ask: take Halloween from streets to screens. In 12 weeks, we worked side by side to create a one-of-a-kind digital experience. TREAT TOWN™ puts the celebration back in Halloween, giving families the chance to go door to door, collect candy credits, and redeem real candy from retailers. Our hands-on, iterative approach made it possible to cross the country with a swipe, design custom spooky doors and avatars, explore sponsored attractions, and of course, give out and get a ton of candy. Drawing on design thinking, mobile-first technology, scalable architecture, and multi-retailer solutions, we took a tangible experience online, helping build community out of challenge.
Challenge
Balancing a sudden sales strategy pivot, fast, unmoving timeline, and complex requirements was an ongoing process. Halloween falls on October 31st every year and we needed to create a safe and fun experience that captured the voice of the brand. Add in passionate stakeholders, ensuring we met COPPA requirements, and mid-project partnerships with Nascar, Disney, and Boys & Girls Club, and early co-innovation became critical to our success.
Our cross-functional teams brought design, development, and Mars together: we created collaborative solutions on the fly, sometimes physically designing and executing mid-conversation. Through this collaboration, we were able to manifest ideas into concrete action.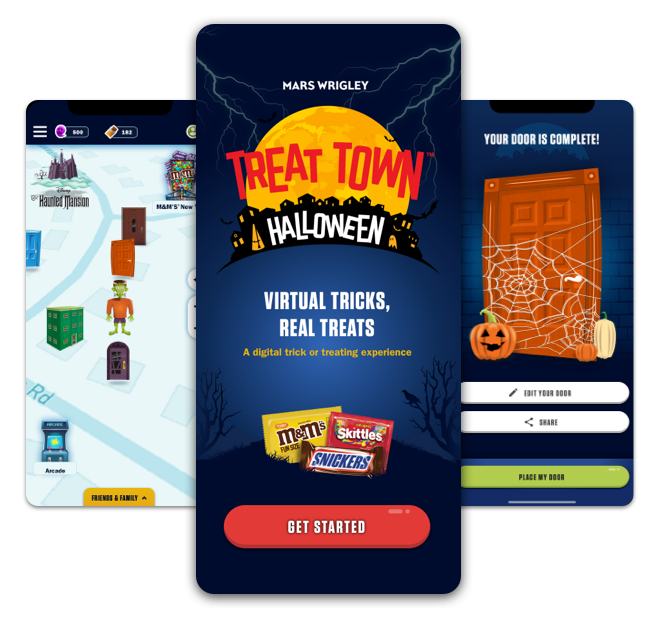 Solution
TREAT TOWN™ creates a community unbound by geography. Trick-or-treaters can virtually travel a nation-wide neighborhood: grandma's house in Atlanta is as close as your neighbor next door. A library of creative assets features a world of spooky options and scary sounds that let families express their creativity. Parents can fill their "bowl" with virtual candy, create profiles for their trick-or-treaters, and then let them loose to customize their costume for their candy route. The global route features arcade games like Tricky Trivia, fun-filled attractions like M&Ms World, treat-it-forward daily candy giveaways, and more.
Environment and candy redemption were key pillars of the experience. Open-source mapping platform Mapbox helped lay the groundwork for virtual trick-or-treating pathways, turning contextual hotspots into candy collection waypoints. Working with Stripe, Shoppable, Snipp, and American Express made it possible to partner with retailers, turning virtual candy into real sweets. Throughout the project, in-person and remote usability testing helped refine user flows, creating an experience as smooth as it was functional. Customizing platforms via experience design, we brought the physical and virtual world together to help celebrate a beloved American ritual.
Results
Together with Mars, Bounteous helped bring TREAT TOWN™ to life, from the conception phase to mobile app distribution in rapid fashion. With all of the skills in-house and leading through agile methodology, Bounteous guided cross-functional teams across discipline and organization to create an unforgettable virtual experience, integrating technology and redemption in ways that had never been done before.

In October 2020, TREAT TOWN™ became one of the top apps in both the Apple App Store and the Google Play store with over 500,000 downloads. Through celebrity endorsements, organic growth, and strategic promotions, TREAT TOWN™ helped connect families, friends, and communities across boundaries. Bounteous helped Mars enhance the Halloween experience across their entire ecosystem, from partners to retailers to consumers.