Making it Easy to Manage Your Credit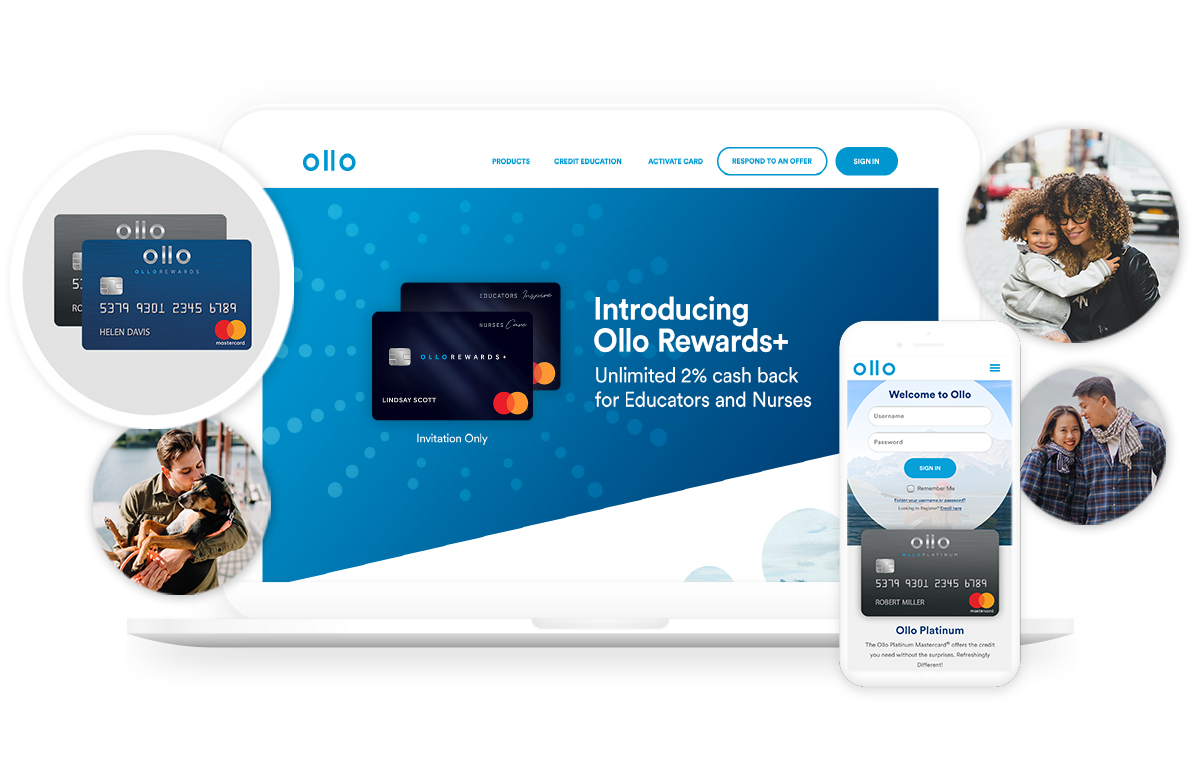 Summary
Fair Square Financial is a Delaware-based credit card company founded in 2016 to level the field for hard-working Americans looking to build their futures, with straightforward products and no-nonsense tools and support. Bounteous has been there from the beginning, helping to create and launch Fair Square's first consumer credit card brand—Ollo.
We partnered with Ollo for the design, development, and launch of its acquisitions website. We took a user-centered, co-innovative approach to designing Ollo's account servicing mobile application, working shoulder-to-shoulder with brand managers to design nearly 100 screens in a matter of weeks. Since launching Ollo, Fair Square has acquired more than 500,000 credit card customers and received positive ratings from credit-rating agencies Moody's Investors Services and Kroll.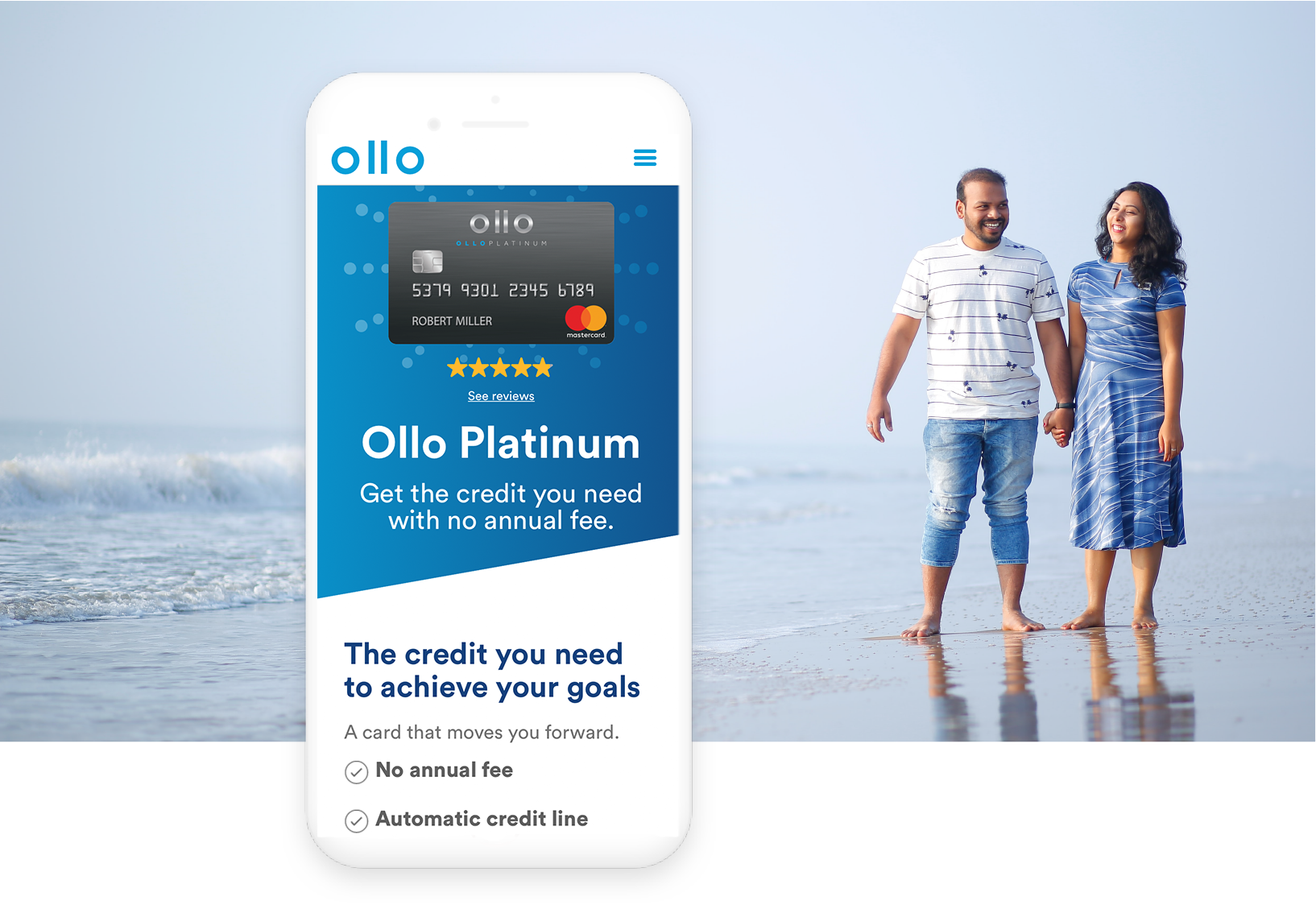 Challenge
Ollo was developed to fill the coverage gap in near-prime customers, which has historically been under-served. Near-prime consumers are relatively less likely to be versed in credit matters than other audiences, which influenced our approach to Ollo's content and UX flow. To create a seamless customer journey, we needed a consistent look, feel, and voice across the mailer and online application. Our team also emphasized simple, educational content that conveyed the appropriate information hierarchy. This clarity would be crucial to maximizing acquisitions.
Gaining a foothold in this industry required a memorable digital experience that established trust and credibility, from registration to account management. To compete with credit's household names, it was essential that every OlloCard.com viewer be greeted with dynamic and distinctive brand elements, clear and concise product descriptions, and an intuitive user experience.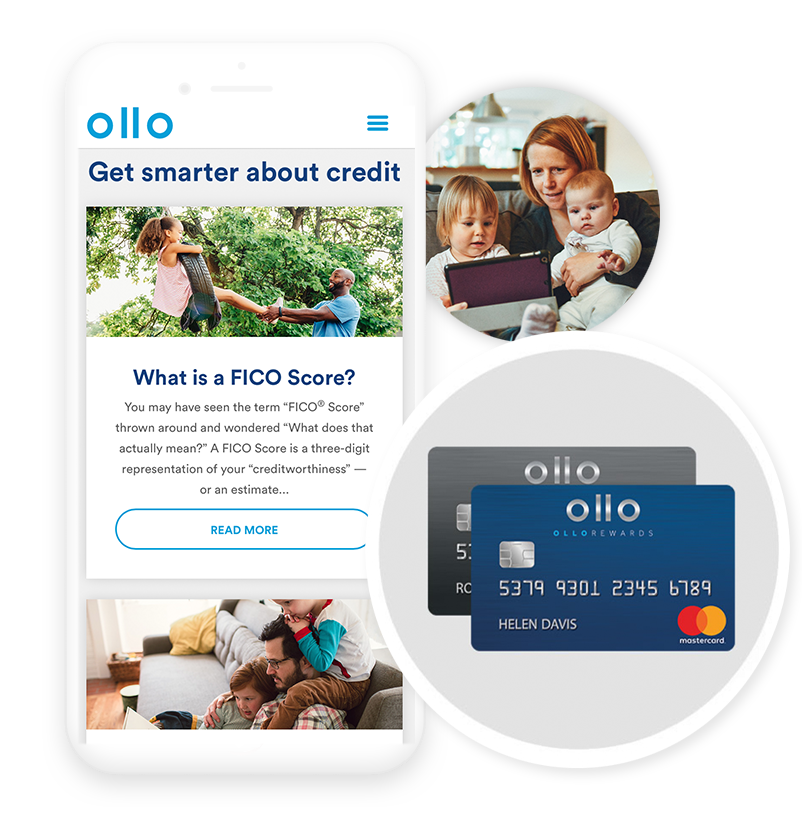 Solution
Tapping into the full-depth of our Experience Research team, we incorporated all aspects of cohesive experience across web and mobile to help Ollo deliver on its core value that consumers are "more than a number." Drawing inspiration from this mantra, we created approachable content and welcoming visuals on every page to build trust with Ollo's customers. Inspired by the Ollo logo, we incorporated circular elements in the design. Relatable lifestyle photos were featured throughout, with a section dedicated to "credit education," authored by a personal finance expert. We also established a darker shade of cyan to set Ollo apart in the market that became the brand's primary brand color—or "Ollo Blue." Building off of Ollo's brand voice, we set out to make even the most ordinary requests friendly and fun, without taking users' credit knowledge for granted.
Our team created the user experience for OlloCard.com with a focus on action and consumer education. The website welcomes each user and immediately offers them the ability to sign-in or enroll, and then introduces the products. Through working sessions and the development of a design style guide, OlloCard.com and Ollo's cardholder account site were created as a continuous experience, and are responsive across any device.
Results
Our Experience Design, User Research, and Development teams worked together to create a rich, responsive, ever-evolving experience for desktop and mobile users. From plan to wireframe to launch, we worked seamlessly with the Ollo team to bring their vision to life, while bringing our perspective and panache to the project.

From the beginning, our partnership with Ollo was deeply collaborative. Our team communicated with the client on a daily basis, and working sessions were carried out between Bounteous, Fair Square Financial, and its branding agency. This resulted in a robust partnership with a new entrant to the consumer credit card market and culminated in best-in-class digital experiences that serve the under-served, with KPIs including:
Screens designed for a cohesive cross-platform experience
Customers checking their account through the mobile app monthly