AdWords Enhanced Campaigns: 5 Great Features
As paid search managers, we tend to resist change at all cost. Unfortunately Google has now brought change to the paid search environment, and the PPC adverstiser's walls have begun collapsing down around him. Welcome to change. Welcome to Google AdWords Enhanced Campaigns.  Embrace it or you shall not pass.
I remain cautiously optimistic when it comes to Enhanced Campaigns.  They are not as simple as they sound and there's a lot to be discouraged about, but don't overlook the benefits included with this change. Good pay-per-click managers should be able to take the shot on the chin and leverage it to their advantage.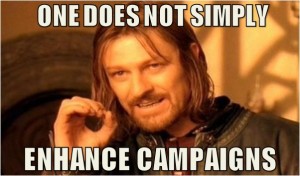 Let's take a look at my five favorite features that are introduced with Enhanced Campaigns:
Refined location targeting:
With Enhanced Campaigns we will now have the ability to hyper-target specific locations using the new bid adjustment system.  You can set a top campaign level location target, then adjust your bids up or down within that geo-target to refine your campaign performance.  Let's look at an example:  My campaign target is New York City.  I know that my campaign has a good conversion rate in Manhattan but traffic volume isn't as good in that area of NYC.  I can now use bid adjustments to increase my default CPC bid for users in Manhattan (we'll say by 300%) to shift more budget to that area and increase the likelihood that ads will serve.
Ad Group level Sitelinks are more granular:
Previously, we needed to ensure that our Sitelinks were general enough to cover the entire range of topics covered by the keywords in our campaign.  If we wanted different Sitelinks for different keywords that meant more and more campaigns needed to be added.  That's no longer the case.  Google has now introduced ad group level Sitelinks into the fray giving you more control over how your ads appear on the SERP.
You will also now have detailed reporting for each individual Sitelink rather than the group of links as a whole.  Plus, Sitelinks won't be deleted when you create new ones!  This comes as a huge relief for those looking to track and improve Sitelink performance.
Offer extensions available to all:
This one may not affect everybody, but Offer Extensions are new to my accounts so I have to include it here.  Google will be rolling these ad extensions out to all accounts who opt (or are forced) into Enhanced Campaigns.  Offer extensions let you attach a coupon or promo redemption-type offer to you add such as a monetary discount or free service.  They let you put your best offers out there for all to see helping your AdWords ad stand out among the competition.
App promotion ads:
Mobile advertisers seem to be the most upset with this change, but they should be happy about this change.  Enhanced campaigns now allow you to easily promote your apps for either iOS or Android platforms.  Your AdWords ad will display with your app's icon next to the ad copy when the ad appears on devices where then app can be installed.  This feature helps your ad stand out and encourages downloads.  It's a great new feature for app developers out there, but it's only available once  you convert to Enhanced Campaigns.
Forces creation of mobile-optimized websites:
This point might be more about my personal use of mobile devices and about general user experience across the internet.  Nothing bothers me more than when I'm searching on my phone and I find myself on a site that is poorly optimized for mobile users.  I require gigantic buttons!
Enhanced Campaigns and the combination of device-targeting being forced upon AdWords advertisers means that  they will now HAVE to create mobile websites to cultivate user experience across all devices.  This means more work for the advert, but the overall result will be better UX for users across all web-enabled devices.  Can you really argue the fact that more people need to jump on the mobile bandwagon sooner than later?  "Hello Future, nice to meet you."
—
Hopefully these benefits will ease your mind as you make the switch from Legacy to Enhanced Campaigns.  We could go on for days about the downsides of Google AdWords Enhanced Campaigns, but in an ever-changing world the best solution is usually to accept the changes laid out before us.  The sooner you accept them, the sooner you can adapt and improve.  I'm an optimist, and in these hard times the PPC world needs a little optimism.  In the words of our friend Boromir, "I ask only for the strength to defend my people."  Let's focus on that.
What are your favorite features of Google AdWords Enhanced Campaigns?  Leave a comment below.