The Importance Of Fun At Work
You spend most of your life with your coworkers
Think about it for a minute. Most people spend around nine hours at their jobs every day and only about five waking hours a day at home. See this post as a wake up call: there needs to be more focus on how to create and have fun at work!
Research shows that integrating more fun into the workplace is great because it reduces stress, reduces absences and increases productivity.* This is a win-win strategy for both employers and employees. For relatively little cost, any organization can implement fun activities on a regular basis that will more than offset the cost of loss of productivity. Also, fun in the workplace has been shown to reduce turnover by multiple studies.**
Time to implement your Fun Budget
At Bounteous, we started a program earlier this year that we call our Fun Budget. Every month a new "Funbassador" is selected to be in charge of the budget. Anyone that wants to sign up to be in charge is welcome and it is a month long commitment. We have a monthly budget that can be used for anything the Funbassador deems a worthy pursuit for the team. This usually means team lunches, treats, coffee runs on a fairly regular basis. Usually a couple times a month, the Funbassador will organize a group outing. Some recent events we have organized include trivia night, karaoke, axe throwing, and a trip to the museum.
The great thing about starting a program like this is that it is completely flexible to whatever your organization's interests and needs are. You can set any budget you want and any parameters around the planning of events. By making the employees in charge, you ensure that everyone has a chance to participate in things they are interested in.
In conclusion, I encourage every organization to start a fun oriented program like this and I guarantee you will quickly realize a return on investment. Looking at the upcoming holiday season: I can't think of a better time to start your own fun budget. See you out there!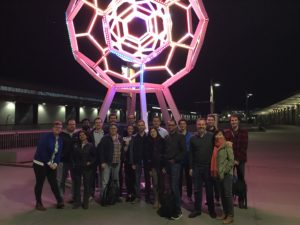 *BrightHR study 2016 | **Penn State study 2013, Springer Science study 2016