An Adobe Practitioner's Guide to Digital Experience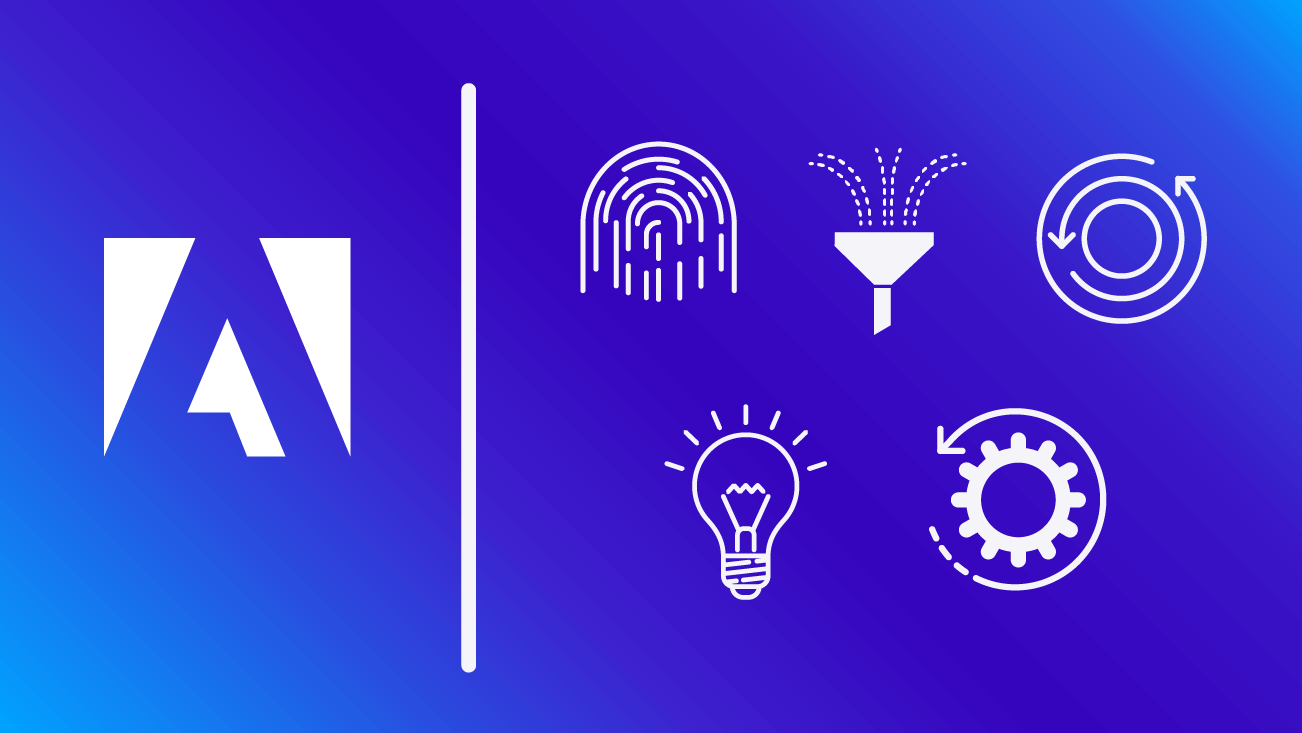 Continuous growth and improvement remain a constant theme with Adobe and its products. Through acquisitions, events, and thought leadership — Adobe often shares best practices, use cases and case studies, and trends that customers can use to assess their digital maturity and their progress toward realizing greater value. We are constantly inspired by the ideas, the people, and the companies continuing to drive the evolution and transformation of Adobe's Experience Cloud.
Returning from the annual Adobe conference, Adobe Summit 2019, has us feeling more inspired than ever by the conversations held, innovations discussed, and the hot topics pervading the digital industry at large.
Looking to our Adobe partners, clients, and the information presented at Summit combined with insights from internal experts, Forrester Research, surveys of Adobe professionals, and top industry publishings we aimed to identify the 2019 trends most important to Bounteous and our industry.
Armed with these resources, our Adobe experts identified five key areas of focus to improve digital experiences with Adobe: realization, integration, innovation, personalization, and transformation. By keeping these five concepts top of mind, we are able to develop best-in-class digital experiences while helping Adobe customers achieve industry-leading value from the platform.
Data Realization
With data at the core of everything we do, we're able to influence and optimize experiences from end-to-end.
Jessica Kao, 2018 Marketo Champion of the year, stated the following during her breakout session at Adobe Summit 2019:
We have more data at our fingertips than ever before. Platforms like Marketo allow us to identify the information that matters most to our business, to reach our customers, and to drive transactions.
Now that Marketo is combined with Adobe, it's time to take action. Adobe's initiative to take advantage of last year's acquisition is clear, as shown by its focus on the customer, its commitment to forming stronger communities, and its investment in facilitating epic experiences. 
Sidenote — we were so excited about the integration of these platforms and leapt at the opportunity to start using them together. Last year, we created a Marketo extension for Adobe Launch to support our clients and the general public, making the extension available to the community.
We have the ability to change our mindset by identifying and acknowledging the power of data. As Microsoft CEO, Satya Nadella, advises it's time to "move from being a 'know-it-all' to a 'learn-it-all.'" In doing this, we open our minds to new insights into our consumers, their needs, and the best ways to reach them. 
It's important to connect with our customers on a very personal level and to continue to drive growth. We can do this by taking advantage of the spectrum of data we can collect on our customers including their preferences and the items most important to them.
Collecting the right data remains an important first step, and the way Adobe Analytics feeds into the other tools in the Experience Cloud is paving the way for a greater ability to personalize content, improve experiences, and target messaging. A big topic at Summit this year from our Analytics team was how Experience Cloud is accelerating optimization and personalization with integrations of Adobe Experience Manager (AEM), Analytics, and Target.
Prior to this year's Adobe Summit, we conducted an independent survey to see which Adobe tools are most commonly used by Summit Attendees. While Summit covers all parts of the Adobe Cloud, the majority of respondents to our survey said they use more than one Adobe tool, and Adobe Analytics leads the pack.
Next Steps for Data Realization
In getting started on your data realization journey, we recommend taking the below steps and asking yourself the following questions. These questions will help you identify gaps and opportunities in your data collection to better inform your analytics strategy. 
Audit your data. Think outside of just website and mobile, consider using sources like CRM, PIM, etc. Are you realizing the full potential of the data you have available? What data are you already collecting? How are your sources connected or disconnected? 
Generate insights. The most important part is not the data itself, it's the insights you generate by connecting the dots and making informed decisions based on those insights. How are you unlocking the potential of data? What outcomes are most valuable to your business goals? How do you take advantage of these insights?
Implement for impact. Insights are only as strong as the way you implement them into your overall strategy. How are you harnessing the insights from this data to work for your needs? Which insights are most valuable to your business in the short-term? and the long-term? 
Adobe has great tools you can take advantage of to help you get started, but these require the necessary initial steps of getting the right data, pulling the strongest insights, and implementing those insights to continually optimize your customers' experiences.
Team Integration
As we continue to place value on the power of data and the ways it enhances digital experiences, integrated teams, strategic partners, and streamlined processes are imperative to breaking down the silos. It is important to consider all factors, all perspectives, and all the variables that influence the success of our initiatives. 
At this year's Summit, Adobe VP, Commerce Product, and Platform, Jason Woosley discussed the importance of viewpoints from both the left- and right-brainers, along with the in-betweeners. 
Although this is recognized at all levels of companies today, on a larger scale, Adobe SVP & CIO, Cynthia Stoddard, and Intuit SVP & CIO, Atticus Tysen, briefly discussed first-hand how the roles of CMO (often left-brain focused) and CIO (often right-brain focused) have become increasingly more collaborative. 
Together, the two perspectives, balanced by the "in-betweeners," who rely on both sides of the brain, are able to identify strong insights and solutions to reach the right people, at the right time, in the right place, with the right message. 
In a similar way, at Bounteous we value the thought-processes, opinions, and insights of our employees across disciplines. The perspectives different teams and team members bring are like the various parts and pieces of a machine; if all of the parts are not aligned, the machine does not run efficiently. To run efficiently, we must acknowledge, understand and integrate the perspectives to ensure the success of all teams, and as a result, of the company.
Next Steps for Team Integration 
The organization of a company and its integrated teams set a strong foundation for success. Before you get started guiding your team integration, we recommend taking a closer look at the two following items.
Evaluate your team structure. How has the structure of your teams changed in the past five years? Why is it important that your team consider a variety of perspectives, opinions, and ideas? 
Plan for the future. What new positions do you anticipate playing a greater role in the success of the digital space? Where will it be important to facilitate cross-team collaboration moving forward? How will you restructure your teams at all levels to make this possible? 
By evaluating your team structure and planning for the future you better set your teams up for success. Learn more about the importance of building a strong foundation and how it can help you realize the full value of your Adobe investment. 
Service Innovation
When we look back to the early 2000s and compare today's utilities to those we relied on in the past, immediate differences rise to the surface. Technology is at the forefront of our everyday lives.  
Alexa and Siri are now household names. Brands like Uber, Airbnb, Amazon, and Apple and the experiences they create have become an invaluable staple in our everyday lives. 
Since its start, Adobe has been at the forefront of innovation, constantly striving to bring cutting-edge technology to its customers. This year's major focus on experience-driven commerce through the acquisition of Magento and Adobe CEO, Shantanu Narayen's groundbreaking announcement of the Adobe Commerce Cloud on day one of Adobe Summit demonstrates Adobe's and its partners' commitment to experience-driven commerce. 
Just as Uber was able to turn what could have been a simple website into an everyday part of our lives, we can do the same by taking advantage of Adobe's full stack of capabilities. When we stop thinking of a project as just a website and consider how the digital experience can affect a user's life, we create something more meaningful and more powerful. We can turn what was once a simple website into an experience that permeates users' lives.
Recently, the Bounteous team worked alongside TiVo clients and Adobe Partners to develop, "Best Practices in Experience-Driven Commerce from Adobe and Tivo." This was a huge step toward demonstrating our capabilities and belief in the power of experience-driven commerce. 
Marc Infield, VP of Digital Experience Platforms at Bounteous, stated:
Marc speaks for not only the Bounteous team, but for the industry as a whole.
When we talk about building a website, we are talking about something more than just a screen on your computer. Websites and digital experiences are now our shopping malls, rides to the airport, grocery shoppers, and more — the list just keeps going. Websites and the experiences and services they deliver have completely changed the way we live our lives.
Next Steps for Service Innovation 
Digital experiences have changed the way we interact with the world around us, and we must be ready to constantly evolve and innovate to continue to deliver strong experiences.
What experience are you providing your customers? How are those experiences enhanced through digital technology? In what ways can digital technology strengthen online experiences? How will these experiences evolve over the next 5-10 years? What can you do to be prepared for that evolution?
Check out the Bounteous-created Adobe Commerce Cloud + Magento connector and learn how we are taking steps to create innovative ways to reach our consumers quickly and efficiently using the Adobe Commerce Cloud. 
Customer Personalization
Creating experiences is no longer enough — we must now personalize those experiences to meet the individual needs of our customers.
Using the data you can obtain with Adobe Target you have the opportunity to customize the customer journey and create a tailored experience. In turn, the commerce customer feels like an individual in the digital space. 
Recently, Bounteous supported our client, Caesars Entertainment in creating personal experiences and an overall digital transformation. Caesars Entertainment and Adobe discussed the progress the company has made in a session titled "Personalization, Data and the Experience Business of Travel." The presentation highlighted ways in which we're supporting Caesars in their digital transformation by enabling personalization at scale through an innovative approach combining deep capabilities in AEM, Adobe Target, and Adobe I/O.
According to our independent survey conducted prior to this year's Adobe Summit, almost 50 percent of respondents listed either customer journey optimization or customer experience as their primary focus for the event. The evolving, growing need to create and optimize experiences is at the forefront of our initiatives and solutions. 
Next Steps for Customer Personalization
To ensure you are making the most of your efforts to create personalized experiences it's of utmost importance to determine not only who your audience is but where you can best connect with them. 
Personalization begins with correctly identifying your audience. Who is your target audience? What do their digital footprints look like? How do they use digital experiences to enhance their everyday lives?
Then we must figure out the best way to reach them. What action do we want the consumer to make? Where can we most successfully reach this audience? What message resonates best with this audience?
Learn more about the importance of tailoring experiences to individuals, by reading The Practitioner's Guide to Personalization.
Digital Transformation
For over a decade, transformation has been in high demand in the digital space. Today, the speed at which we and the industry transform drives the public's view of our success. With evolving technology, constant improvement, and changing needs, we as an industry must transform the way people interact in the digital space with others, with businesses, and with their own information. To succeed in the space, we must create experiences that are accessible, actionable, and adaptable.
At Bounteous, we have gone through a significant transformation over the past six months with the merging of new talent, offices, and services across North America. Strategic partnership and the foresight to predict future needs were a major key to our success. 
Similarly, Adobe's acquisition of both Magento and Marketo has demonstrated the forward-looking views of the company. Adobe has again been able to predict the next major milestones in digital experience and has set itself up for great success.
As we continue to innovate our products and processes and personalize customers' experiences, we follow Drew Brees', Quarterback for the New Orleans Saints, lead in an effort to "leave everything better than [we] found it." By continuing to meet the needs of customers and consumers, Adobe and its partners will succeed in Adobe's mission.
Adobe SVP, Digital Experience, Steve Lucas highlighted, "Experience is the difference between 'epic' and 'epic failure'," in his Marketo Nation address on the final morning of the 2019 Summit. How we create those experiences and the effects they have on consumers is what sets apart the good from the extraordinary. 
To most of the industry, digital transformation is simply a buzzword and its meaning changes almost weekly. To Adobe and its partners, digital transformation is the constant energy and driving force behind interactions we create and our constant pursuit of innovation.
Next Steps for Digital Transformation
The ability to predict trends and prepare for future advancements is imperative to success in the digital industry. What are you doing to prepare for the future of digital experiences? What tools are most important to help you monitor and predict future trends? In what ways are your teams working across the Marketo and Magento platforms to drive experiences and transactions?
To set yourself up for success and pragmatically prepare for the constant evolution of the digital world, we recommend reading "Five Core Competencies of Digital Transformation You Can't Afford to Ignore." 
---
In Conclusion
Data Realization. Team Integration. Service Innovation. Customer Personalization. Digital Transformation. While these themes may sound familiar, they remain not only noteworthy but incredibly important to consider and implement as we look to the future of digital experiences. By keeping these five trends top of mind and continuously improving upon the ways the outcomes are manifested through digital experiences, Adobe and its partners maintain the initiative to change the world through digital experiences. 
We all have a role to play in each of these five areas. While some may choose to place focus on one or two of these action items, it is important to look at the collective vision. Creating epic moments through digital experience is attainable. By striving to realize the value of strong data, establishing integrated teams, continuously innovating solutions, personalizing interactions and never giving up on transformation, Adobe and those who place value in its mission will continue to succeed.