Press Release: Bounteous Included in Analyst Report, 'Now Tech: Commerce Services, Q4 2020'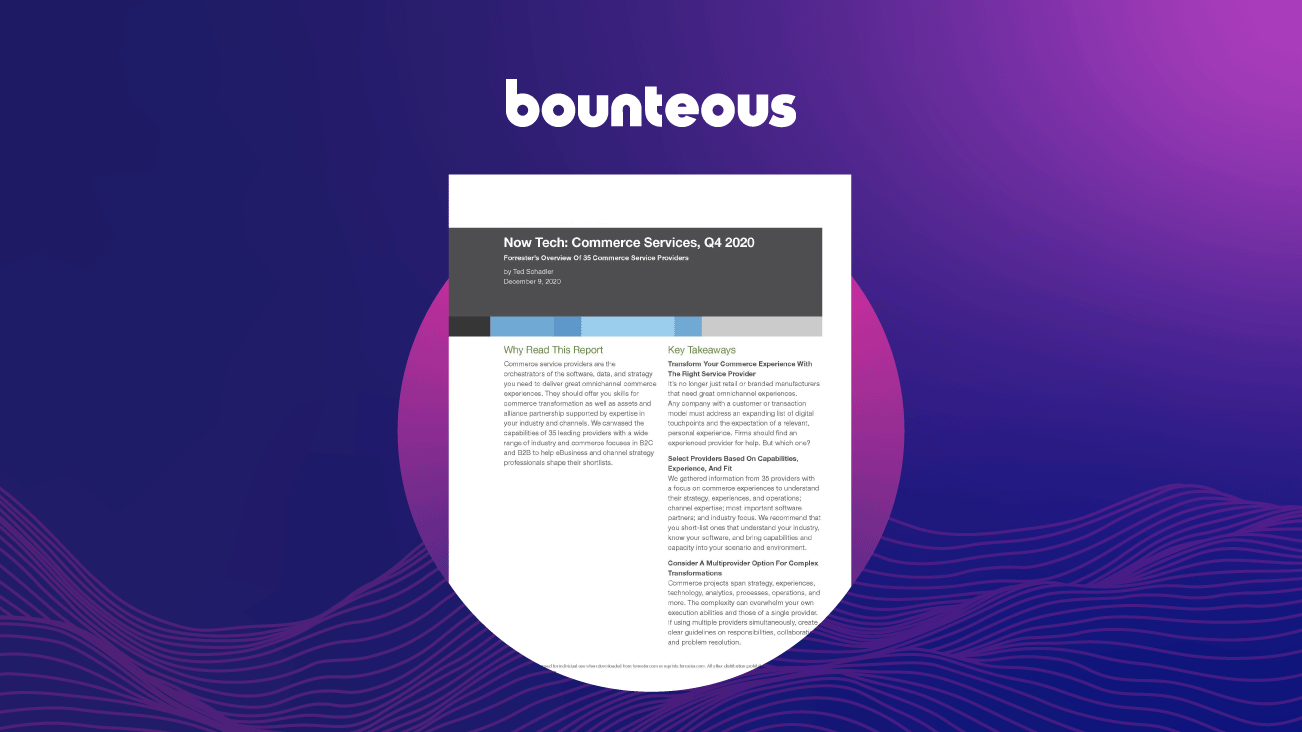 Leading service providers offer skills in commerce transformation, alliance partnership, and vertical markets
CHICAGO — December 10, 2020 — Bounteous, a leading digital transformation agency, is included in a recent report by Forrester Research, an influential global research and advisory firm for business and technology leaders, titled, "Now Tech: Commerce Services, Q4 2020."
The report, authored by VP analyst Ted Schadler, is designed to empower digital leaders who are seeking to pair the right service provider with the commerce transformation skills, assets, and alliance partnership to support their niche industry and channels. Bounteous is a global leader in commerce and customer experience, with clients such as Caesars Entertainment, Mars, Shake Shack, Coca-Cola, Domino's, TiVo, and Staples. Bounteous added depth to its commerce offering with its recent acquisition of FortyFour.
"Previously Forrester identified Bounteous among its Digital Experience Agencies, and we are excited to be identified now as one of the leading commerce service providers," said John Telford, SVP of Digital Solutions at Bounteous. "We have seen time and time again that using co-innovation to drive digital transformation with our commerce clients helps them acquire, engage, convert, and retain customers better than their competition."
Forrester gathered capabilities data from leading commerce service providers with a wide range of industry and B2B and B2C focuses to help eBusiness and channel strategy professionals shape their shortlists to orchestrate software, data, and strategy. The research included providers' strategy, experiences, and operations; channel expertise; most important software partners; and industry focus.
The "Now Tech: Commerce Services, Q4 2020" report is available online to Forrester customers or for purchase: https://www.forrester.com/report/Now+Tech+Commerce+Services+Q4+2020/-/E-RES161097
About Bounteous
Founded in 2003 in Chicago, Bounteous creates big-picture digital solutions that help leading companies deliver transformational digital brand experiences. With expertise in Strategy, Experience Design, Solutions Engineering, Analytics, and Marketing, Bounteous forms co-innovation partnerships with clients to envision, design, and build their digital futures. For more information, please visit www.bounteous.com. For more information about co-innovation, download the Co-Innovation Manifesto at co-innovation.com.

For the most up-to-date news, follow Bounteous on Twitter, LinkedIn, Facebook, and Instagram.