Press Release: Bounteous Extends Activate Functionality To Include Commerce For Quick, Modern, and Efficient Digital Experiences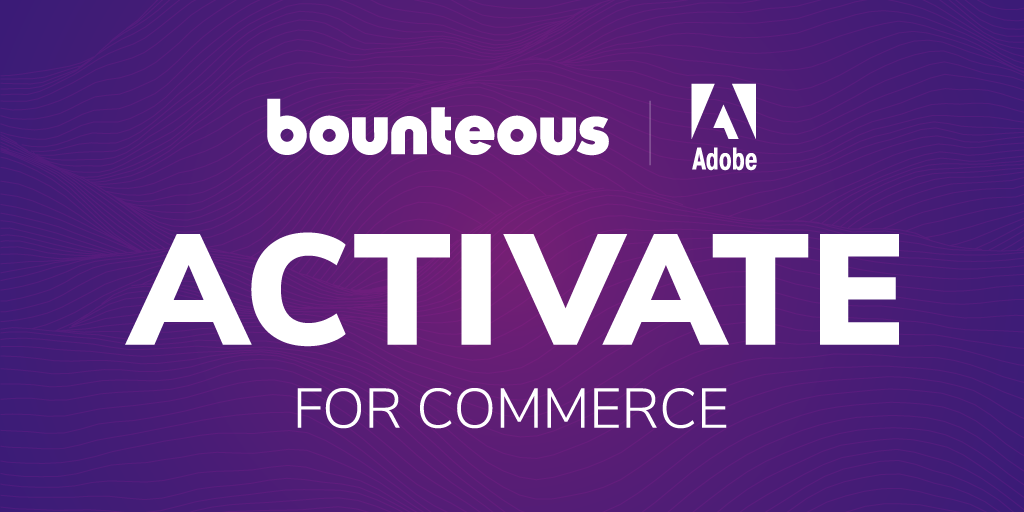 Increase flexibility, scalability, and acceleration with the Bounteous Accelerator for Adobe Experience Cloud
Chicago—April 20, 2021—Bounteous, a leading insights-driven digital experience consultancy, today announced the latest release of its Activate for Commerce solution. If you are interested in learning more about how Activate can help you to free up time and increase results visit Activate for Commerce or schedule a demo.
Built by the award-winning Adobe practice at Bounteous, Activate packages years of best practices and successful deployments to help B2B and B2C companies quickly create a modern, efficient digital experience.
Since its launch, Bounteous' Activate for Commerce solution has been popular with Adobe Commerce Cloud users. Activate for Commerce extends the Activate functionality to include commerce-specific features and functionality, helping companies take advantage of Adobe Commerce, previously known as Magento Commerce. This newest release is based on Adobe's Commerce Integration Framework approach using GraphQL.
This solution incorporates features and functionality specifically designed for commerce websites built on Adobe Commerce and other commerce engines, enabling headless scenarios with Adobe Experience Manager at the core. Activate for Commerce makes it easy for businesses to combine the benefits from both platforms, and get to value faster, adding flexibility, scalability, and acceleration to programs.
"A commerce strategy begins with a strong framework and knowledge base of the customer's needs," said John N. Anthony, Bounteous SVP, Digital Strategy & Solutions. "Bounteous is excited to introduce this new solution to propel commerce initiatives for our clients. Activate for Commerce lays the foundation for any commerce solution, allowing clients to focus on growing their long-term return on investment and getting to differentiated value faster."
Bounteous' Activate solution is built on best practices that ensure organizations are successful. Empowering IT to easily implement upgrades, and content authors to make changes without requiring technical resources is core to the solution. Internationalization and multi-site functionality help you reach a growing global audience—without reinventing the wheel.
To learn more about Activate for Commerce, and schedule a live demo with Bounteous, visit bounteous.com/activate/demo/.
As a Platinum Regional partner in the Adobe Solution Partner Program, Bounteous holds over 100 certifications across Adobe Experience Cloud and has developed Adobe-specialized practices in the Americas region in multiple Experience Cloud applications, including Adobe Analytics, Adobe Experience Manager, Adobe Experience Manager: Run and Operate, Adobe Campaign, Adobe Campaign Standard, and Adobe Commerce. Bounteous has over 12 years of rich Adobe Commerce experience, highlighted by the delivery of complex commerce implementations for multinational brands. Bounteous experts are the top contributors to ACS Adobe Experience Manager Commons, and were named both 2019 and 2018 Adobe Experience Manager Rock Star winners, awarded to the world's best Adobe Experience Manager architects.
About Bounteous
Founded in 2003 in Chicago, Bounteous creates big-picture digital solutions that help leading companies deliver transformational digital brand experiences. With expertise in Strategy, Experience Design, Solutions Engineering, Analytics, and Marketing, Bounteous forms co-innovation partnerships with clients to envision, design, and build their digital futures. For more information, please visit www.bounteous.com. For more information about co-innovation, download the Co-Innovation Manifesto at co-innovation.com.
For the most up-to-date news, follow Bounteous on Twitter, LinkedIn, Facebook, and Instagram.