How Brands Can Grow Commerce By Maximizing the Value of Amazon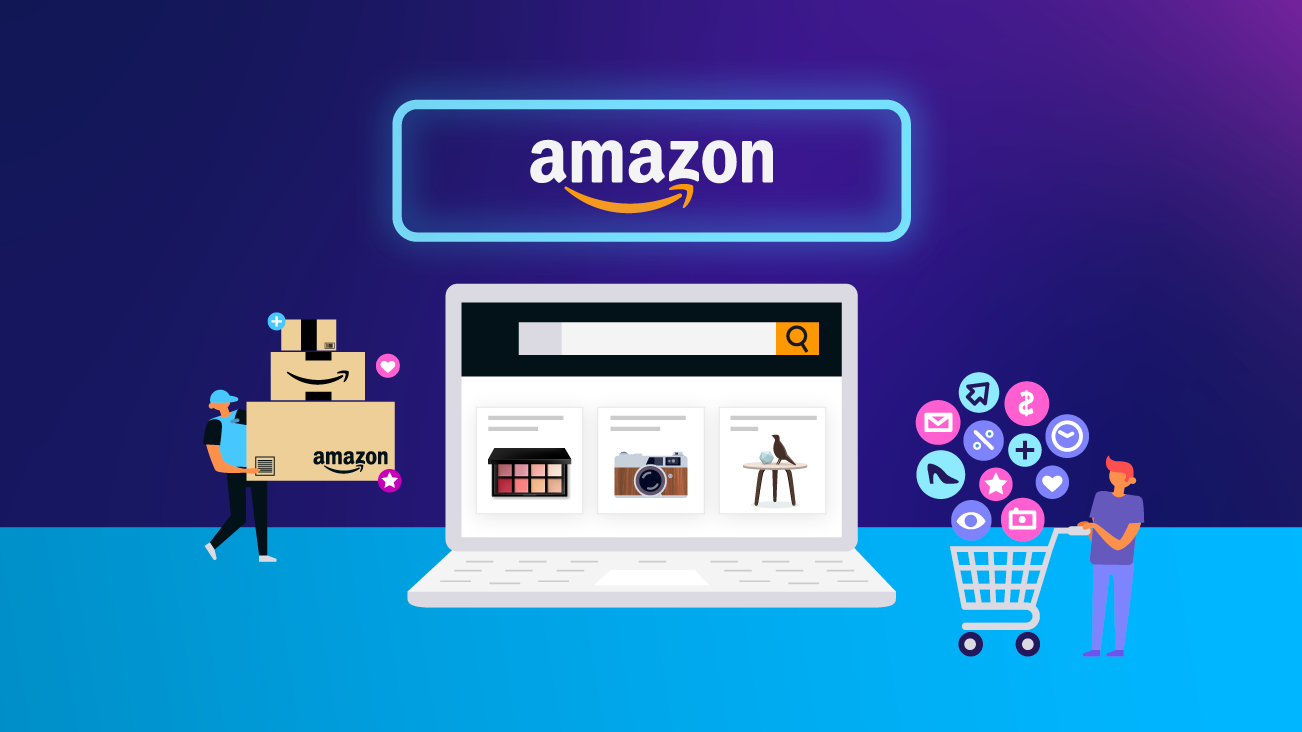 Amazon is without a doubt an online commerce leader and a critical consideration in any brand's commerce growth strategy. Brands must carefully consider the capabilities and resources needed to effectively build and manage an Amazon business. A more informed understanding of what drives success on the platform enables brands to maximize the value of Amazon.
Amazon's dominant position as the leader in commerce has been solid for years and has only been accelerated by the effects of the COVID-19 pandemic. In 2020, Amazon reported $368 billion in net sales revenue, joining Walmart as one of the only two companies currently averaging $1 billion in daily net sales revenue. With this 38 percent year-over-year sales growth, Amazon is estimated to account for ~40 percent of commerce sales in the United States.
Choosing the Right Selling Model
One of the first critical decisions when selling on Amazon is determining which selling model is best for a business. Amazon offers two models, a first-party (1P) relationship or a third-party (3P) relationship. In a 1P relationship, brands sell products to Amazon as a retail partner. Amazon owns the inventory and is then responsible for selling the product to end customers on Amazon. In a 3P relationship, the brand acts as a marketplace seller on the platform and maintains a more direct responsibility for managing the selling and fulfillment process.
Each selling model offers various benefits and disadvantages. Selecting the right model depends primarily on a brand's objectives, product portfolio, pricing strategies, and operational capabilities.
Amazon First-Party Selling Model
To sell to Amazon in a 1P capacity, brands must be invited by Amazon directly. Amazon places purchase orders (POs) for specific quantities and the brand ships the product to Amazon. Once the product is shipped, Amazon assumes inventory ownership and controls how the products will be positioned, priced, and sold on Amazon.
Benefits of First-Party Selling on Amazon
A 1P relationship offers brands a much more hands-off approach with a variety of meaningful benefits. One of the most significant advantages is gaining access to optimized product discoverability and conversion on the platform. First-party products automatically gain customer trust and credibility by being "sold by Amazon" and are eligible for Amazon Prime. Amazon's merchandising team is primarily responsible for advertising and optimizing the product detail pages to drive sales. Amazon is also directly responsible for managing fulfillment logistics and customer service.
While some of these benefits may also be available to qualified 3P sellers, selling 1P allows brands to focus on shipping bulk orders to Amazon based on a familiar wholesale operating model rather than building commerce operations and logistics expertise.
Disadvantages of First-Party Selling on Amazon
The biggest disadvantage with the 1P model is that brands lose control of what product selection, experience, and pricing are offered on the marketplace. As a 1P seller, the product assortment and presence on the marketplace are primarily managed by Amazon. Amazon can price 1P products at any price needed to meet sell-through targets or sales plans, even if the price falls below a brand's desired minimum advertised price (MAP).
While this is also true with traditional retail partners, Amazon can have a more significant impact on pricing in other sales channels. Amazon has not only become a trusted price comparison tool for customers, but also a primary data source for dynamic pricing tools used by other commerce websites. Many retailers scrape pricing from Amazon (and other sources) to dynamically update online and in-store prices based on market conditions. When choosing the ideal-selling model, brands should consider how the entire business could be impacted.
Amazon Third-Party Selling Model
With a 3P model, brands are set up as sellers and sell products directly to consumers through the Amazon marketplace. Through Seller Central, Amazon's portal for sellers and brands to sell products directly to consumers, brands can create and publish product detail pages, check in on the status of orders, monitor inventory levels, and more.
If brands choose Amazon's 3P model, they also maintain control of products and pricing. Brands can decide if they are going to fulfill their products through Fulfillment by Amazon (FBA), Fulfillment by Merchant (FBM), or Seller Fulfilled Prime (SFP). If FBA is selected, brands can place inventory in Amazon warehouses, and Amazon takes care of picking, packing, shipping orders, and managing returns.
Benefits of Third-Party Selling on Amazon
Selling 3P has become more popular because of the increased flexibility and control over product selection, pricing, and experience. With control of product inventory, 3P sellers can manage inventory levels to appropriately support product launches and promotions.
Brands can adjust prices dynamically, which allows them to maintain pricing consistency, define competitive pricing thresholds, and avoid margin erosion conflicts with other retail partners that use Amazon as a price matching benchmark. Brands also can directly update store and product listing content to create unique brand experiences that increase product discoverability and conversion.
Disadvantages of Third-Party Selling on Amazon
In contrast to the 1P model, selling 3P requires a significant amount of support. While leveraging FBA provides access to Amazon's fulfillment logistics capabilities, brands are responsible for all product listing optimization, on-site marketing, sales forecasting, inventory management, and customer service. Brands can also be subject to marketplace fees that need to be accounted for. 3P brands must also place more emphasis on building brand reputation and credibility as a seller in the marketplace. All of which will place an incremental burden on your internal teams to 'do it all'.
Improving Product Discoverability & Conversion on Amazon
Whether a business chooses to go with a 1P or 3P selling model, they should be prepared to provide Amazon with data that will drive success in the marketplace. Brands can accelerate sales on Amazon by focusing on the inputs that drive the Amazon engine to maximize success on the platform. There are many ways to improve discoverability and conversion on Amazon. Three critical tactics include optimizing product listing content, increasing quality ratings & reviews, and accelerating sales velocity through advertising.
Product Content Optimization
Customers find products on Amazon primarily through search. Customer searches are matched with products primarily based on keyword relevancy with product information such as product title and description and selling velocity. Recent studies have found that 70 percent of searches on Amazon do not include a brand name. Developing content that is optimized for customer search behavior is critical to increasing product discoverability.
The product title is the most valuable asset in a product listing and will have the greatest impact on product performance in search.
Amazon suggests that a product title should contain elements such as:
Brand
Product line
Material or key feature
Product type
Color
Size
Packaging/Quantity
An effective product title combines these elements with relevant keywords so that customers and Amazon both understand exactly what you are trying to sell.
Brands can also increase discoverability and conversion by enhancing product detail pages (PDP) with compelling, informative content. In addition to writing product descriptions with clear product features and benefits, brands can also create compelling brand experiences with A+ Content enrichment.
With A+ Content, brands can use rich media modules to tell a more immersive brand and product story. Basic A+ Content includes content modules that are available to both 1P vendors and 3P sellers when they register on the Amazon Brand Registry. However, Premium A++ Content modules are only offered to 1P vendors through Vendor Central.
Ratings & Reviews
One of the greatest benefits of shopping on Amazon is the ability to read reviews before making a purchase decision. Research has found that over 90 percent of customers read reviews before making a purchase and that nearly 80 percent of consumers say that they trust online reviews as much as a personal recommendation from friends or family. Quality reviews help customers gain transparency and confidence when making purchase decisions.
For brands, having more high-quality reviews translates into an increased conversion rate, which stimulates the virtuous cycle of increased sales velocity, improved search results, and continued sales growth.
Brands can leverage a variety of strategies to increase the quantity and quality of reviews for their products.
Participate in the Amazon Vine Program
The Amazon Vine Program invites the most trusted reviewers to provide honest and unbiased reviews on products. Program participants are selected based on the quality and helpfulness of their prior reviews. Through the program, qualified 1P vendors and 3P sellers send eligible items to reviewers for free with an invitation to write a review of the product on Amazon. While Vine reviews are not guaranteed to be positive, they tend to be more in-depth and informative, helping customers make informed purchase decisions.
Participation in the program is free, but vendors and sellers must cover the cost of the products sent to reviewers. Vendors and sellers must also meet the following criteria:
Register in Amazon Brand Registry
Have fewer than 30 reviews on the product detail page
Have a buyable FBA offer in 'New' condition
Not be an adult product
Have already launched at the time of enrollment
Have available inventory
Have an image and a description
Increase Ratings & Reviews from Verified Customers
Once a customer makes a purchase, Amazon provides a variety of ways for brands to request reviews from customers. Amazon offers a buyer-seller messaging service in seller central that provides businesses with an opportunity to set up tailored emails to request honest feedback and reviews.
Amazon also recently launched the "Request a Review" functionality, which allows brands to send a standardized email from Amazon requesting a review on a recent purchase. The branding and messaging are less personal but do ensure that requests are being made within Amazon guidelines.
Advertising on Amazon
In addition to optimizing content, ratings, and reviews, brands can accelerate sales velocity through effective advertising on the Amazon ad network. Amazon Advertising operates primarily on a pay-per-click (PPC) method and allows advertisers to target based on keywords and product categories. Amazon has built a robust platform that includes options for sponsored products, video, audio, and programmatic advertising that is delivered both on and off Amazon properties.
Putting an Amazon Commerce Strategy into Practice
Amazon is a fundamental component to any digital commerce strategy that requires resources and developed capabilities to build and manage. Brands should align their internal business objectives, capabilities, and resources with the most appropriate selling model and management approach.
Depending on the scale and expertise, working with a partner can help brands get the most out of the program. By taking all of these elements into consideration and developing a comprehensive strategy, brands can maximize the value of Amazon.