Change Starts Where Communication Happens: Inclusifying Our Workplace on Slack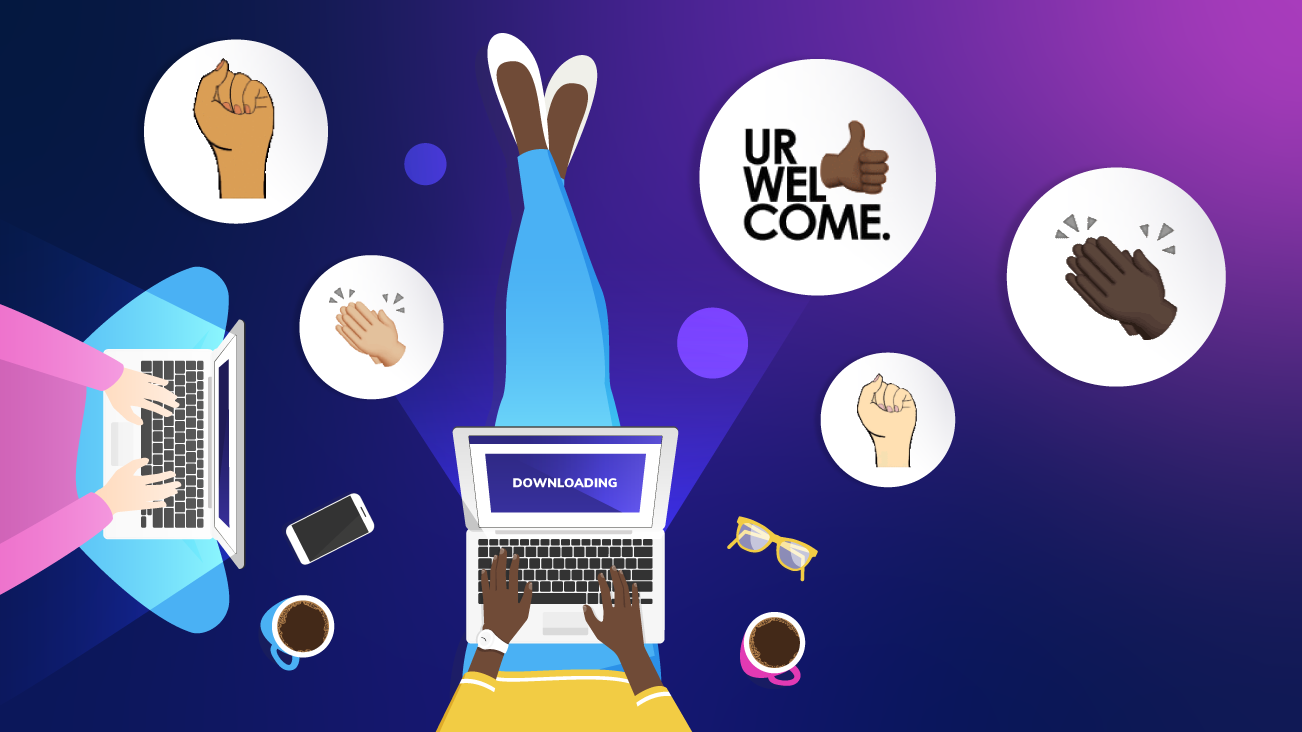 Note: This article highlights resources and tools created during a recent Bounteous hackathon as well as some exciting side projects and resources that Bounteous team members created.
Bounteous loves Slack. We use it across our company as a remote workspace for client projects and internal collaboration.
And do you know what we love even more than Slack? All 2,500+ of our custom Slack emojis.
In a digital age, non-verbal communication is essential to remote workplaces, and at Bounteous, emojis empower our teams to express themselves in an otherwise faceless setting.
Diversifying Our Slack Emojis
At Bounteous, we encourage our team members to show up as their full, authentic selves. However, we recognize that showing your true personality while at work can be intimidating.
Slack helps mitigate those feelings of intimidation by bringing an element of fun to the workplace in a casual way. We've added to the default Slack emojis over the years with custom emojis either found online or custom-created.
However, several of our team members noticed a problem with our emoji library. While Slack allows users to choose from skin tone options for its static emojis, the animated emoji options are not as inclusive.
Because those emojis didn't fully reflect our unique and diverse personnel, a group of Bounteous team members recently recreated a hackathon project to solve the problem by creating a range of diverse animated Slack emojis.
Creating the Diversifying Slack Emoji Hackathon Project
Every year Bounteous hosts a Hackathon, bringing together teams from around our various collaboration centers to collaborate remotely on solving challenges and learning new technologies. Projects are submitted by team members, approved by practice leaders, and recruit hack participants from across the organization to help complete the projects.
Projects can be very different, some projects turn into articles on our site and shared resources, others improve internal processes or benefit our clients or non-profit partnerships. Still, others are designed to allow team members to explore new technologies or new capabilities.
So how did our project go? Let's step through the process we followed.
What would a Bounteous project be without data? We started the project looking for qualitative and quantitative data to help us focus our efforts.
We did some internal user research through our team member network, also known as employee resource networks, reaching out over Slack (what else?) channels and asking for emoji recommendations.
Here are a few responses:
Great start—let's get some numbers into the mix. To understand user behavior better, we installed the Slack bot, Moji, to track which emojis team members were most often using to express themselves.
It turns out, the Bounteous crew is a spirited bunch, and was most often using the :celebrate:, :micdrop:, :fistbump:, and :clapping:, animated emojis.
Let's go to work! With a limited time frame, we looked to see what emojis already existed and created a number of brand new emojis to get the ball rolling and give our teams more options for inclusivity. We made a number of animated emojis that cycle through different skin tones, and to make this easy for team members, we replaced the default 'yellow' emojis with these new versions.
Additionally, the family emojis often defaulted to blonde families, so we also added a number of different dark-haired family emojis to give team members more options.
Here's what we came up with, feel free to download below and add to your own Slack workspaces.
| Emoji name | emoji |
| --- | --- |
| :ur_welcome: | |
| :celebrate: | |
| :clapping: | |
| :fist-bump: | |
| :power-fist-alltogether-blm: | |
| :woman_woman-boy_dark-hair: | |
| :man-girl-girl_dark-hair.gif: | |
| :woman-boy_dark-hair: | |
| :man-man-boy-boy_dark-hair: | |
| :woman-woman-girl-boy_dark-hair: | |
Download the Diverse Emoji Pack here to add to your Slack workspace.
Sharing More Inclusive Resources
While our Hackathon project created a number of improved emojis and added options into our Slack workspace, there is always room to grow. Several team members have used side projects to create and share resources that not only improve our Slack workspace, but can be shared and used broadly.
Pride Flags Slack Emojis
Brooke Griggs, designer at Bounteous and co-lead of our LGBTQIA+ Team Member Network, noticed the lack of flags in our Slack workspace and created their own set of flags, which we're sharing here.
The traditional Pride flag, created in 1978, has been updated over the years, most recently the "progress pride" flag includes extra colors to help represent LGBTQIA+ people of colors and as well as the colors from the transgender flag. Individual LGBTQIA+ communities have also similarly created versions of the pride flag, so why not make all of the options available to our diverse and growing team members?
| Emoji name | emoji |
| --- | --- |
| :agender_pride: | |
| :aro_ace_pride: | |
| :aromantic_pride: | |
| :asexual_pride: | |
| :bi_pride: | |
| :genderfluid_pride: | |
| :genderqueer_pride: | |
| :gnc_pride: | |
| :intersex_pride: | |
| :lesbian_pride: | |
| :nonbinary_pride: | |
| :pan_pride: | |
| :pride_flag: | |
| :queer_pride: | |
| :trans_pride: | |
Download the Pride Flags Emoji Pack here to add to your Slack workspace.
Slack Profile Picture Border Generator
Looking ahead to Pride 2021, Brooke teamed up with Bounteous developer Paige Keenan, to create a simple and fun web app for Bounteous team members to add a Pride flag border to their Slack profile images. Upload your photo, choose your flag, and download your new flag-ified profile image.
Give it a spin:
Add a Pride Banner To Your Headshot
Like it? Anyone can use this generator to add flags to their square profile images, which works well for apps like Slack and Discord. Share it however you'd like!
Want it? The team that created this chose to host it on Glitch, so it could easily be remixed and updated, even if you have a limited Development and Design background. If you'd like to make your own version with your own borders, give it a shot—there are instructions included to make it easier.
Continuing to Extend Inclusive Options
Thinking about inclusion at your workplace? We've shared our resources in this post and how we've addressed some of the challenges that we chose to tackle, focusing on providing options that represent the full diversity of our team members. We're always looking to add more representation to every aspect of our virtual communication and improve our internal tools, and look forward to new and exciting projects!