Press Release: Bounteous Again Named a Great Place to Work‑Certified™️ Company in U.S. and Canada for 2021‑2022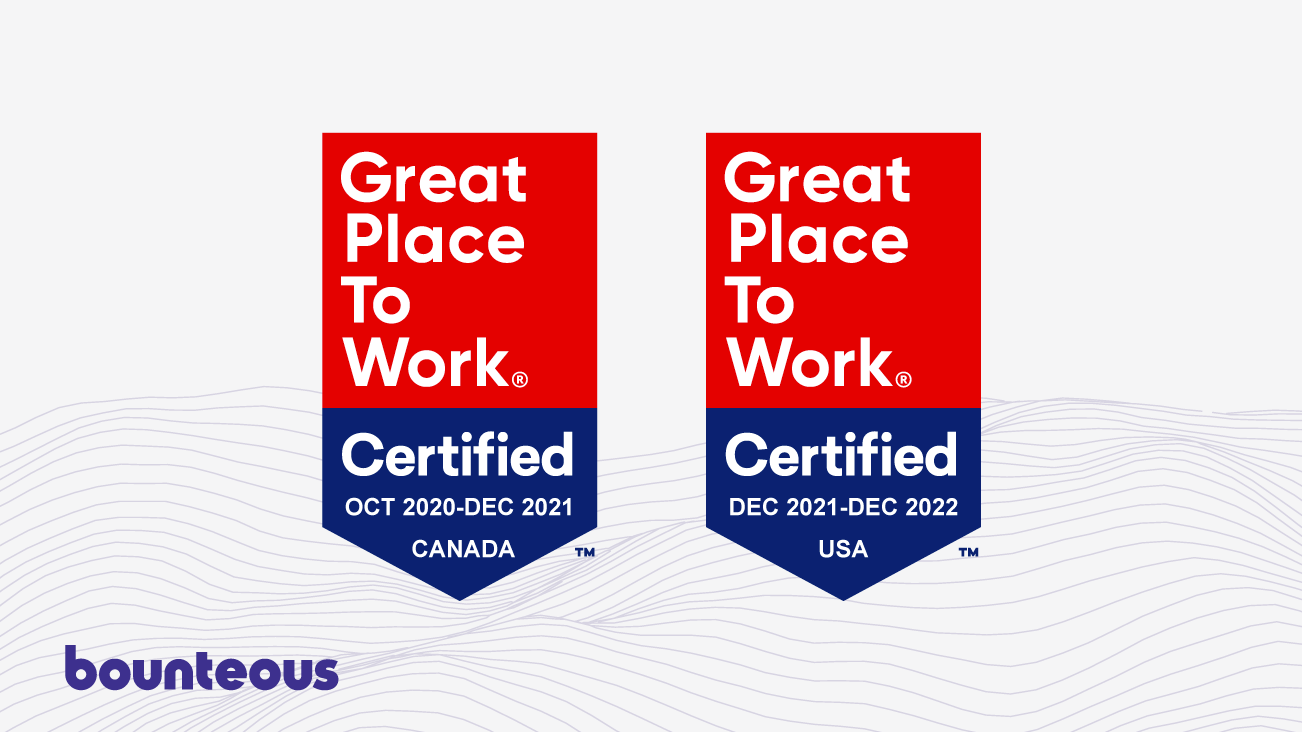 Commitment to vibrant culture establishes Bounteous as a magnet for digital talent
CHICAGO AND TORONTO–December 21, 2021–Great Place to Work® has again named Bounteous, the digital innovation partner of the world's most ambitious brands, as a Great Place to Work-CertifiedTM company across North America. Ninety-one percent of employees at Bounteous say it is a great place to work compared to 59 and 65 percent of employees at comparable companies in the U.S. and Canada, respectively.
Bounteous boasts industry-leading retention rates, an internationally renowned award-winning culture, and well-championed employee resource groups (ERGs). The co-innovation consultancy is consistently sought after by top digital talent, with 26 percent growth in new hires in 2021.
"At Bounteous, we believe our people are our greatest asset and our vision is to provide them with an inclusive culture that ignites careers, builds ambassadors, and inspires innovation," said Leah Weyandt, Chief People Officer at Bounteous. "We are honored to once again be re-certified by Great Place to Work and are proud that our team members trust our organization, have pride in the work we do for our clients, and enjoy the people they work alongside year after year."
The company's foundation and commitment to diversity, inclusivity, and equity among team members remain stronger than ever. Transparency during weekly Town Halls, providing comprehensive take-what-you-need paid time off, and flexible scheduling helps to address and support the varied needs of all team members. In addition, Bounteous offers three Employee Assistance Programs to support positive change and improve wellness amongst our team members.
Recent acquisitions of Hathway and Lister Digital have also contributed to the company's exponential global growth, in addition to organic growth with openings across locations and remotely. The Bounteous Toronto office recently expanded its space, doubling its Canadian headcount, along with its new collaboration center opening in Denver in 2022.
Bounteous has been certified by Great Place to Work in the U.S. and Canada for multiple years. The consultancy has been named to numerous best workplaces lists, including for women, consulting and professional services, for millennials, today's youth, and more.
Bounteous is hiring in all departments for talent located anywhere. Visit bounteous.com/careers to learn more.
About Bounteous
Founded in 2003 in Chicago, Bounteous is a leading digital experience consultancy that co-innovates with the world's most ambitious brands to create transformative digital experiences. With services in Strategy, Experience Design, Technology, Analytics and Insight, and Marketing, Bounteous elevates brand experiences and drives superior client outcomes. For more information, please visit www.bounteous.com. For more information about co-innovation, download the Co-Innovation Manifesto at co-innovation.com.
For the most up-to-date news, follow Bounteous on Twitter, LinkedIn, Facebook, and Instagram.
About Great Place to Work®
Great Place to Work is the global authority on high-trust, high-performance workplace cultures. Through proprietary assessment tools, advisory services, and certification programs, GPTW recognizes the world's Best Workplaces in a series of national lists including those published by The Globe & Mail (Canada) and Fortune magazine (USA). Great Place to Work provides the benchmarks, framework, and expertise needed to create, sustain, and recognize outstanding workplace cultures. Visit us at www.greatplacetowork.ca or find us on Twitter at @GPTW_Canada.