Press Release: Bounteous Named to the 2021 List of Best Workplaces™ in Professional Services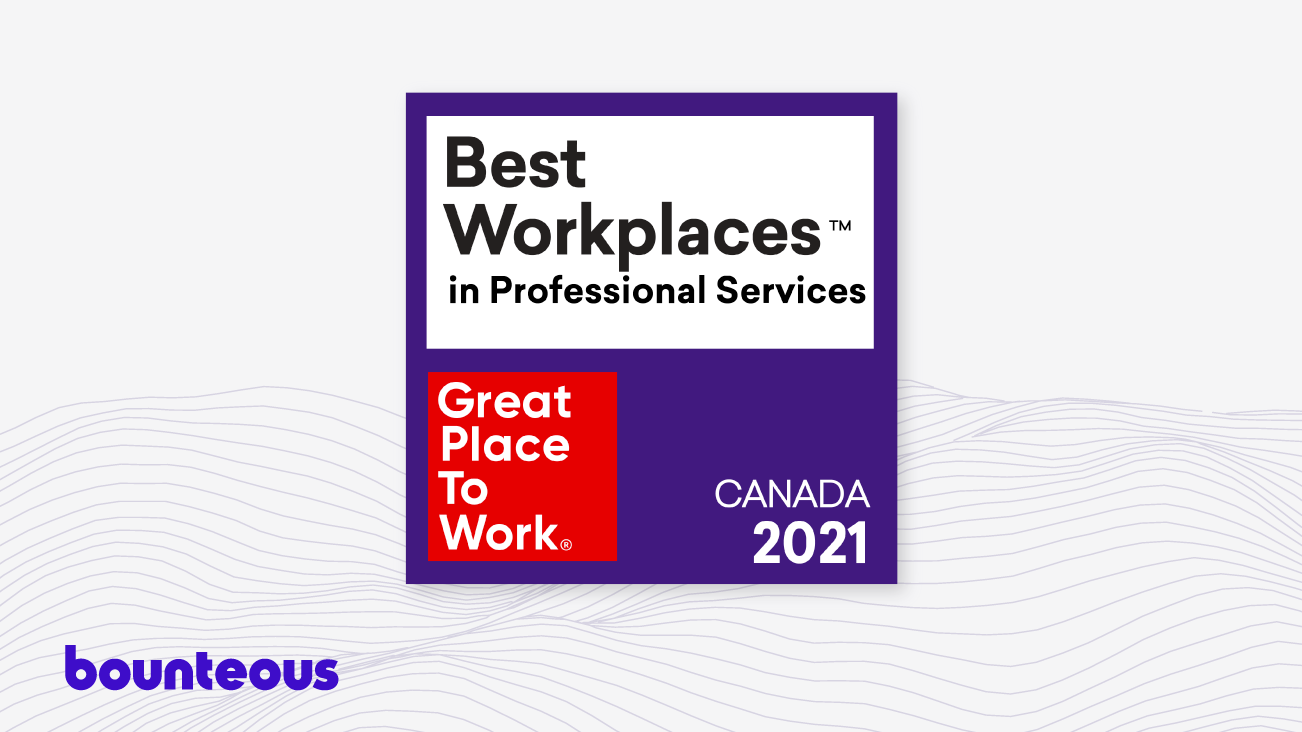 North American offices underscore leading service provider accolades
Chicago—July 14, 2021—Bounteous is proud to announce that our organization has been named on the 2021 list of Best Workplaces™ in Professional Services in Canada. This recognition follows the digital experience service provider's 2021 listing to the Best Workplaces in Consulting & Professional Services™ from Great Place to Work U.S., and several other workplace awards across its North American offices and beyond, year to date.
"Bounteous sits at the intersection of management consultancies, customer experience specialists, and systems integrators, using our unique Co-innovation Enablement Model to help clients compete and win digitally," said Keith Schwartz, CEO of Bounteous. "We're honored by the continued acknowledgment of our professional services leadership, which has come from analysts, our clients, and our team members."
Bounteous received this honour after a thorough and independent analysis conducted by Great Place to Work®. To be eligible for this list, organizations must be Great Place to Work- Certified™ in the past year and work primarily in the Professional Services Industry. Professional Services refers to any organization or profession in the tertiary sector of the economy that offers customized, knowledge-based services to clients. This includes doctors, lawyers, accountants, architects, engineers, advertising professionals, to name a few.
Bounteous in 2020 was certified by Great Place to Work throughout the U.S. and Canada. Since then, the consultancy has been recognized on the 2021 lists for Best Workplaces in Ontario, Best Workplaces in Canada, Best Workplaces for Women, and also Best Workplaces in the Greater Toronto area.
The list is based on direct feedback from employees of the hundreds of organizations that were surveyed by Great Place to Work®. The data has a 90 percent confidence and a plus or minus 5 percent margin of error.
For more on Bounteous' Great Place to Work certifications, visit the agency's profiles with Great Place to Work U.S. and Canada.
Bounteous is hiring in all departments for talent located anywhere. Visit bounteous.com/careers to learn more.
About Bounteous
Founded in 2003 in Chicago, Bounteous co‑innovates with the world's most ambitious brands to create transformative digital experiences. With expertise in Strategy, Experience Design, Solutions Engineering, Analytics, and Marketing, Bounteous partners with clients to envision, design, and build their digital futures. For more information, please visit www.bounteous.com. For more information about co-innovation, download the Co-Innovation Manifesto at co-innovation.com.
For the most up-to-date news, follow Bounteous on Twitter, LinkedIn, Facebook, and Instagram.
About Great Place to Work®
Great Place to Work is the global authority on high-trust, high-performance workplace cultures. Through proprietary assessment tools, advisory services, and certification programs, Great Place to Work recognizes the world's Best Workplaces in a series of national lists including those published by The Globe & Mail (Canada) and Fortune magazine (USA). Great Place to Work provides the benchmarks, framework, and expertise needed to create, sustain, and recognize outstanding workplace cultures. Visit us at www.greatplacetowork.ca.