Learn About Salesforce Clouds & Salesforce Advantages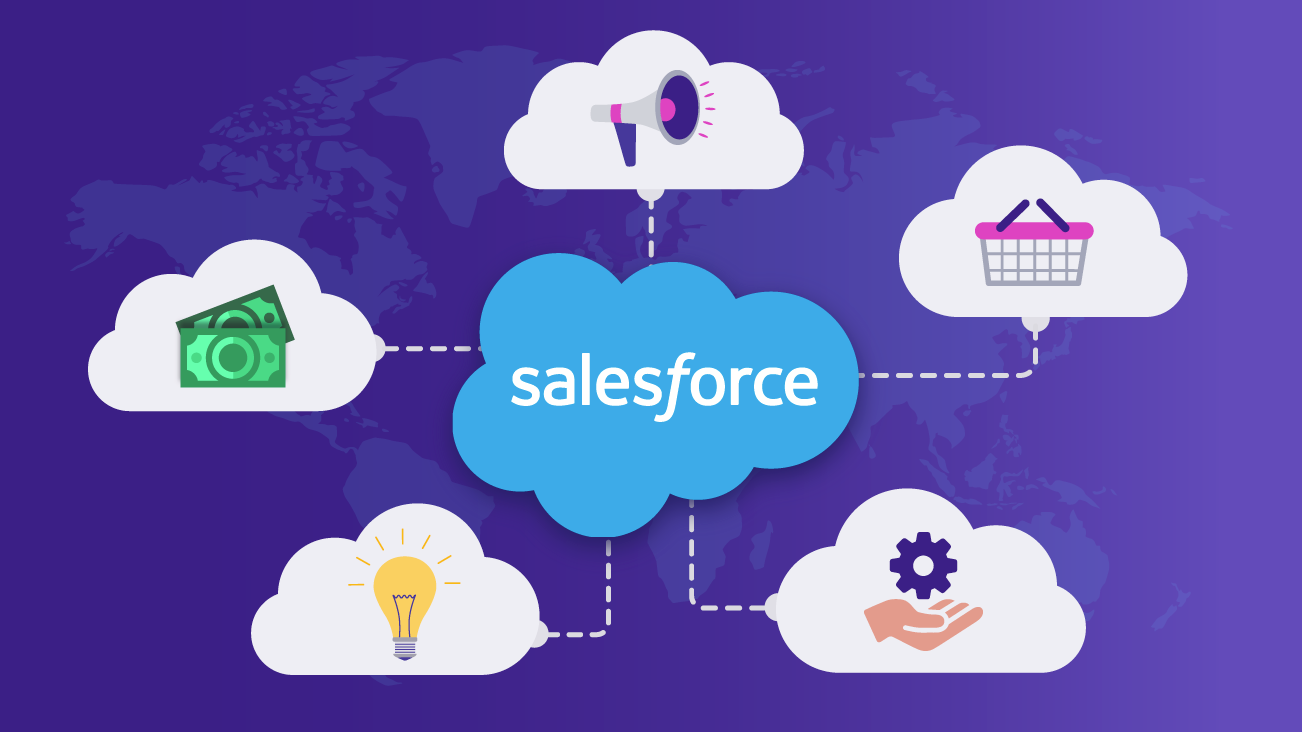 Salesforce has dominated the tech scene for over 20 years. The company started in 1999 by working on its first version of a customer relationship management (CRM) platform. Today, Salesforce is the world's #1 CRM platform, but it is also so much more. Through continued growth, strategic acquisitions, and a focus on development, Salesforce is now a leader in the digital ecosystem. You may be surprised to learn all of the capabilities that Salesforce offers today.
Salesforce has grown into one integrated suite that gives your entire organization—including marketing, sales, commerce, and support—a single, shared view of customers. For instance, clients across Bounteous use Salesforce and the 360-degree view of the customer to automate customer emails, increase customer loyalty, tie marketing campaign information to B2B and B2C transactions, improve team member collaboration, respond to customer service requests, and more.
Salesforce can be daunting due to the sheer number of solutions and features it offers, so we wanted to provide an overview of this great platform and all that it offers.
Background of Salesforce
Salesforce started with an intense focus on CRM but quickly grew to provide broad features needed to help companies succeed. This was accomplished by enhancing their core products along with the help of several strategic acquisitions throughout the years.
To build its Marketing Cloud offering, Salesforce acquired leading platforms such as Radian6, Datorama, and Exact Target to help centralize and support multi-touch marketing campaigns. The acquisitions of CloudCraze and Demandware instantiated Salesforce's B2B and B2C commerce capabilities. Other key acquisitions included Tableau, Slack, and Mulesoft, all contributing to Salesforce's position as a leading integrated platform. You can find a full list of acquisitions here.
Benefits of a Platform Partner
Salesforce's most well-known product is Salesforce Sales Cloud (SFSC), and we've seen a lot of instances where this is the only Salesforce product a company is using. There are many advantages to understanding and utilizing multiple clouds within the Salesforce ecosystem.
One of the largest benefits of using a platform like Salesforce is the ability for all of your organization's teams to work in an integrated fashion across multiple interfaces. Your teams might not talk openly with each other regularly, but Salesforce will provide visibility to those teams across all areas of the business so that each team has the information they need to be successful. When the technology and processes are in place to support digital flow, all teams recognize more value.
Another benefit of a platform partner is that the tools within the system work better with each other than they do with tools from outside. And, there are also often billing incentives to use more tools, which speaks for itself.
At the very least, companies should be evaluating if there is more value to be recognized through product expansion within the SF ecosystem.
Exploring the Salesforce Ecosystem
Salesforce's offerings are offered in the form of product "clouds":
Salesforce Sales Cloud
Salesforce Marketing Cloud
Salesforce Commerce Cloud
Salesforce Service Cloud
Salesforce Experience Cloud
The platform also includes Salesforce Essentials, which makes it easy for small businesses to build stronger customer relationships with a combined sales and support CRM, and Salesforce Industries, which is a more personalized experience that enables companies in different industries to accelerate time to value, go digital faster, and transform their industry.
If we discussed each cloud in-depth, we'd be here all day— so we've summarized just a few of the main offerings.
Salesforce Marketing Cloud
Salesforce Marketing Cloud (SFMC) helps you understand your audiences through a 360-degree view of your customers, personalize every interaction with your brand across the customer journey, and continually adapt and optimize your campaigns to improve performance.
With Marketing Cloud, you have all the tools necessary to create remarkable multi-channel campaigns that resonate with your audiences in moments that matter. With SFMC, marketers can create personalized experiences and ensure seamless campaign orchestration, improve audience management, enhance analytics, and more.
As an example, our team uses SFMC to drive sales through omnichannel marketing, promotions, email, push, and SMS for a globally recognized and loved pizza chain. We've helped the brand build upon its brand identity and voice across three different marketing channels and seven different marketing streams.
SFMC products include: Email Studio, Journey Builder, Interaction Studio, Salesforce CDP, Datorama, Pardot, Advertising Studio, Mobile Studio, Social Studio, Content Management, Google Marketing Platform, Loyalty Management, and Datorama Reports.
Salesforce Sales Cloud
Salesforce Sales Cloud (SFSC) has everything you need to build deeper connections with your customers, manage and monitor your business in real-time, and pivot quickly as the world continues to evolve rapidly. Features such as lead management, process automation, and reports and dashboards empower sales teams to do things faster: grow accounts, find new customers, and close deals.
We have delivered customer success consistently for customers who chose Salesforce Sales Cloud as their platform of choice. We rolled out Sales Cloud for a leading global vision care company across 10 countries in APAC, three business divisions, and 2,000+ users—a total of 22 projects delivered on time and on budget. This resulted in dramatic field sales productivity improvements and enhanced market coverage.
Features include: Contact Management Software, Opportunity Management, Lead Management, Reports and Dashboards, Mobile CRM Solutions for Business, Activity Management, Pipeline and Forecast Management, Process Automation, Files Sync, and Share, and Data Management.
Salesforce Commerce Cloud
Salesforce Commerce Cloud (SFCC) provides brands with scalable, connected commerce experiences for B2C and B2B. Salesforce B2C Commerce (formerly Demandware) combines the functionality, flexibility, and customization capabilities of an in-house application with the operational benefits of the on-demand model, allowing you to realize the full potential of the online channel.
Salesforce B2B Commerce gets you to market quickly, gives you one connected view of your customers across marketing, commerce, sales, and service, and provides a B2C-like online experience for your B2B customers.
Imagine Your Possibilities With Salesforce
We've only really just scratched the surface when it comes to Salesforce's offerings, but a solid takeaway is that Salesforce can equip you with pretty much anything you need to achieve business success. With customizable and scalable offerings for every type of team, innovative and rapid development of new offerings, and unparalleled support—Salesforce can help you reach new heights.