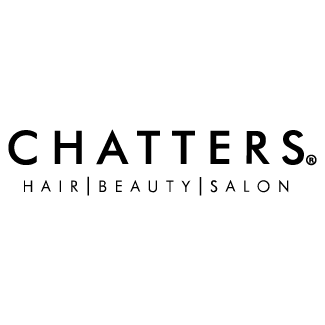 Creating a Beautiful Omnichannel Commerce Experience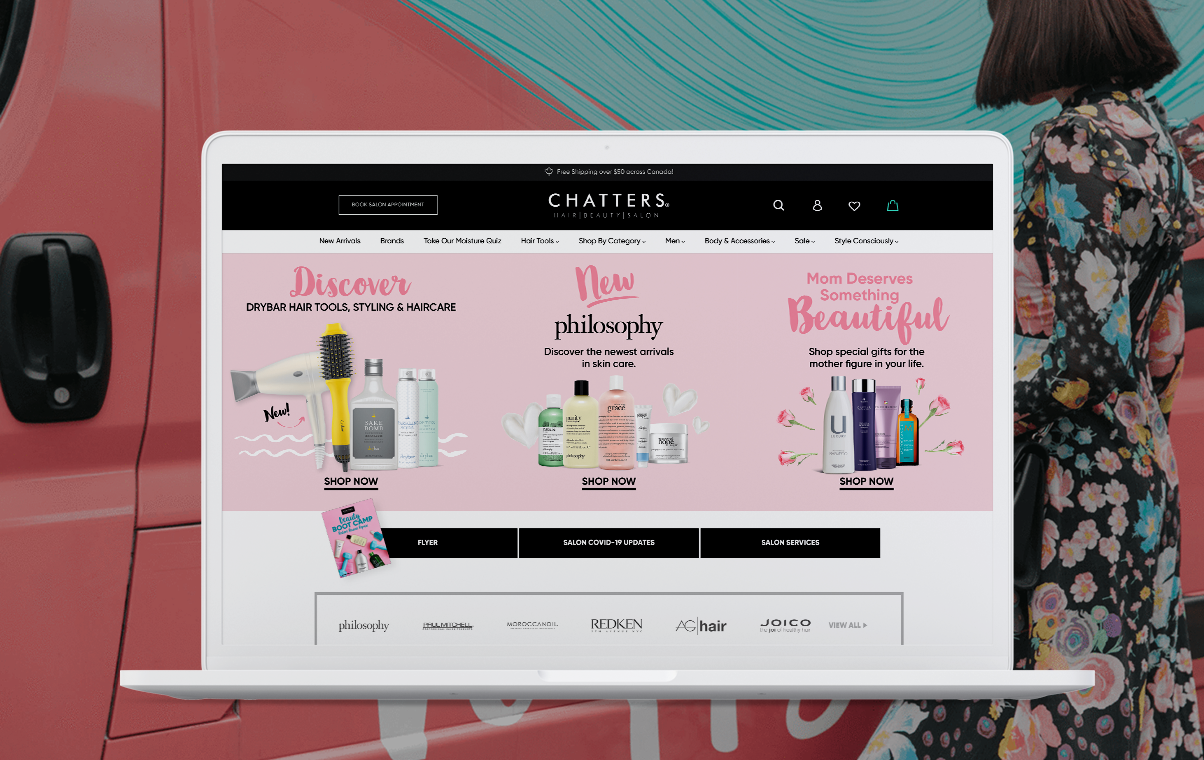 Summary
Chatters is the largest Hair Salon network in Canada, operating 100+ hair salon locations across the country and offering tens of thousands of professional beauty products for sale both online and in-store.
Chatters partnered with Bounteous on platform and roadmap development to design and implement commerce systems using Shopify Plus. With a strategic commerce platform in place, Bounteous also worked with Chatters to optimize their digital marketing efforts through Google Ads and Social Media marketing, ultimately leading to an over 400 percent increase in YoY online revenue.
Challenge
Chatters wanted to create a seamless experience online and in-store by delivering a more customer-centric approach for both channels. Chatters' plans for substantial growth were hindered by their existing commerce solution that was weighed down by plugins, missing security requirements, and required excessive technical maintenance.
In addition to creating a more secure, customer-centric experience, Chatters needed to optimize their digital marketing efforts to drive more in-store and online revenue across channels.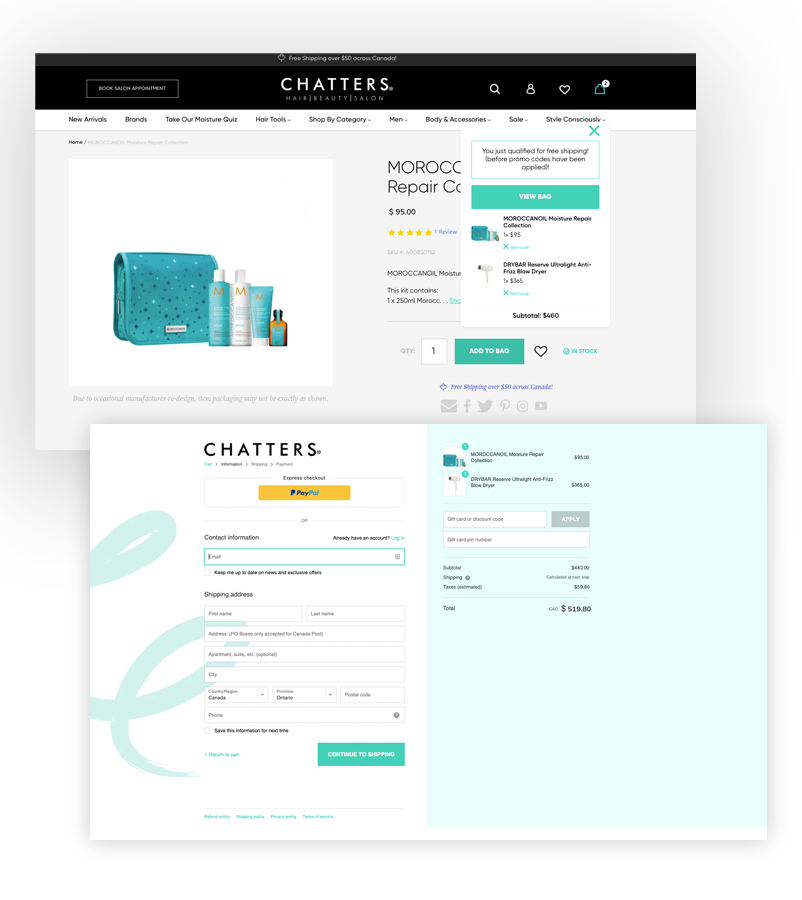 Solution
Bounteous worked with Chatters to better understand their supply chain, operational processes, and customers to validate known challenges and discover unknown opportunities. The robust and scalable multi-channel support of Shopify Plus made it a perfect fit for Chatters. Understanding their operational process workflow allowed Bounteous to customize and integrate Shopify Plus for Chatters.
Chatters required a custom checkout which would allow their customers to buy recommended products, and see how much they needed to add to cart to qualify for reduced shipping costs. The custom checkout also allowed the Chatters team freedom to communicate clearly with customers on promotions such as featured product promotions and "beauty bonus" rewards.
Creating an exceptional customer experience was just the first step for Chatters. Bounteous introduced strategic performance marketing campaigns like Google Shopping ads that drove new eCommerce business and revenue from loyal customers. We developed strategic paid social campaigns to support promotions, holiday campaigns, and encourage brand engagement. Together, we exceeded Chatters' annual eCommerce revenue target in a little over one quarter, allowing our teams to experiment with emerging channels like Facebook/Instagram Storefront, Google Discovery campaigns, and YouTube. Our team provided Chatters' leadership with key revenue and campaign dashboards to steer revenue projections.

Results
By leveraging an agile process, Chatters and Bounteous worked closely to achieve scalability, security, and an exceptional customer experience with a quick and seamless site launch.

The new site experience and innovative digital marketing efforts have driven a significant increase in online annual revenue and in-store visits. Chatters realized a 411 percent increase in online commerce revenue and an 8X Return on Ad Spend (ROAS). Ultimately, the digital marketing campaigns drove over a 200 percent increase in existing customer purchases.
in-store visits from Google Ads