The Birthday Email Campaign: Using Customer Data to Deliver Engaging Experiences That Drive Loyalty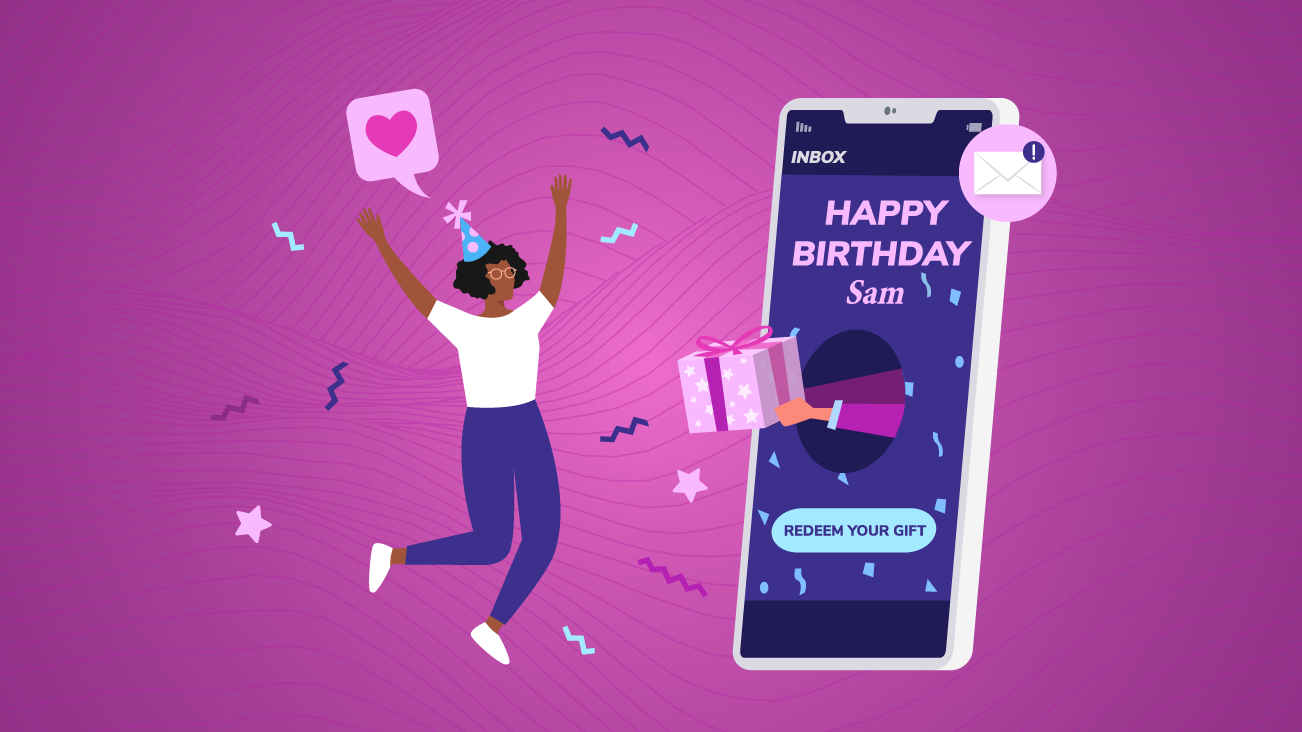 It's your birthday, let's celebrate!
When you think of your birthday, some of you will think of your childhood or a lavishly frosted cake with candles on it. The day conjures up images of being surrounded by friends and family and unwrapping a gift (maybe the absolute wrong gift). Or perhaps you're on the opposite side of the spectrum and dread the idea of another birthday. Either way, a birthday is a very personal and special occasion that taps into a range of emotions.
For brands, this occasion—your occasion—holds an entirely different value. It's a day that's synonymous with a "birthdate" customer data attribute (festive, we know) that allows the brand to deliver on a precise touchpoint to recognize their valued customer, with a moment of conversion.
All too often, however, birthday emails fall short. When sending an off-tone message on such a special day for your customer, brands risk missing that critical customer experience moment for building loyalty. Smart marketers can improve their brand perception and customer engagement by critically evaluating their birthday marketing campaigns:
Provide actual value for lapsed customers to re-engage;
If you intend to surprise & delight—work on doing just that;
Ensure your data can activate personalized moments across email and other channels;
Create a seamless mobile experience from message through to offer redemption.
Birthday campaigns traditionally score higher engagement rates that lead to improved transaction rates and higher revenue per email compared to standard promotional email campaigns. Because of the higher engagement rates, take a moment to reevaluate that this campaign is valuable to both your brand and your customers.
From your brand, determine if it's presenting the most relevant content opportunity to drive a conversion; and from your customer, ensure you're providing a human experience moment and capturing your loyal audience's attention. Absolutely take the time to celebrate, but reevaluate why you're sending the message and to whom can help you answer, "What is the birthday campaign's purpose?"
Let's dig into a few key purposes of birthday campaigns, including fulfilling the program's acquisitional value, delivering a memorable human moment, and being purposeful on how to re-engage with your lapsed customers.
First, Make Good On the Promise
If your program presents a compelling value proposition to attract and acquire new members with a birthday offer, not only should the data ensure your brand can live up to that promise, but it's also a time to overdeliver. Think about what would make YOU excited on your birthday from a brand experience, what would inspire you to tell your friends or organically share this moment on your personal social accounts?
From a baseline, have your customer data available and actionable to trigger the birthday campaign. Marketers often tap a CRM like Salesforce for this and other customer data. Start small with acquiring the birthdate at signup, then being able to automate this email trigger with first name personalization and present the program's value prop.
Your email channel is a fantastic place to deliver a birthday offer, but what if your program spans multiple digital touchpoints? You have to make sure the data can present this birthday offer benefit equally across web, app, POS, or other customer touchpoints.
People are busy, they have lives, verify your program can deliver your birthday message across these channels on time, and give your customers enough time to plan and react to your birthday offer. Would you drop everything for a birthday offer that expires before you can get to it during your busy day? Use the customer data and marketing automation effectively to deliver the message on time, with the program's birthday offer immediately available for use equally across channels.
Don't forget your tone. Personalize the message with the customer attributes you have available, be human in your brand voice, and if the birthday experience is a unique experience for the customer—take credit. "Hi Mary, thanks for being a loyal customer, wishing you a happy birthday from all of us. In fact, here's a personalized birthday offer because you're such a great customer. Have a fun birthday!" Use your data to personalize effectively, within a human experience moment that delivers the right celebration tone.
Ensure you're able to make good on that initial value proposition, by delivering on the program's design, but test ways you can go beyond that, and make the customer feel special. People remember how you've made them feel, not what you say (especially in a loyalty marketing email trigger).
Next Surprise, Then Delight
Good marketers are familiar with (and have generous budgets to support) surprise and delight campaigns. When these campaigns are not executed well, it's rarely due to a lack of creativity; surprise and delight campaigns can fall short due to operations hurdles in the digital marketing stack.
Ensuring customer data sets are enabled can be the determining factor to delivering exceptional surprise and delight campaigns. Not just the customer's provided first-party data set, but including their omnichannel engagement behaviour, loyalty behaviour, interest and preference data, lifetime transactional data, and more. Transforming and activating this collection of data through a Customer Data Platform (CDP), can be the factor to help aggregate your program's customer data across digital channel touchpoints into a unified profile.
Then you can enable it into actionable and personalized moments within your customer workflow—like Salesforce Marketing Cloud's Journey Builder campaign orchestration solution. Transforming your data with a CDP, then automating it with channel orchestration flows will prevent existing shortcomings in your program's campaigns from being delivered with generic and irrelevant content that fails to inspire conversion.
Some examples of how to leverage your customer data to surprise and delight your customer:
Did your program promote a 20 percent discount birthday offer at sign-up? Why not allow guests who engage on your digital channels regularly to extend this promotion to their best friend or family member with another 20 percent off coupon too—and go shopping together?
 
Is your program set up to gift your customer an actual product? Do you know if they would actually use that product? Have they bought it before? Make sure products remain relevant to each customer.
 
Does everyone get the same birthday offer, or can you tailor the experience for each guest? Even personalized and relevant creative applied to a consistent offer—how can you make the creative contextual for the individual?
 
Did your program set customer expectations with a $5 off birthday coupon at sign-up? Can your organization improve this and send a $10 off coupon to the right LTV customer cohort instead? And, let them know it's because they're an appreciated customer!
It's hard to throw a surprise party if your program sends the same offer/present it did last year, or with an offer that a long-term customer hasn't engaged within years. Some brands fail to personalize with the data they have collected and miss an opportunity to generate strong brand loyalty. Ensure you have planned a strategy to consistently test, learn and optimize your brand experience.
A great birthday email campaign example from Nintendo. It was timely (delivered on the first of the month AND on my actual birthday), relevant (great tone, with a present my family would enjoy, with two separate rewards!), and actionable (30-days to claim, with simple mobile-first experience).
Finally, Re-Engage Your Lapsed Customer
Give your program's disengaged customers a reason to come back. There is no better way to give lapsed (or showing signs of lapsing) customers a reason to re-engage than on their favourite day of the year. If the audience hasn't engaged with your marketing channels in some time, they probably aren't staring at their phone in anticipation of your marketing message on their birthday. Determine intercepts to get the customer's attention.
Perhaps guide this lapsing audience down a customer journey decision split that will increase the value of the birthday offer to delight, or present only the lower-engaged customers with a birthday offer and an additional extended offer time-bound for next month.
Improving the marketing operations from a simple audience query and trigger of one birthday campaign into a more complex customer journey with decision splits based on channel engagement and transformed attributes allows your program the flexibility to create unique tactics for defined customer cohorts.
Ensure your program's birthday campaign strategy allows these lapsed customers every opportunity to engage. Highlight the upcoming birthday offer in an earlier touchpoint with dynamic content—visible only to those who need the awareness.
Follow up to those unengaged members who fail to convert on the birthday offer with additional reminder campaigns, extend the birthday journey workflow, and reach out with other retention channels like an SMS or Push message that drives them to their personalized mobile experiences to become aware of the offer.
Remember to use your behaviour and transaction data appropriately and consistently suppress audiences, exiting them from the marketing automation workflow if they engage.
Having the customer data transformed and actionable will absolutely help deliver on this key moment, providing the program's value promise set when the customer signed up and delivering on that trust.
Everything Starts With the Data
It's straightforward to ask for the customer's birthdate at registration then automate a daily single-touch email campaign. This can be accomplished with a single-sourced CRM database of first-party data.
Combining additional data sources like your customer's shopping behaviours, purchase history, interests, and other data sets, then transforming it into actionable attributes by your CDP, can take your campaign from a mere moment to a memorable one. Forward-thinking brands ask themselves the hard question: Is my customer data ready and actionable to deliver on this promise?
Leverage your program's known first-party data to more than just their birthdate. Ensure your CRM birthdate data point is available and actionable from the very moment they subscribe to your brand, and connect the experience to their engagement behaviour/score, transaction history, self-declared interests, or associated persona. Combining data points will drive timeliness and relevance of the campaign message.
Activate your raw data across sources with a CDP to unify and transform their behavioural, transactional, and other datasets to create actionable customer marketing data attributes. Automate these transformed key attributes to always be available in your MarTech platform, then advance your marketing automation workflows with early segmentation, suppression, and decision splits based on the fidelity of the improved customer data.
Start by understanding what data is available. For example, your data science team may identify customers with a high LTV—who shop on average once a month, spend over $100 each time, have purchased items from kids catalog last year, open emails frequently, and have self-declared interests in outdoor sports. Why not create a "busy parent" persona, customers that fit in this persona could have unique benefits.
Trigger a birthday message to a "busy parent" persona with a "Here's a birthday offer just for you [Dave]." Present this offer with relevant imagery and an extended two weeks to action their offer, because soccer practice, dance classes, and everything else take priority.
Ensure you're using the data to drive relevancy for your customers and present the right-sized offer that will drive their conversion. Considering all of your customer's data points will transform your campaigns into memorable moments.
Salesforce Customer 360 Audiences, a CDP platform that can activate a customer source of truth across multiple channels.
Timing Is Everything
So, your program has collected the customer's birthdate and is actively using it to provide them with a timely campaign. This is the start of building trust with your customers, a mutual understanding that a provided first-party data point is being actively used to provide value.
If your marketing operational processes prohibit your program from triggering this campaign on the customer's actual birthdate, don't send a belated gift after this date. Rather build a temporary workaround to acknowledge their moment ahead of their birthday—at the start of a week, or the top of the month.
Use these larger audience segmentations temporarily to get the campaign out on time, while you address systems and processes to enable that message to be automated on a more relevant daily schedule.
Review the customer journey around their birthdate, to ensure the customer is aware of the upcoming birthdate campaign event, receive the message on time, and have follow-up campaigns to encourage unengaged customers.
Leverage your MarTech for more advanced features like AI/ML Send Time Optimization. This feature will evaluate customer engagement behaviour data and helps to individualize optimal send times, so that promotions, offers, or value tied to your birthday campaign arrive to your customer at the best time to act, and delivers the campaign to the top of their inbox.
If the customer engages with the campaign and converts at any point of this workflow, make sure to have your brand acknowledge and say thank you in real-time. This effort will make the customer feel appreciated, and continue to build loyalty.
Salesforce Marketing Cloud's Journey Build is a great tool to orchestrate a customer's birthday journey. It allows you to start a simple workflow, and version into greater complexity.
Be Where the Customer Is
With increasing consumer privacy laws like GDPR, CCPA, and CASL, it is important to capture and manage the individual channel opt-in flags. Not getting into the specifics of these regulations, but it's increasingly best practice to be able to present the customer with a self-managed customer profile preference centre.
This helps to manage individual channel relationships, promote alternative channels like native app downloads, set program subscription preferences, allow you to progressively profile the customer, and help manage channel frequency expectations.
Review all of the channels that make up your program mix, that could influence birthday campaign behavior. Thinking beyond email, having the birthday campaign trigger across the right mix of channels based on their recent engagement—this could mean a Mobile Push, SMS, and Email working in tandem.
Evaluate each of these retention channels and have the touchpoints be relevant for the customer interaction. The veteran email channel should present a seamless mobile experience into commerce flow, where the mobile push should re-engage the customer into the app experience, and an SMS used as a quick notification alert and link out to a relevant experience.
But what if the customer is actively engaging your frontline staff? Having the data center to support consistent birthday prompts across online and offline channels is a gift to your customer and the business.
Consider being able to recognize the customer on (or around) their birthday and have alignment to available individual birthday offers on your Customer Service platform and POS terminal for your frontline team to bridge that offline human connection. Maybe present this human moment on an in-store self-serve kiosk notification when the customer identifies.
What if key customers are deemed a high valued customer based on your recent RFM evaluation—how can you differentiate this message, a personalized direct mail, a personal human phone call, maybe a completely unique offer for this top decile cohort?
Amplify this moment of celebration with your customers and experiment across other channels—bridge the digital and physical. Show increased value through combining data points, to deliver a personalized moment that guests remember. Your customers are humans with many distractions, especially surrounding their birthdays.
Wrap It In a Bow
It's the relevancy in the message that carries the weight, powered by a unified collection of data. Addressing your customer by name, with their relevant interests, and ensuring a personal connection makes the message engaging and celebrates them in your brand's tone of voice, not a stuffy voice from corporate lawyers. Unless, of course, you're a law firm.
Evaluate if the birthday offer/promotion content is more noticeable than the mass campaign, dynamically wrapping unique birthday creative around the offer to connect the dots. If the birthday campaign looks identical to your weekly newsletter, it might be glanced over and ignored. From subject line to creative treatment, ensure the intention for celebration is noticeable.
When an offer has been dynamically selected for the customer (not one size fits all), take credit in that and let them know this offer was selected especially for them. If you continue to use the same birthday offer for each guest, try to dynamically update the message creative with your customer's known favourite category preference.
With a more advanced marketing architecture, include additional product suggestions based on your commerce ML suggestions, and tie the birthday offer to a relevant product set or category. Another fun way to drive contextual relevance is to dynamically change the birthday creative based on the customer's current geolocation and local weather on top of the product relevancy.
But, You Just Had a Birthday Last Year
No need to stay stagnant year over year. Test, learn, and optimize along each touchpoint; these are moments that matter to your customers and they should matter to you. Remember with birthday campaigns, you have an exclusive opportunity with 365 unique test audiences. You can test and learn each day, all year every year, and determine what drives your audience to convert.
A strategy may start with a focus on a single day, but that beyond-birthday approach extends the whole year. Approach your birthday campaign refresh from the start by focusing on your data first, make sure the systems and data integrating to your CDP or larger marketing technology ecosystem are as real-time as possible, and present transformed and actionable attributes.
Use this data to automate the customer's birthday workflow automation and trigger the messages on time with relevant offers to deliver on your program's acquisitional value proposition. Use consistent data to meet the customer where they are, across email and other digital channels they engage with, without forgetting the offline human moments that drive loyalty.
Build relevancy with dynamic and personalized message content that carries a human tone, vary the birthday offer where possible to deliver more value to the customer, and always remember your unique opportunity to test and learn every day of the year with a fresh audience.
The next time you're hearing an off-pitch version of Happy Birthday, remember that a lot of planning and effort goes into making this day special for the one lucky person. Take the time to reevaluate what makes your customer special and how your brand can use the data available to perfect this customer experience moment that drives loyalty.