Exploring Common Digital Commerce Sales Approaches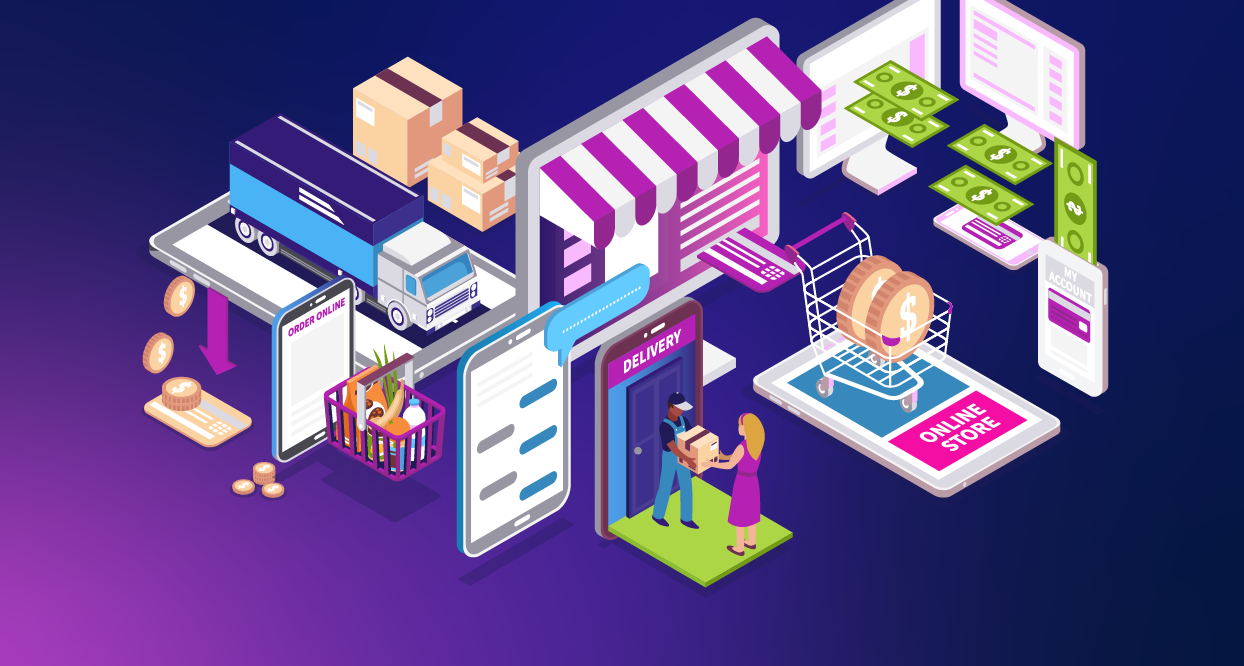 In light of the ever-increasing demand for online shopping, it's important for brands to understand the diverse go-to-market approaches available to revamp and elevate their commerce strategy. Having multiple commerce strategies is key, in fact Gartner reported back in 2021 that "By 2022, organizations using multiple go-to-market approaches for digital commerce will outperform noncommerce organizations by 30 percentage points in sales growth."
However, that rapid push by organizations to launch digital commerce within a short period of time has resulted in certain businesses overlooking the varying strategies and complex nature of digital commerce. Whether you are seeking to enhance your existing commerce site through other channels or are just starting out, check out which approaches are most relevant for your business objectives.
Go-to-Market Approaches
There are many approaches to consider, but take a look at these three as ways to expand the commerce experience to include new channels and tactics.
Social Commerce
One option is to leverage social media platforms to reach a wider audience. Most major social media platforms now allow businesses to set up storefronts and integrate with back-end systems such as Enterprise Resource Planning (ERP) or Product Information Management (PIM). However, to be successful in this approach, organizations must pay close attention to seasonal and event-based trends, optimize product listings for discoverability, and stay up to date on platform rules.
For example, Instagram is a fantastic platform for brands to showcase their products, enabling users to browse and purchase items without ever having to leave the app.
Online Marketplaces
Another option is to sell through online marketplaces such as Amazon. Established Marketplaces offer tools and services to help streamline store setup and operations, which makes it easier for brands to sell online. Operating a successful marketplace store requires a good understanding of platform rules, product data requirements, pricing strategies, marketing and promotion techniques, and merchandising tactics. Organizations can choose to sell wholesale to marketplaces, outsource store operations to service providers, or manage the store themselves.
In 2019, New Republic, a mens shoe brand, seized the opportunity to leverage Amazon marketplace. New Republic launched an Amazon store in 2019, and according to the co-founder Dee Murthy, this resulted in roughly 50% of the company's sales contribution towards overall business revenue – 40% more than expected.
Fun fact: Before Bounteous, I held a senior leadership role at Amazon where I spearheaded a revolutionary strategy that transformed how Amazon sold and marketed their first-party manufactured devices, such as Kindle Fire and FireTV, generating billions of dollars in revenue.
Direct-to-Customer
The third option is to launch a Direct-to-Customer (DTC) storefront using full-stack SaaS platforms like Shopify and Bigcommerce - both of which we partner with to create great experiences. This approach gives brands better control over the customer experience, but also requires careful planning and technical setup. Decision makers must define fulfillment, delivery, return, and other policies, prepare marketing messaging and FAQ pages, and assign customer service agents for online questions.
Technical procedures involve preparing product and media data, segmenting products by category, adding product associations for recommendations, connecting online stores to inventory data, and including shipping rates, delivery time, and return policies on the check-out page. Organizations that lack the necessary skills or staff to set up or operate a DTC platform can outsource to service providers, and insource some or all of these tasks in the future.
Once an online storefront launches, businesses should regularly review key metrics to identify areas for improvement. This can include enriching product assortment, offering personalized customer experiences, improving conversion rates, and expanding to other business models such as B2B and enterprise marketplaces.
Explore the DTC project we executed with MARS - MARS partnered with Bounteous to help bring products people love to consumers, retailers, and partners in creative and effective new ways.
One Size Does Not Fit All
There is no one-size-fits-all approach when jump-starting digital commerce. In fact, a savvy company might use all three aforementioned strategies. Organizations should carefully consider their goals, resources, and audience and choose the options and partner that best aligns with their needs. By following best practices and regularly reviewing performance metrics, you can continuously improve online storefronts and strategies companies can foster growth.