From Office Supply Store to Experience Retailer​
Summary
With over 300 locations, Staples Canada is the largest office products supplier to Canada's small business and home office markets. As with many traditional retailers, Staples Canada realized they needed to re-engage their customers by providing them with a new, exceptional experience both in-store and online.
Bounteous partnered with Staples Canada to deliver on their goals of moving from an office supplier to a dynamic, inspiring partner for their customers. We helped digitally transform the Staples Canada online experience by improving their back-end business systems, revamping their online presence, and creating in-store technology that empowered Staples Canada to reimagine retail.
In this digital experience build, Bounteous partnered with many technology providers to re-platform the Staples Canada B2C commerce site, including integrating the Akeneo PIM, developing a custom CMS solution with Contentful, and delivering one of the largest and most complex global implementations of Shopify Plus. The new commerce experience brings Staples Canada's new brand promise, "The Working and Learning Company," to life digitally and acts as a platform for continued growth to help Canadians work, learn, and grow.
Challenge
Staples Canada was interested in transforming their digital and physical experience to ignite growth. Their internal tools and programs were built on legacy systems that were hindering how they could reinvent the brand. French and English data, third-party integrations, and catalogue imports of over half-of-a-million products daily proved to be mounting challenges for an office retailer to maintain and compete in the marketplace.
Staples Canada selected Shopify Plus for their new site, which touts great benefits of flexibility, security, and speed-to-market. With an unlimited number of apps and configurations, Staples Canada sought a strong digital agency to help vet, select, and implement apps and platforms. This would optimize everything from product information management (PIM) to content authoring (CMS). Based on the team's wide-ranging expertise in commerce, Bounteous was ultimately selected to navigate the ecosystem of partners, build complex integrations and custom applications, bring the concept designs to life, and assist with ensuring the proper analytics and SEO features were incorporated into the new site.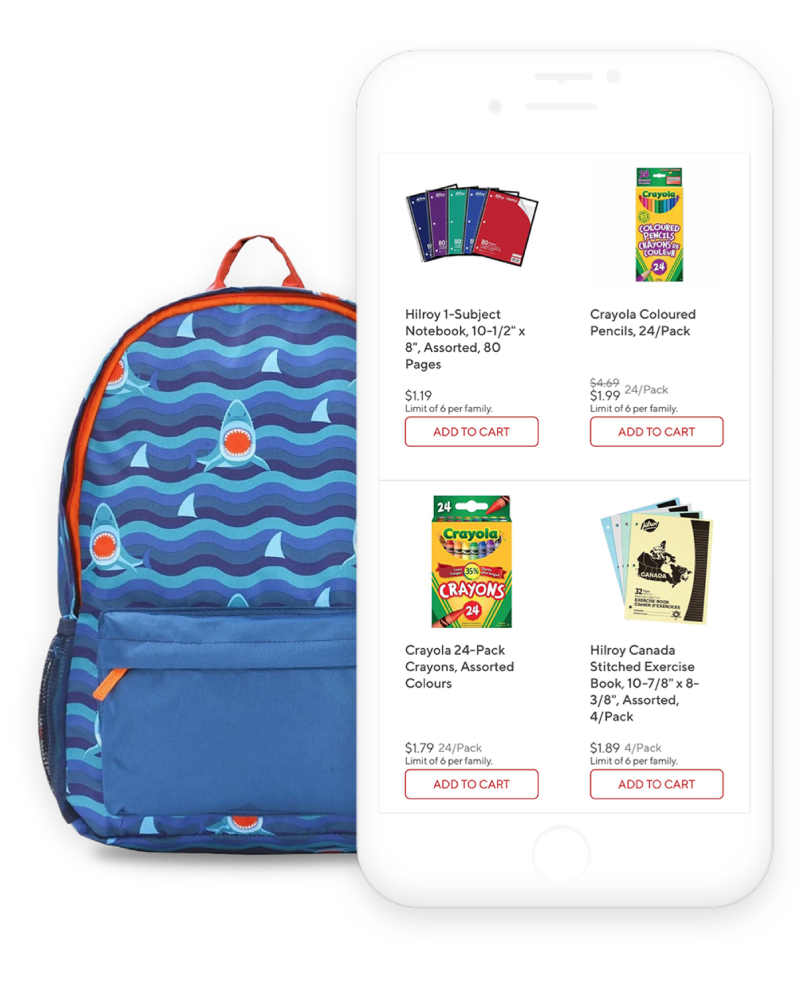 Solution
Bounteous was able to harness the power of Shopify Plus to host Staples Canada's core commerce platform and deliver a more meaningful customer experience that has the scalability to meet the demands of a changing online marketplace. Leveraging years of commerce expertise, Bounteous led the overhaul, working with Staples Canada and managing many partners to navigate all aspects of the digital experience, including payments, checkout customizations, CMS, search, recommendations, reviews, marketing, and translation services.
Results
The new staples.ca site has a refreshed feel that aligns with Staples Canada's modern identity. Bounteous delivered a fully-responsive web and mobile experience, with an easy-to-use platform that links products and informative content and streamlines the shopping and check-out process.

Beyond improving the UX, our team connected partners and third-party solutions to activate a fully-functioning CMS and PIM. The sophisticated, intuitive solution empowers content authors to better manage commerce flows in a user-friendly editing environment.

Post migration, the site surpassed traffic and pageview expectations. As Staples Canada evolves as a brand, their launch on Shopify Plus is a launchpad towards their mission of helping Canadians work, learn, and grow. Growth since launch includes:

• Increased website traffic
• Increased online conversions
• Over 150,000 Live SKUs