Building Online Awareness to Reflect an Offline Reputation
Summary
It is hard to imagine that Harvard University had an opportunity to increase awareness. Ask people to list top schools and Harvard is counted on the first hand, often named on the first finger. Academic elite travel from far and wide to the campus in Cambridge, Massachusetts to pursue higher education.
Some are not aware, however, that Harvard offers other teaching formats, uniting students online in digital programs or on the weekends for professional development. Traditional learning represents only one of the ways to receive a Harvard education.
Harvard partnered with Bounteous to increase awareness and registrations for professional development programs at Harvard Division of Continuing Education.
Challenge
Harvard Extension School at Harvard University partnered with Bounteous to use SEO and PPC to expand the digital reach of two established schools, Harvard Summer School and Harvard Extension School, and to build awareness for their growing professional development offering. The 12-month project used an audit to identify technical setbacks, content positioning to create new landing pages for search traffic, and top-of-funnel awareness campaigns with Google Ads.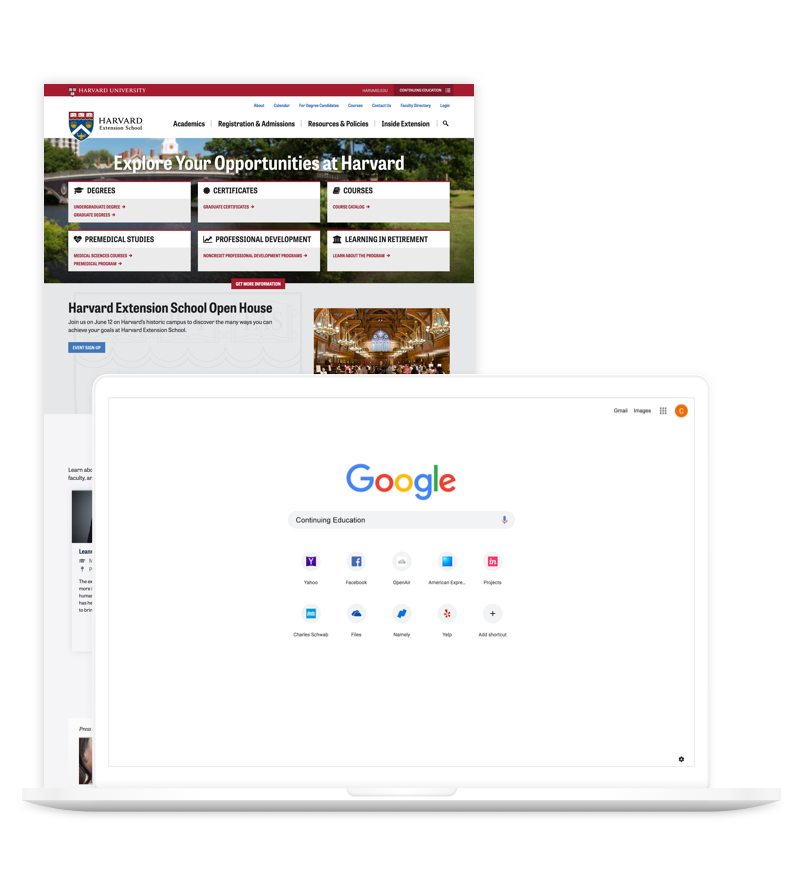 Solution
All three campaigns returned strong double-digit results in terms of both traffic and registrations. In addition, the work with professional development deserves special recognition for its goal, approach, and continued results.
The Campaign Approach included:
Optimize program pages to generate more qualified traffic
Create topic pages with structured markup to target broader search queries
Tailor advertising to increase ad rank, click-through rate (CTR), and return on ad spend (ROAS).
Results
Results included an 89% increase in visits from organic search year-over-year. See more below.
75%
increase in registrations from organic search year-over-year
30%
increase in CTR with Ads year-over-year
124%
increase in ROAS with Ads year-over-year
At the end of the day, digital marketing initiatives at DCE need to help potential students find and register for programs. We enjoyed that our project with Bounteous worked toward that at every opportunity to help us accomplish our goals. We are big fans of Bounteous (formerly LunaMetrics) and the work that they do.

Carol Stuckey

Executive Director, Strategic Growth Initiatives Harvard University Division of Continuing Education