Enterprise Analytics
Premium Solutions for Complex Analytics Challenges
Get a full understanding of your data.
Standard analytics packages can reveal trends, but do not provide the sophisticated feature set that can help uncover new insights. Enterprise solutions like Adobe Analytics or Google Analytics 360 go beyond the basics, making your data more meaningful and giving you an insights-driven competitive advantage.
Drawing on our extensive experience, we work with you to determine if Adobe Analytics or Google Analytics 360 is the right solution, implement it, and empower you to use its full range of features.
Solutions
Integrated Data & Marketing Analysis
Campaign Attribution
Cross-Platform Integration
Google Tag Manager
Adobe Launch (DTM) Configuration
Over-The-Top Mobile App Implementation
BigQuery Analysis
Data-Driven Attribution Modeling
Content & Channel Attribution
DV360 Integration Support
Customer Data Platforms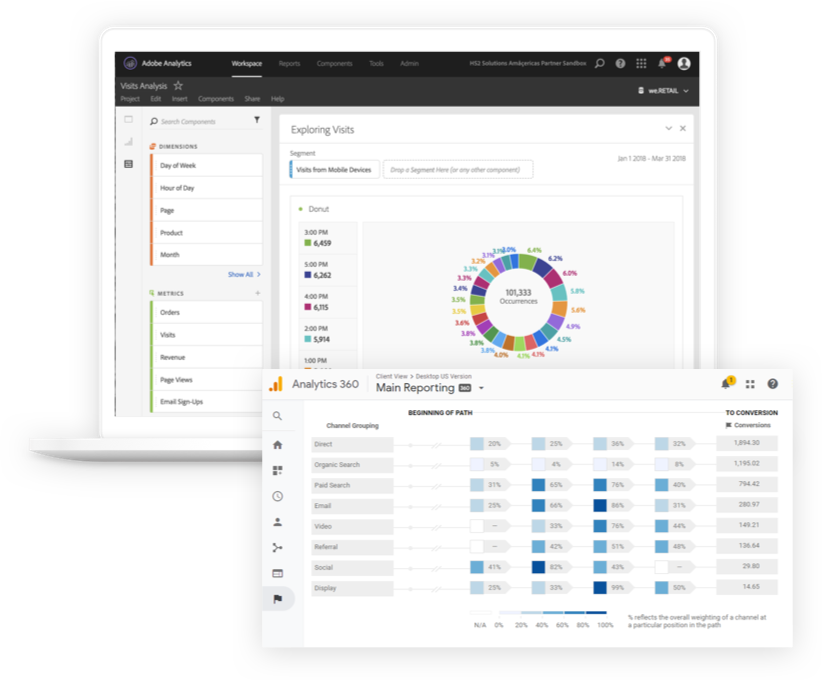 Level up with new insights
For us, enterprise platforms are more than a robust feature set - they are an investment in platforms and people. We contribute to the Google and Adobe communities, develop new modules, and offer trainings around the country. This helps us stay at the forefront of technology and bring this knowledge to your business, using enterprise tools to discover new and actionable insights. Going beyond reporting and dashboards, we offer hands-on consulting, execution, and ongoing support. Utilizing a platform's full range of features, we help you integrate analytics fully into your data ecosystem, better understand customers' behavior, and use advanced insights to accelerate your strategy.